CORONAVIRUS
/
Taiwan reports 26,761 new COVID-19 cases, 45 deaths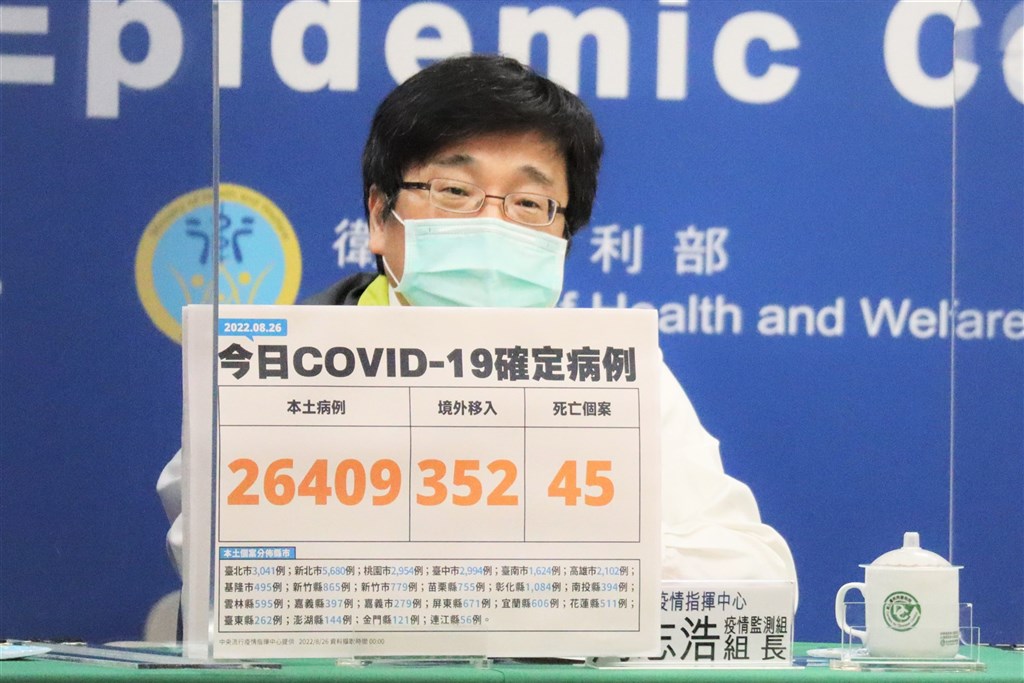 Taipei, Aug. 26 (CNA) Taiwan on Friday reported 26,761 new cases of COVID-19 and 45 deaths from the disease, according to the Central Epidemic Command Center (CECC).
The deceased ranged in age from their 40s to their 90s. All except two suffered from chronic illnesses or other severe diseases, while 29 had not been fully vaccinated against COVID-19, the CECC said.
Also on Friday, the CECC reported 39 COVID-19 cases newly classified as severe and 77 newly classified as moderate.
MIS-C cases
Among the severe cases were three young patients aged between one and three, who were diagnosed with multisystem inflammatory syndrome in children (MIS-C), the CECC said.
Only one of three had a history of chronic illnesses, the CECC said, adding that all three had recently been discharged from the hospital after their conditions improved.
Of the 5,101,550 domestically transmitted cases recorded in Taiwan this year, 10,357 have been classified as severe infections and 13,030 as moderate, accounting for 0.20 percent and 0.26 percent of the total, respectively, according to CECC data as of Aug. 25.
Regional breakdown
Regionally, New Taipei reported the highest number of new cases on Friday, with 5,680, followed by Taipei with 3,041 and Taichung with 2,994.
Taoyuan had 2,954 new cases, Kaohsiung 2,102, Tainan 1,624, Changhua 1,084, Hsinchu County 865, Hsinchu City 779, Miaoli 755, Pingtung 671, Yilan 606, Yunlin 595, Hualien 511, Keelung 495, and Chiayi County 397.
Nantou reported 394 cases, Chiayi City 279, Taitung 262, Penghu 144, Kinmen 121, and the Matsu Islands 56, the CECC said.
To date, Taiwan has recorded 5,168,997 COVID-19 cases since the pandemic began in early 2020. Of those, 26,479 were classified as imported cases in which the virus was contracted abroad.
With the 45 deaths reported Friday, the number of COVID-19 fatalities in the country rose to 9,773.
Also on Friday
Aug. 26: Border controls likely to be further relaxed in October: CECC
Related News
Aug. 24: Omicron subvariant-induced outbreak forecast to peak earlier: CECC
Aug. 22: Taiwan raises weekly arrivals cap
Aug. 21: Taiwan rolls out Moderna second shots for young children
Aug. 19: Taiwan gets 1st delivery of Pfizer-BNT vaccines for young children
Aug. 19: Border opening dependent on BA.5 COVID cases: CECC
Aug. 15: Taiwan to ease rules for last four days of arrival COVID-19 protocol
Aug. 10: Taiwan to lift pre-flight PCR test requirement for all arriving travelers
July 26: Revision of border rules depends on vaccination rate among kids: CECC
Recent cases
Aug. 25: Taiwan reports 27,275 new COVID-19 cases, 37 deaths
Aug. 24: Taiwan reports 28,570 new COVID-19 cases, 18 deaths
Aug. 23: Taiwan reports 26,382 new COVID-19 cases, 16 deaths
Aug. 22: Taiwan reports 16,911 new COVID-19 cases, 23 deaths
Aug. 21: Taiwan reports 22,397 new COVID-19 cases, 26 deaths
View All