JOB SCAM
/
Taiwan forms task force to help Taiwanese trafficking victims in Cambodia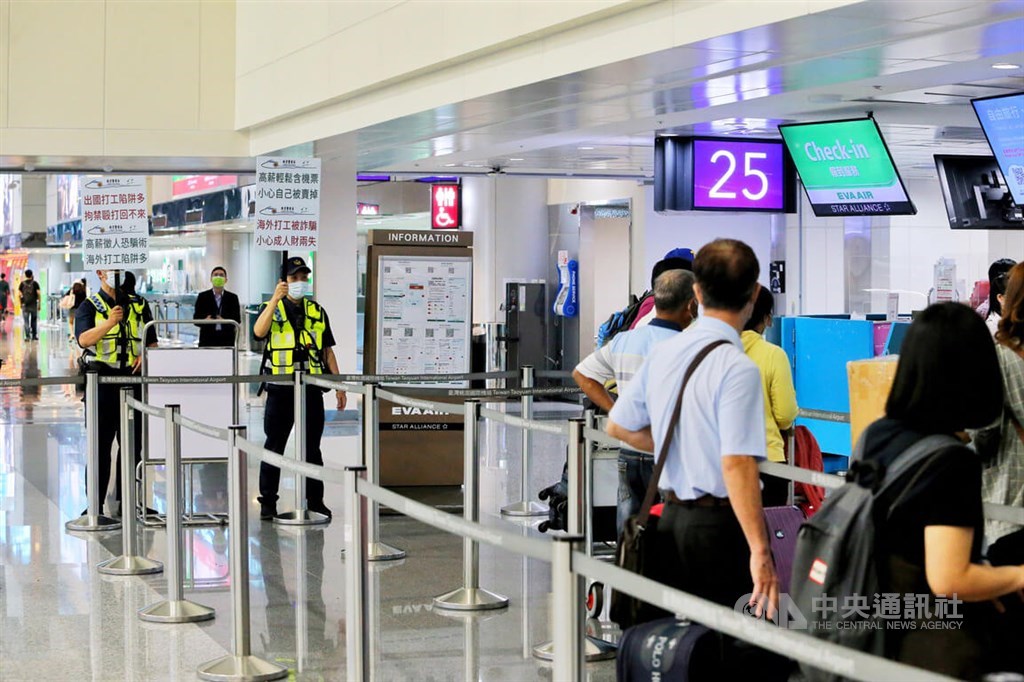 Taipei, Aug. 11 (CNA) An inter-ministerial task force has been set up by the Executive Yuan to tackle the issue of a large number of Taiwanese citizens having been lured to Cambodia by the promise of high-paying jobs and stuck there as human trafficking victims, Cabinet spokesperson Lo Ping-cheng (羅秉成) said Thursday.
Amid a series of reports of Taiwanese being lured to Cambodia, Myanmar, and other countries with lucrative job offers before being forced into illegal work while being subject to abuse, several legislators, including Lin Chun-hsien (林俊憲) of the ruling Democratic Progressive Party, held a news conference on Thursday calling for a task force to tackle this problem to be set up.
In response to this request, Lo said later on Thursday that a Cabinet-level task team had been set up and its top priority will be to have people who were trapped in Cambodia rescued and returned home.
A rescued victim identified only by her nickname Pipi (皮皮) also showed up at the legislators' news conference to share her experience of working in Cambodia.
Pipi said that a friend got her a high-paying job in Cambodia but when she got there, she was imprisoned in a fully-fenced industrial park.
In seven days, she was resold four times, Pipi said, adding that fortunately, she was able to escape the park after getting help from a local Cambodian provincial governor and chief secretary through an anti-fraud organization, according to Pipi.
Pipi pointed out that some Taiwanese did escape from the park by jumping off a building but had suffered leg injuries in the process.
Some Taiwanese being held were also beaten by fraud rings, which had also bribed the local police so it was useless to call the police, according to Pipi.
Wallace Chow (周民淦), head of the Foreign Ministry's Department of East Asian and Pacific Affairs, who also attended the news conference, said that the ministry had received reports of similar cases since June last year.
From January this year, the number of Taiwanese travelers to Cambodia has exceeded 6,400, Chow noted, describing this as abnormal.
An inter-ministerial meeting was held on Aug. 8 to discuss related issues, including how to help victims buy air tickets and how to take care of them after returning to Taiwan, with the National Police Agency assigned to establish a dedicated unit to take charge of this, Chow said.
According to Chow, the Taipei Economic and Cultural Office in Ho Chi Minh City, which represents Taiwan's interests in the southern parts of Vietnam and Cambodia, has also set up a special task force, composed of members in charge of foreign affairs, police affairs, legal affairs and immigration, and other personnel.
According to the Foreign Ministry, from June 21-Aug. 10, the representative office in Ho Chi Minh City had received reports from 222 Taiwanese working in Cambodia complaining that their personal freedom was being restricted. So far, 51 people have returned to Taiwan.
When asked whether there were people in Taiwan working together with the fraud rings in Cambodia to lure victims, Minister of the Interior Hsu Kuo-yung (徐國勇) said Thursday that Taiwan police had launched an investigation into one case two days ago and taken six suspects into custody for allegedly defrauding 80 people to go abroad and reaping NT$80 million (US$2.67 million) in illegal gains.
There is probable collusion between Taiwanese human trafficking groups and overseas fraud rings, which the police are currently investigating, according to Hsu.
The NPA said earlier this week it had found based on a check of flight records that around 1,000 Taiwanese have traveled to Cambodia every month in recent months but only about 100 per month had returned, leaving large numbers of Taiwanese who had gone there unaccounted for.
The NPA estimated that about 2,000 Taiwanese human trafficking victims are still in Cambodia against their will based on travel records but said there could be as many as 5,000 because of blind spots in the data.
(By Wang Yang-yu and Evelyn Kao) Endtem/HY
Update
Aug. 19: 67 arrested on Southeast Asia human trafficking-related charges: police
Aug. 18: 333 Taiwanese job scam victims remain trapped in Cambodia: Cabinet
Aug. 17: Woman detained in NT$100,000-per victim Cambodia fraud ring case
Aug. 16: Alarmed by job scams, job bank removes 179 overseas job postings
Aug. 15: 9 Taiwanese victims of Cambodia job scam brought home
Aug. 13: Two arrested over trafficking individuals for Cambodia telecoms scams
View All