CORONAVIRUS
/
Taiwan reports 50,636 new COVID-19 cases, 172 deaths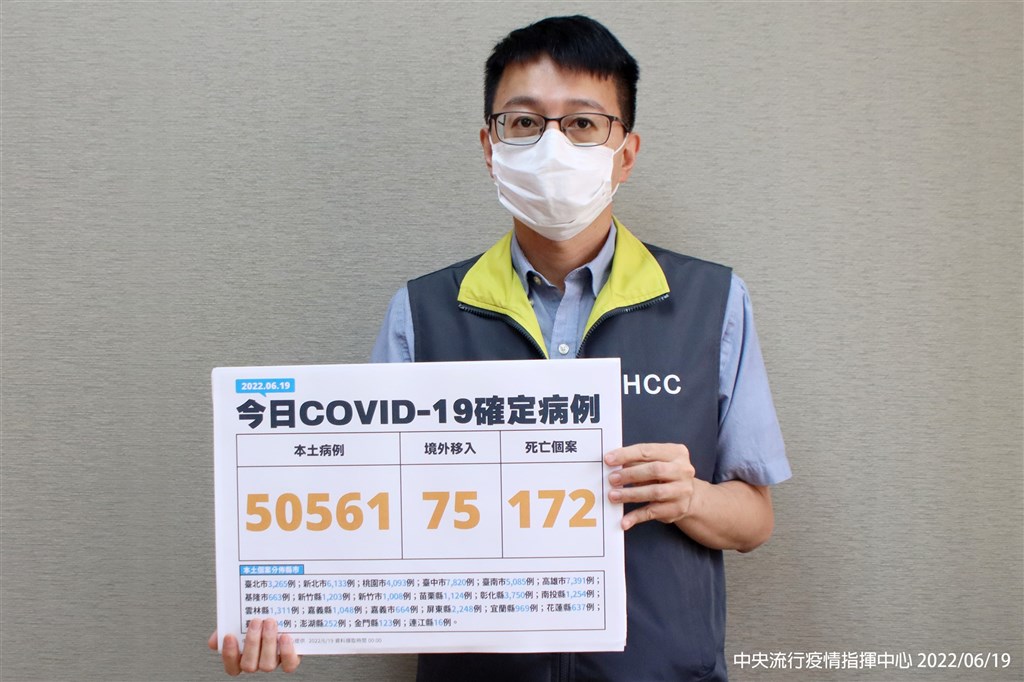 Taipei, June 19 (CNA) Taiwan reported 50,636 new COVID-19 cases Sunday -- all but 75 domestically transmitted -- and 172 deaths from the disease, according to the Central Epidemic Command Center (CECC).
The deceased, ranging in age from 3 years old to over 90, consisted of 166 individuals who had chronic illnesses or other severe diseases, and 68 who were unvaccinated, the CECC said.
The 3-year-old boy who passed away had a preexisting neurological disorder, the CECC said, adding that he had developed a fever of 40 degrees Celsius on June 7 and tested positive for COVID-19 later that day.
On June 11, he began displaying symptoms including coughing, vomiting, and fatigue. He was taken to a hospital emergency room and diagnosed with croup, a type of infection characterized by a bark-like cough and respiratory distress.
While being treated in an intensive care unit (ICU), doctors also found that the boy had diabetic ketoacidosis (DKA), a complication of diabetes. He passed away on June 14 due to septic shock, and heart and lung failure, the CECC said.
A total of 62 children below 13 years old have developed severe symptoms of COVID-19, and 18 have subsequently passed away.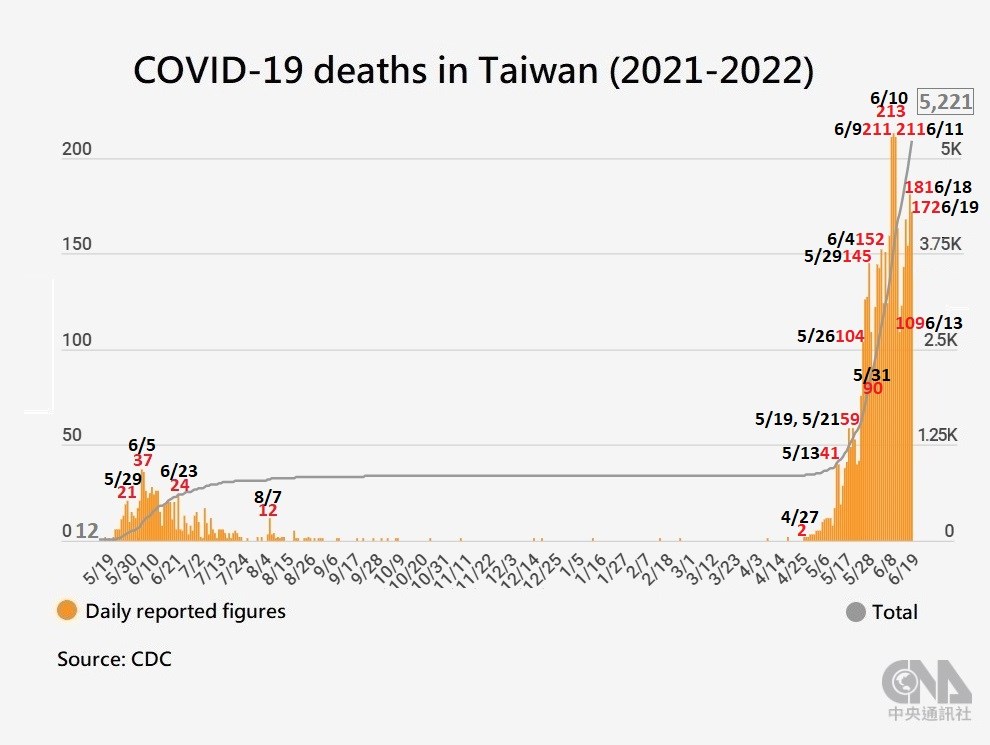 The CECC also said that 140 previously reported COVID-19 cases had become severe, while 145 other individuals had developed moderate symptoms of the disease.
Among the severe infections is a bedridden 17-year-old boy with neurological disorders who began displaying symptoms including a fever, cough, difficulty breathing, and twitching on June 9.
The boy's symptoms had initially subsided after he was taken to the emergency room, and he was sent home with medication as a result.
A few days later, however, his hands and feet turned purple and he lost consciousness. He was taken to the hospital again on June 13 and admitted to an ICU, where he is still receiving treatment, the CECC said, adding that the teen is unvaccinated.
Eight adolescents aged 13-18 have developed severe COVID-19 symptoms, including three who have died.
Of the 3,216,048 domestic cases reported in Taiwan this year, 5,118 have been classified as severe infections and 7,507 as moderate, accounting for 0.16 percent and 0.23 percent of the total, respectively, according to CECC data as of June 18.
In all other cases, the infected individuals were either asymptomatic or had mild symptoms, the CECC said.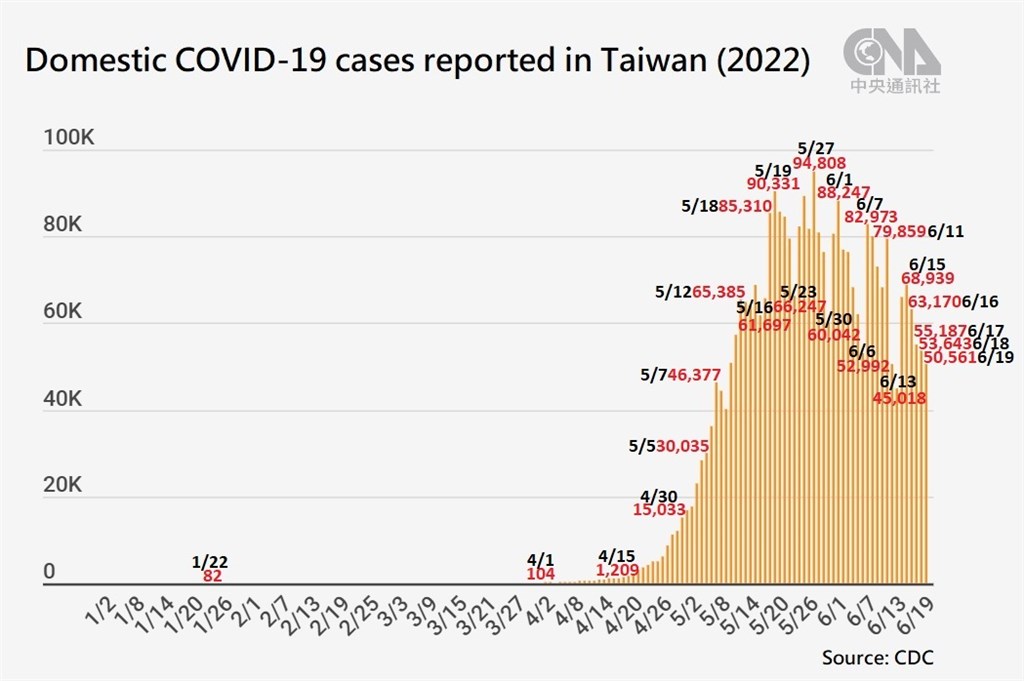 Taichung reported the highest number of domestic cases Sunday, with 7,820, followed by Kaohsiung with 7,391, and New Taipei with 6,133.
Tainan recorded 5,085 cases, Taoyuan 4,093, Changhua County 3,750, Taipei 3,265, Pingtung County 2,248, Yunlin County 1,311, Nantou County 1,254, Hsinchu County 1,203, Miaoli County 1,124, Chiayi County 1,048, and Hsinchu City 1,008.
Yilan County reported 969 cases, Chiayi City 664, Keelung 663, Hualien County 637, Taitung County 504, Penghu County 252, Kinmen County 123, and the Matsu Islands 16.
To date, Taiwan has recorded 3,295,076 COVID-19 cases since the pandemic began in early 2020, including 3,281,199 domestic infections.
With the 172 deaths reported Sunday, the number of confirmed COVID-19 fatalities in the country rose to 5,221, CECC data showed.
Also on Sunday
June 19: Taiwan to receive 450,000 Moderna vaccine doses in July
Related News
June 18: Taiwan to roll out Moderna COVID-19 vaccine for children under 6 in July
June 17: Taiwan reports 17 COVID-19 cases of BA.4, BA.5 subvariants
June 17: Taiwan FDA approves Novavax emergency use authorization
Recent cases
June 18: Taiwan reports 53,707 new COVID-19 cases, 181 deaths
June 17: Taiwan reports over 100 COVID-19 deaths for 17th consecutive day
June 16: Taiwan reports 63,221 new COVID-19 cases, 168 deaths
June 15: Taiwan reports 68,965 new COVID-19 cases, 143 deaths
June 14: Taiwan reports 66,189 new COVID-19 cases; total passes 3 million
View All