CORONAVIRUS
/
Pediatrician lists warning signs for MIS-C after COVID infection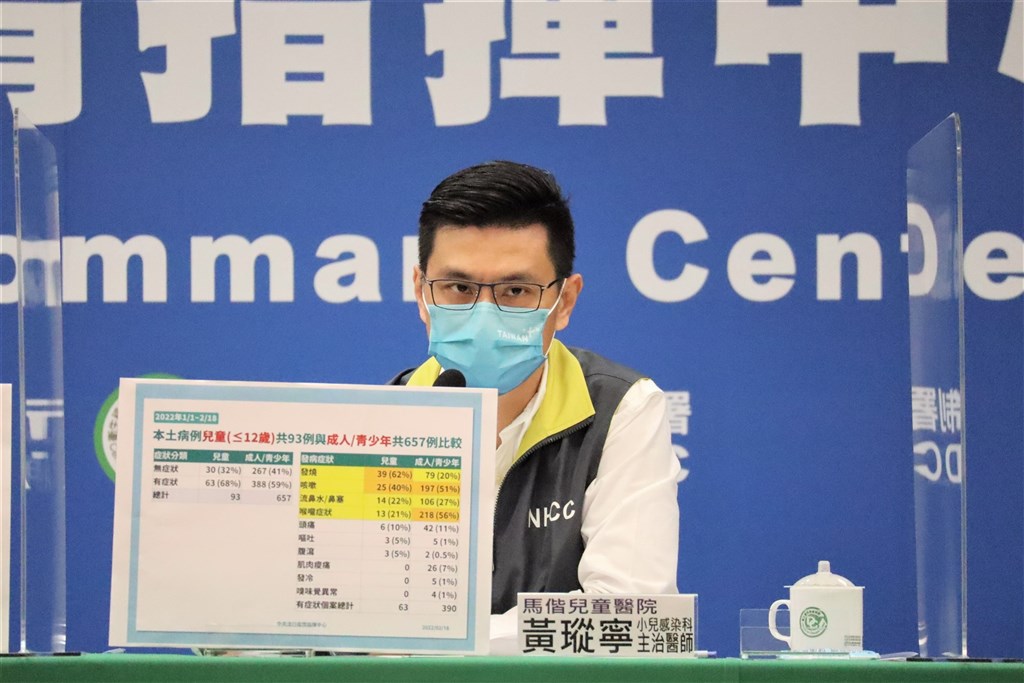 Taipei, June 6 (CNA) Pediatrician Daniel Huang (黃瑽寧) said Monday that parents should be on the alert for symptoms associated with multisystem inflammatory syndrome (MIS-C) in children who become infected with COVID-19.
MIS-C is a rare but potentially serious inflammatory reaction that affects children, typically those in the 6-12 age group, two to six weeks after they contracted COVID-19, Huang said at the Central Epidemic Command Center's (CECC) daily press briefing, after one such case was widely reported in the local media.
Citing existing studies, Huang said children can develop MIS-C after a COVID-19 infection, whether or not it was a severe case of the coronavirus.
Studies have also found, however, that the incidence of MIS-C is relatively lower among children of Asian ethnicity and those who contract the Omicron variant of the COVID-19 virus, said Huang, who works at MacKay Memorial Hospital.
Lower rates of MIS-C are also linked to COVID-19 vaccination, he said, predicting that in the worst case scenario, the MIS-C rate in Taiwan would be 1 in every 10,000 children who contract COVID-19.
While MIS-C is not a common occurrence, it can be fatal, Huang said, adding that it has a death rate of 1-2 percent among children diagnosed with that condition.
Parents, therefore, should seek medical attention if the child has a fever that lasts more than three days and develops other symptoms such as a rash, low blood pressure, red eyes, headache, diarrhea, vomiting, or abdominal pain, in the weeks after testing positive for COVID-19, he said.
Huang's warning about MIS-C was issued after another pediatrician, Lin Ming-tai (林銘泰) at National Taiwan University Hospital (NTUH), said in a Facebook post Sunday that he was currently treating a patient with that condition.
The 10-year-old boy had contracted COVID-19 in late April, and a month later, after he had recovered, he developed a high fever, swollen lymph nodes, a rash, and swollen extremities, Lin said in the post.
The boy was admitted to an intensive care unit at NTUH on June 1 and diagnosed with MIS-C, but his condition has since stabilized, Lin said.
Lin urged parents to get their children vaccinated against COVID-19 as soon as possible, as it helps to prevent both serious illness from the virus and MIS-C.
Commenting on the case, Lo Yi-chun (羅一鈞), deputy head of the CECC's medical response division, said the boy was likely the first MIS-C patient in Taiwan, although the CECC had not confirmed that, as it had not received any detailed information about the child's medical condition.
According to CECC data as of June 5, some 60.5 percent of the 1.4 million children aged 5-11 years in Taiwan had received one dose of a COVID-19 vaccine, since the country's rollout for that age group began on May 25.
Another 13 percent in that age group, or 194,654, have contracted COVID-19 and are advised to get their first shot at least three months after they tested positive, the CECC said.
As of May 30, CECC data showed, 92.1 percent in the 12-18 age group had gotten at least one COVID-19 vaccine dose, 82.1 percent had received two doses, and 2.4 percent had gotten a booster shot.
A total of 90.07 percent of Taiwan's population had received at least one COVID-19 vaccine shot, 82.06 percent had gotten at least two shots, and 66.49 percent have gotten a booster shot, as of June 5, the CECC data showed.
View All