CORONAVIRUS
/
Taiwan reports 94,855 new COVID-19 cases, 126 deaths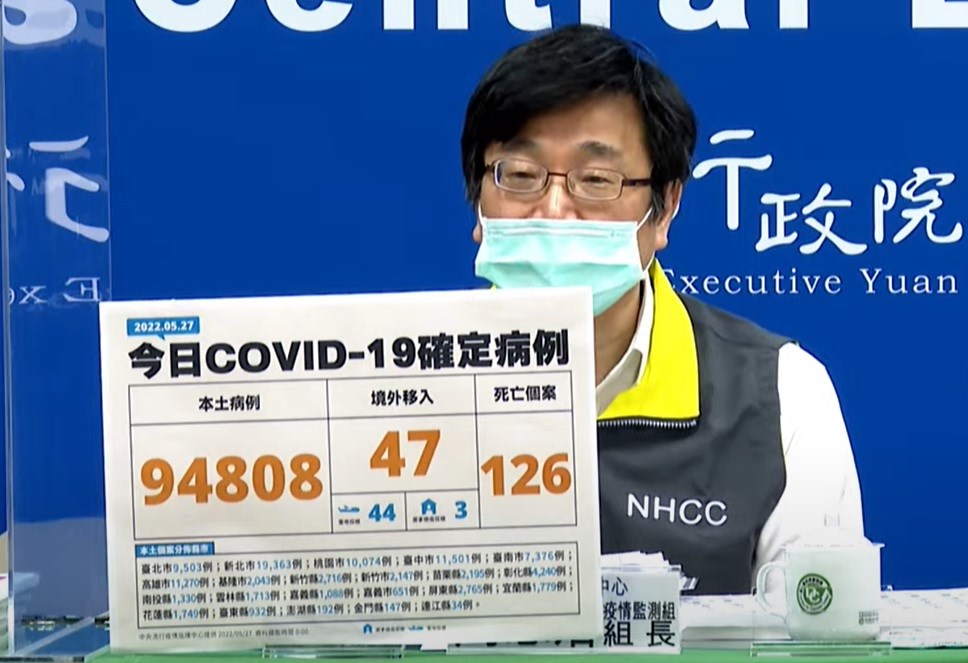 Taipei, May 27 (CNA) Taiwan recorded 94,855 new COVID-19 cases on Friday -- 94,808 domestic infections and 47 imported -- and a single-day high of 126 deaths from the disease, according to the Central Epidemic Command Center (CECC).
The number of new cases reported on Friday was also the highest daily total since the start of the pandemic, the CECC said.
Of the 126 people who died, who ranged in age from 10 to 100, 113 had chronic illnesses or other severe diseases while 52 were unvaccinated, according to the CECC.
The youngest person to die was a 12-year-old boy with a hereditary neurological disease who developed a fever on May 20 and was confirmed as having caught COVID-19 the following day, the CECC said.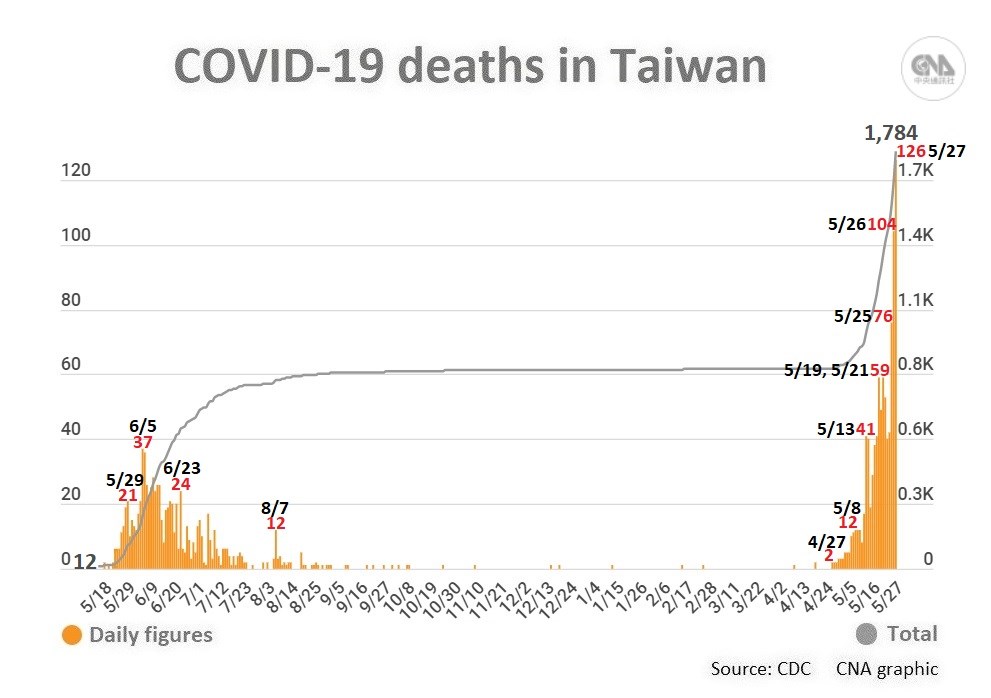 The CECC also said Friday that 116 previously reported COVID-19 cases had developed severe infections, while 227 others had developed moderate symptoms of the disease.
Of the 1,612,891 domestic cases recorded in Taiwan this year, 1,146 have been classified as severe infections and 2,885 as moderate, accounting for 0.07 percent and 0.18 percent of the total, respectively, according to CECC data as of May 26.
In all other cases, those infected were either asymptomatic or had mild symptoms, the CECC said.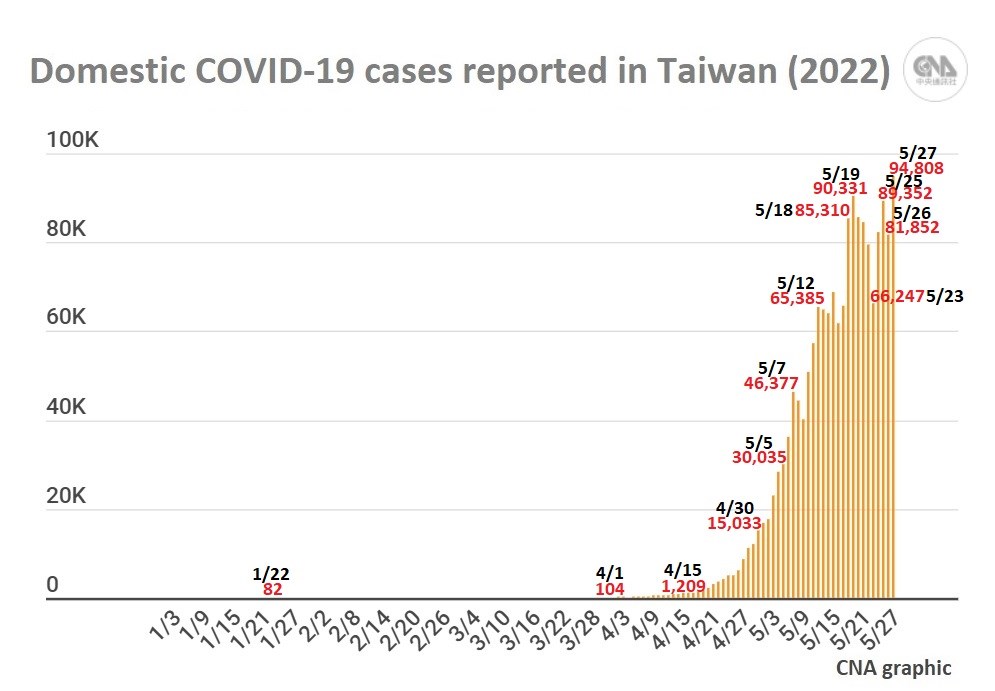 New Taipei reported the highest number of domestic cases Thursday, with 19,363, followed by Taichung with 11,501, Kaohsiung with 11,270, and Taoyuan with 10,074.
Taipei reported 9,503 cases, Tainan 7,376, Changhua County 4,240, Pingtung County 2,765, Hsinchu County 2,716, Miaoli County 2,195, Hsinchu City 2,147, Keelung City 651, and Yilan County 1,779.
Hualien County reported 1,749 cases, Yunlin County 1,713, Nantou County 1,330, Chiayi County 1,088, Taitung County 932, Chiayi City 651, Penghu County 192, Kinmen County 147, and the Matsu Islands 34.
To date, Taiwan has recorded 1,735,067 COVID-19 cases since the pandemic began in early 2020, including 1,722,243 domestic infections.
With 126 deaths reported Friday, the number of confirmed COVID-19 fatalities in the country rose to 1,784, 931 of which have been recorded this year.
Also on Friday
● Taiwan COVID-19 News Briefs: May 27
May 27: COVID to remain at 'high but stable plateau' for 2 weeks: health minister
May 27: Taiwan to offer free rapid COVID tests to children aged 6 or younger
May 27: Taiwan records eighth child COVID-19 death since April 19
May 27: Legislature approves one-year extension of COVID-19 relief act
Recent cases
May 26: Taiwan reports 81,907 new COVID-19 cases, 104 deaths
May 25: Taiwan reports 89,389 new COVID-19 cases, 76 deaths
May 24: Taiwan reports 82,435 new COVID-19 cases, 42 deaths
May 23: Taiwan reports 66,283 new COVID-19 cases, 40 deaths
View All