CORONAVIRUS
/
Taiwan COVID-19 News Briefs: May 24
Taipei, May 24 (CNA) Taiwan on Tuesday reported 82,435 new COVID-19 cases -- an increase of more than 16,000 from the six-day low on Monday -- and 42 deaths, according to the Central Epidemic Command Center (CECC).
Here are some of the new developments regarding the COVID-19 situation around Taiwan on Tuesday:
Rapid test-based COVID diagnoses expected to start Thursday
Health Minister Chen Shih-chung (陳時中) confirmed Tuesday that positive rapid test results that have been evaluated by a doctor will soon be counted as confirmed COVID-19 cases, thus removing the requirement for follow-up PCR tests.
The CECC is working with hospitals to confirm the final details of the policy, which will expedite the process of getting oral antiviral medications to those who need them, Chen said, adding that the new testing rule will likely take effect on Thursday.
Testing stations to become COVID-19 outpatient clinics
As a result of the shift to rapid test-based diagnoses, many community testing stations will be converted into COVID-19 outpatient clinics, where people can consult with doctors and pick up prescription medicines.
In Taoyuan, the 12 large-scale testing stations will be gradually converted to provide COVID-19-related medical services, which will also be available at more than 160 local clinics, according to Mayor Cheng Wen-tsan (鄭文燦).
In New Taipei, meanwhile, the city government said that some of the 38 large-scale testing facilities will be repurposed as clinics, while others will continue to serve people whose rapid test results are inconclusive.
Possible early summer break for Taipei schools
Taipei Mayor Ko Wen-je (柯文哲) said the city government will announce by Thursday whether schools should continue remote classes next week, resume in-person teaching, or start summer vacation early.
At a press briefing, Ko told reporters that consideration has to be given to how schools at each level might be affected by the decision, and the city government has to try to strike a balance between the levels of risk and disease control.
Pfizer-BioNTech children's vaccine distributed to local governments
On Tuesday, 403,000 doses of the Pfizer-BioNTech vaccine for children aged 5-11 years were distributed to cities and counties across Taiwan, and many local governments are preparing to start rollout this week.
To date, only 16.9 percent of children aged 6-11 years have received a first shot of the Moderna vaccine, but uptake of the smaller Pfizer-BNT vaccine doses is expected to be higher.
As of Tuesday, about 51 percent of the parents who had returned consent forms to 31 elementary schools in the city had agreed to have their children vaccinated, Taipei Deputy Mayor Tsai Ping-kun (蔡炳坤) said.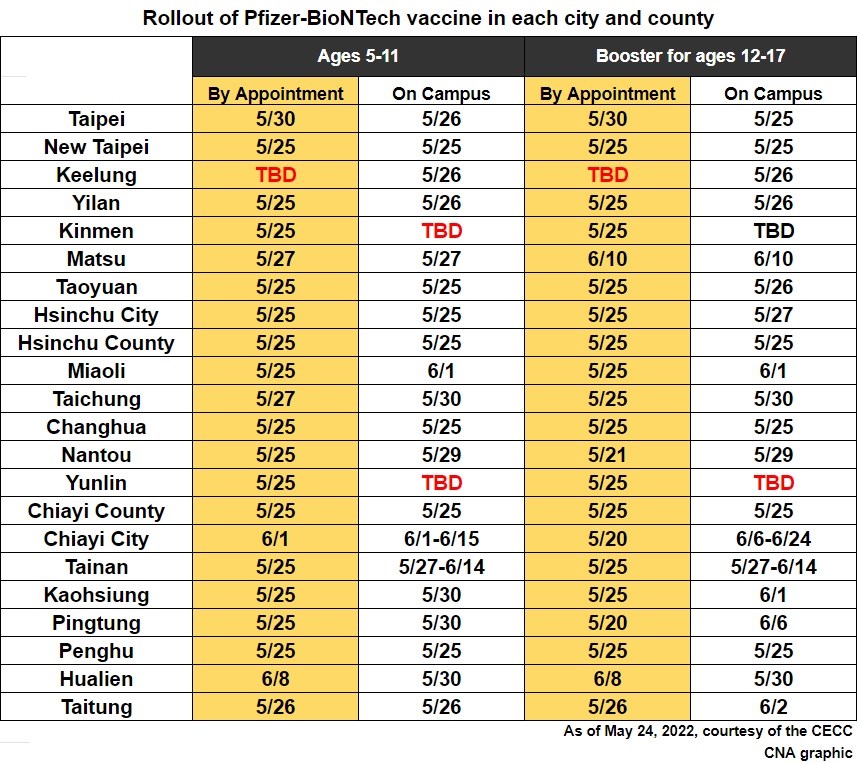 Insurance companies taking losses on COVID policies
Taiwanese insurance companies have now paid out more money than they earned on policies related to COVID-19, the Financial Supervisory Commission (FSC) said Tuesday.
According to FSC statistics, the companies earned NT$2.119 billion in premiums from a total of 2.69 million COVID-19 insurance policies.
As of Monday, however, the firms had paid out NT$2.582 billion on about 73,000 claims, which was about 121 percent of their earning on those policies, the FSC said.
Some 23,000 claims, with a total value of NT$779 million, were paid out in the last week alone, said the agency, which serves as the main regulator for the country's securities, banking and insurance industries.
Outbreak moving south
New Taipei continued to record the highest daily number of COVID-19 infections, but Taipei, with 8,566 cases on Tuesday, was overtaken by Kaohsiung (9,437) and Taichung (8,989).
At a press briefing, Kaohsiung Mayor Chen Chi-mai (陳其邁) said that only 3 percent of Kaohsiung residents were confirmed to have contracted COVID-19, compared to 8-10 percent in the northern cities.
Chen said he was working to slow the rising case numbers, in order to preserve the city's health care capacity.
View All