CORONAVIRUS
/
Taiwan cuts double rapid test requirement for '3+4' quarantine rule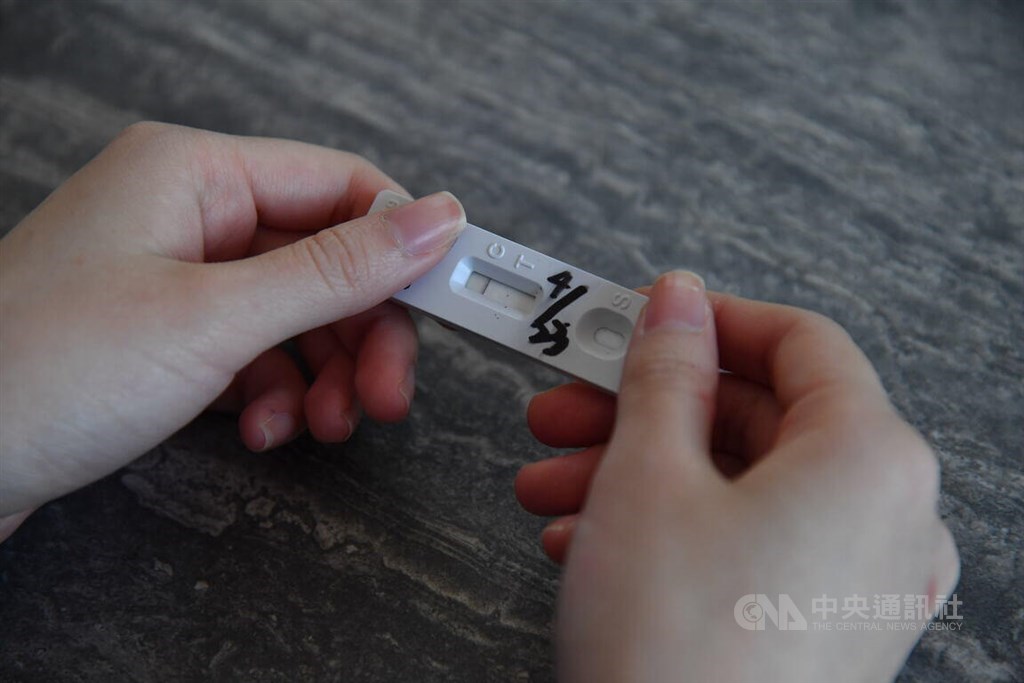 Taipei, April 26 (CNA) Taiwan on Tuesday further loosened its quarantine rules for contacts of people confirmed as having COVID-19, removing the need to take a second rapid test originally required on the third day of quarantine in new rules issued Monday.
The Central Epidemic Command Center (CECC) originally announced Monday that starting Tuesday, known contacts of people who contract COVID-19 only have to quarantine for three days and then closely monitor their health for the next four days.
Those individuals were to be required to take two COVID-19 rapid tests, one on the day they were identified as a contact, and another on their third day of quarantine, but CECC Spokesman Chuang Jen-hsiang (莊人祥) said Tuesday the second test is no longer necessary.
Instead, contacts will have to take a rapid test and receive a negative result before leaving their homes, on the days they go out during the four-day self-health monitoring period, Chuang said at the CECC daily press briefing.
Previously, the CECC required those individuals to take a test every day during that period whether they left home or not.
The CECC said a rapid test kit consisting of five reagents will be delivered to individuals identified as COVID-19 contacts by local government officials.
During the four-day monitoring period, COVID-19 contacts will be allowed to go to work, purchase necessities, and take public transportation, but students and teachers are barred from going to school, as experts feel they still pose a high risk, according to the CECC.
In the workplace, COVID-19 contacts should maintain social distancing and refrain from dining in staff canteens, the CECC said.
New '3+4' protocol's impact
Meanwhile, the CECC said that following the introduction of the "3+4" protocol, which retroactively applies to those currently in quarantine starting Wednesday, 67,000 individuals are expected to leave quarantine early, as the old rules required 10 days in quarantine and seven days of self-health management.
The "3+4" quarantine rule, which aims to reduce the impact of COVID-19 on society, comes at a time when Taiwan is experiencing a surge in domestic cases.
However, the northern cities of Taipei and New Taipei -- the epicenter of the pandemic in Taiwan -- said the new measures fail to significantly ease the burden on disease control personnel.
The New Taipei government had proposed eliminating quarantine altogether for close contacts of COVID-19 patients and allowing them to go out as long as they test negative.
In response, CECC head Chen Shih-chung (陳時中) said experts are still looking into the issue, but added that a majority currently thinks it is too soon to replace quarantine with rapid tests.
Update
May 7: Quarantine cut to 7 days for mild, asymptomatic COVID-19 cases: CECC
May 7: Taiwan rolls back quarantine rules for contacts of COVID-19 patients
May 5: Rapid test positives to be counted as confirmed COVID cases from May 12
May 3: Taiwan to shorten quarantine for arriving travelers from 10 to 7 days
May 2: Symptomless people to face restrictions in getting PCR test
April 28:COVID-19 contacts to receive fewer free tests during '3+4' quarantine 
April 27: Taiwan to start rationing sale of COVID-19 rapid test kits
View All