CORONAVIRUS
/
New domestically transmitted COVID-19 cases on the rise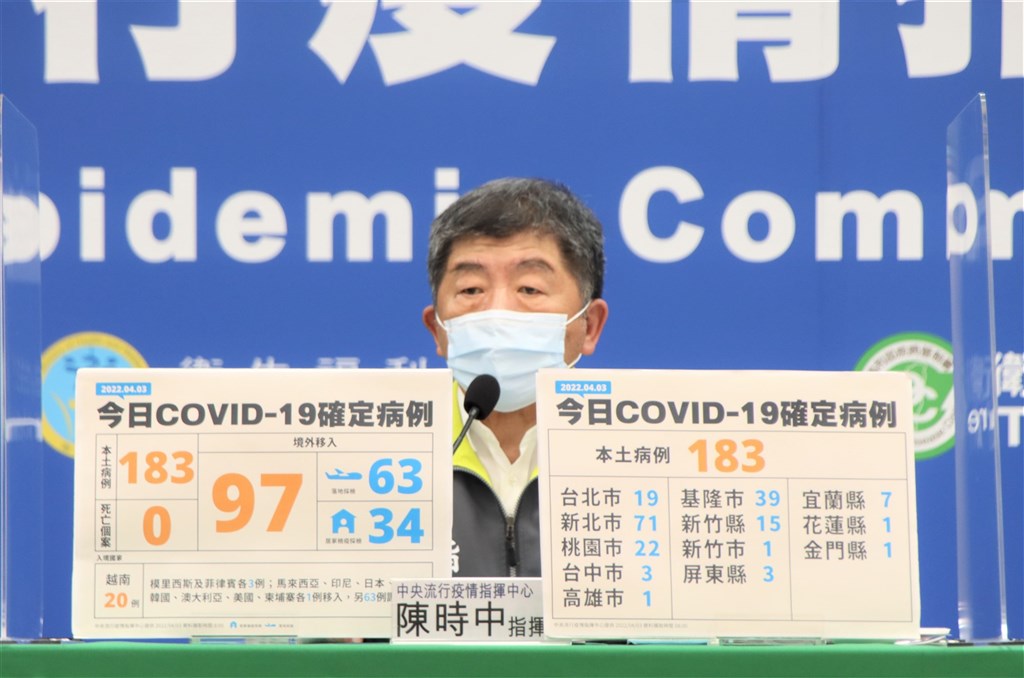 Taipei, April 3 (CNA) Taiwan reported 280 new COVID-19 cases on Sunday -- 183 domestically transmitted and 97 that originated abroad -- and no new deaths from the disease, according to the Central Epidemic Command Center (CECC).
Of the 183 domestic cases, 98 were males and 85 were females, ranging in age from under 5 to over 80 years old, the CECC said.
The confirmed number of locally transmitted cases on Sunday set a new daily high for the year, but 90 of the new local cases were asymptomatic, the CECC said.
The 183 local cases covered 12 counties and cities in Taiwan, with New Taipei having the highest number at 71, followed by 39 in Keelung, 22 in Taoyuan, 19 in Taipei and 15 in Hsinchu County.
The other new domestic cases were reported in Yilan County (7), Taichung (3), Pingtung County (3), Hsinchu City (1), Kinmen County (1), Kaohsiung (1) and Hualien (1).
Of note, of the 15 new confirmed cases reported in Hsinchu County on Sunday, nine involved people connected to a wedding banquet cluster in Taichung, the CECC said.
The nine new cases were identified as close contacts of a nurse who tested positive for COVID-19 after attending the wedding banquet in Taichung in March.
Meanwhile, the 97 new imported cases involved people who arrived in Taiwan between Feb. 23 and April 2. Twenty originated from Vietnam, and three each came from Mauritius and the Philippines, among others, while the sources of 63 cases were still being investigated.
View All