CORONAVIRUS
/
Taiwan to receive 2 million Novavax vaccine doses from COVAX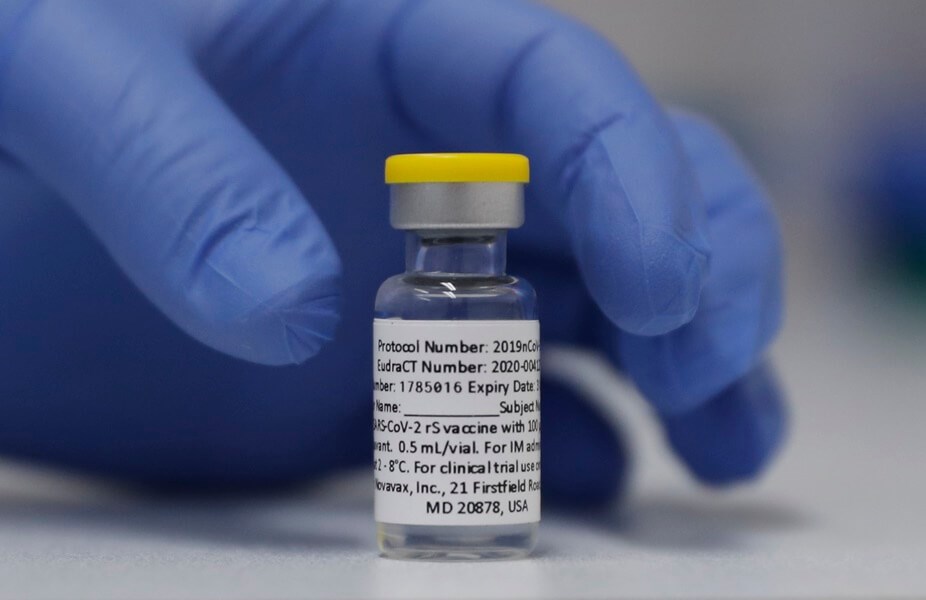 Taipei, March 24 (CNA) Taiwan's Minister of Health and Welfare Chen Shih-chung (陳時中) said Thursday that Taiwan has ordered around 2 million doses of the Novavax COVID-19 vaccine through the global vaccine sharing initiative COVAX.
Speaking to reporters before heading to a legislative hearing, Chen said that Taiwan has ordered 2 million Novavax doses, but when the first shipment will arrive and how many doses it will contain has not yet been confirmed.
Taiwan's Food and Drug Administration (FDA) is currently reviewing technical data on the Novavax vaccine as part of its emergency use authorization (EUA) process, Chen said at a separate press briefing Thursday.
Taiwan's Advisory Committee on Immunization Practices has recommended that the vaccine be given to individuals 18 years and older as first, second, or booster shots, Chen said.
The interval between the first and second doses should be 28 days, and a booster shot should follow 12 weeks after a second dose, Chen said.
When asked whether there is interest in the vaccine in Taiwan, Chen said that subunit vaccines like Novavax are suitable for those who are allergic to other types of COVID-19 vaccines offered in Taiwan and people who are put off by the potentially more severe side effects of other vaccines.
Even though the locally developed Medigen vaccine is also a subunit vaccine, it has not yet been approved by the World Health Organization, which could lead people to choose the Novavax vaccine instead, he said.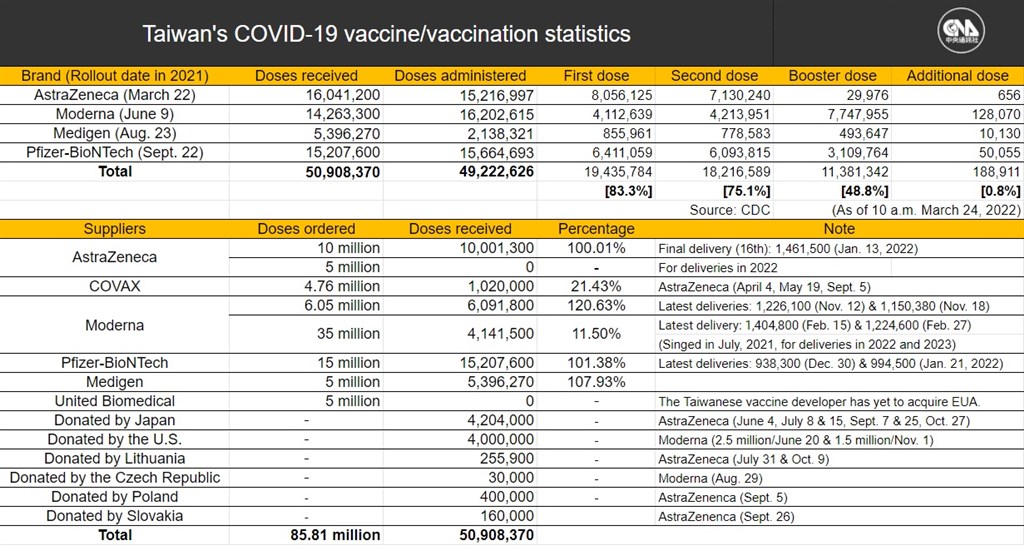 Taiwan has ordered 4.76 million COVID-19 vaccine doses from COVAX, of which 1.02 million doses, all of the AstraZeneca brand, have been delivered, according to the CECC.
To date, 83.3 percent of Taiwan's 23.32 million population has received at least one COVID-19 shot, while 78.1 percent has gotten two doses, according to the CECC.
Since Taiwan began giving third doses in December, 48.8 percent of the population has received a booster shot and 0.8 percent has been given an additional dose, which is a third shot administered to immunocompromised people, CECC data shows.
Related News
March 24: Taiwan to hold off vaccinating 5-11-year-olds against COVID-19
March 24: Taiwanese parents shun outdoor activities for kids during COVID: poll
Recent cases
March 24: Taiwan reports record 124 imported COVID-19 cases in one day
March 23: Taiwan reports 97 new COVID-19 cases, including 2 domestic
March 22: Taiwan reports 98 new COVID-19 cases, including 5 domestic
March 21: Taiwan reports 98 new COVID-19 cases, including 5 domestic
March 20: Taiwan reports 121 new COVID-19 cases, including 3 domestic
View All