CORONAVIRUS
/
Over 975,000 appointments made for COVID booster shot online in 7 hours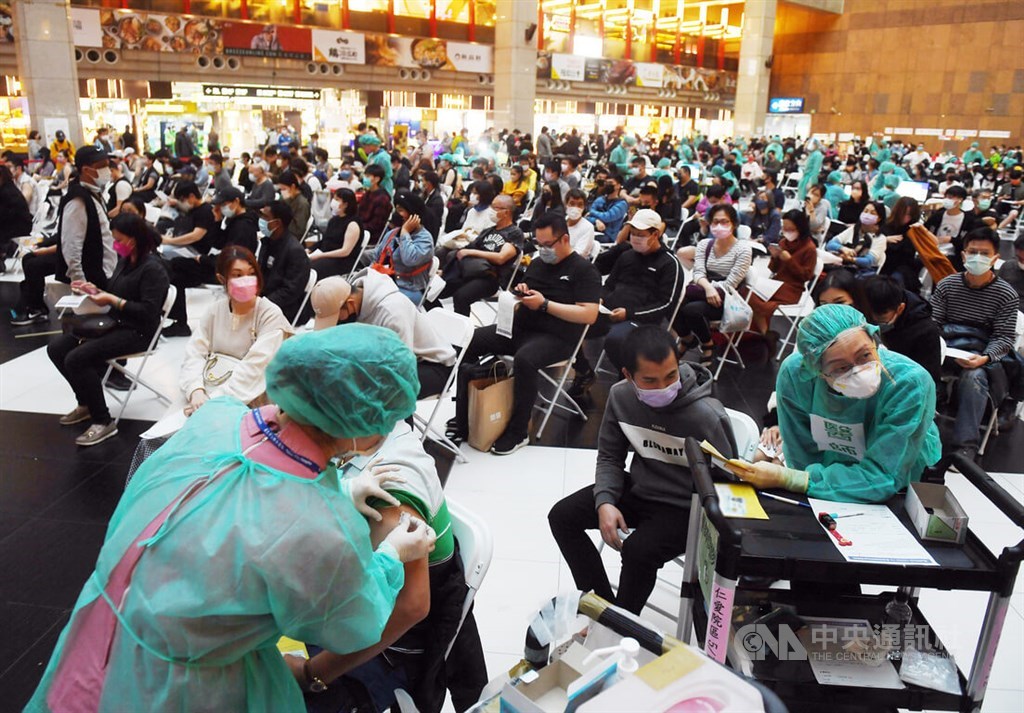 Taipei, Jan. 26 (CNA) A total of 975,719 people made an appointment via the government's 1922 website for a COVID-19 vaccine booster dose within seven hours of bookings opening Wednesday, according to the Central Epidemic Command Center (CECC).
The website began accepting a new round of appointments for booster doses, which will be administered from Feb. 7-13, at 10 a.m. Wednesday.
Taiwan's government hopes to achieve a third-dose rate of 50 percent by the end of February, a target unveiled by Health Minister Chen Shih-chung (陳時中) to lawmakers a day earlier.
Over the Feb. 7-13 period, the CECC plans to offer nearly 1.48 million doses of the four brands of the COVID-19 vaccines available in Taiwan -- AstraZeneca, Moderna, Pfizer-BioNTech, and the locally produced Medigen -- CECC spokesperson and Centers for Disease Control Deputy Director-General Chuang Jen-hsiang (莊人祥) said during a press briefing.
According to the CECC, 601,136 people chose the Moderna vaccine, of which 670,000 doses have been made available for the ongoing booking period that ends 4 p.m. Thursday.
Some 309,917 people picked the Pfizer-BioNTech vaccine, and 664,000 doses of the brand are set to be administered during the week-long period in early February.
There were 59,353 people who booked an appointment for the 117,000 Medigen doses being offered, while 5,313 selected the AstraZeneca vaccine, 26,000 doses of which will be made available for the Feb. 7-13 period, the CECC said.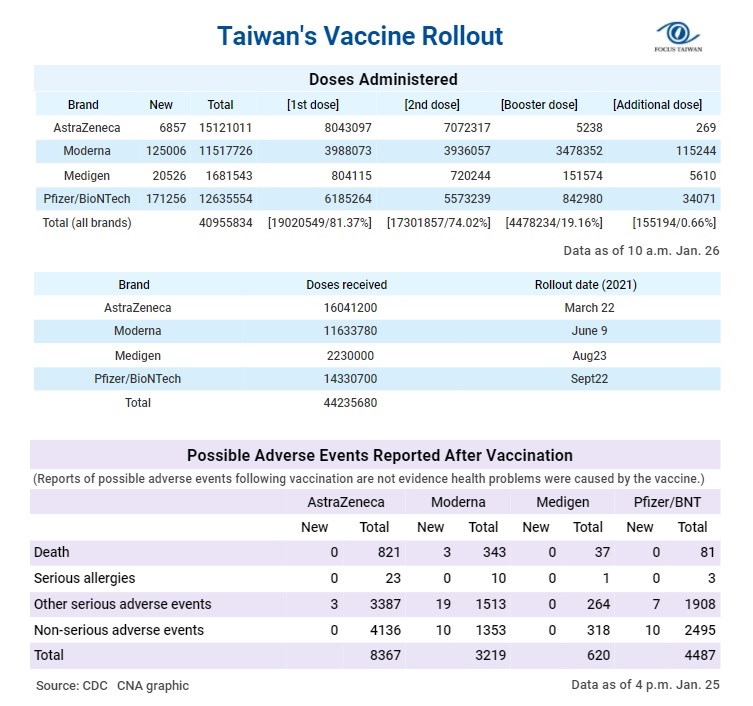 To date, 81.37 percent of Taiwan's population of 23.37 million have received at least one dose of a COVID-19 vaccine, while 74.02 percent have received two doses.
Since the introduction of booster doses in late December, 19.16 percent have received a booster. Boosters are currently available to people 12 weeks after their second dose.
Some 0.66 percent have been given an "additional dose," which is administered 28 days after the second dose for people classified as being immunocompromised, CECC data released Wednesday showed.
View All