CORONAVIRUS
/
Taiwan sees 10 new domestic cases, including 1 disease control staff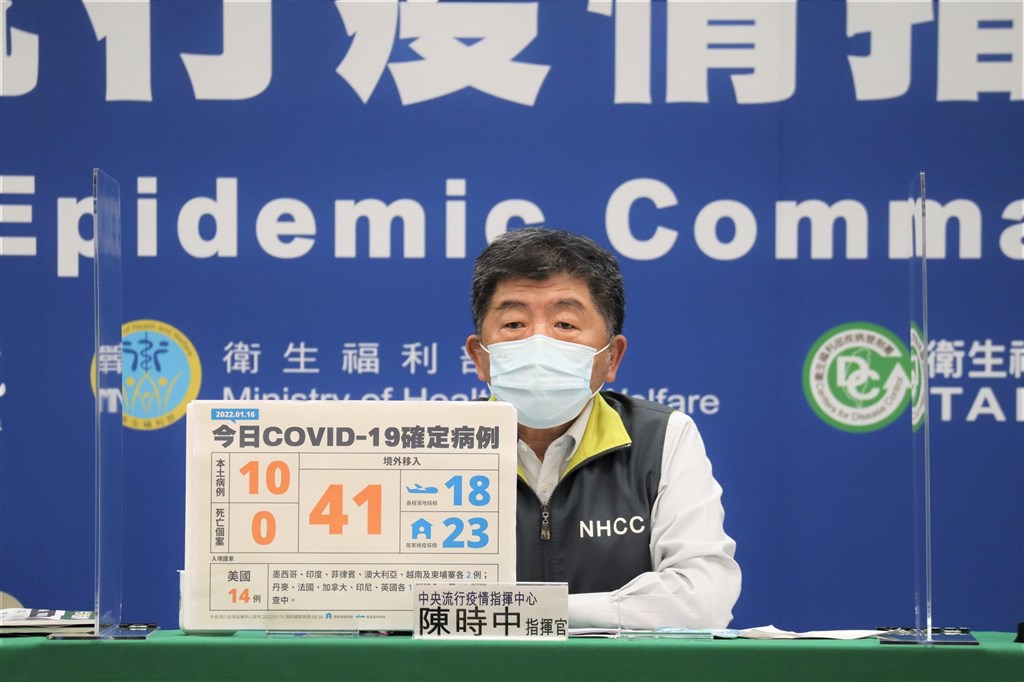 Taipei, Jan. 16 (CNA) Taiwan's Central Epidemic Command Center (CECC) on Sunday reported 10 new domestic COVID-19 cases, including one person working in disease control at Taoyuan International Airport.
Among the new cases, eight are linked to a Tasty Steakhouse branch in Taoyuan's Zhongli District, suggesting that a cluster that emerged after the restaurant hosted a year-end celebration for a group of employees from Union Bank's Jianxing branch in Zhongli has continued to spread.
According to the CECC, some of the bank employees contracted COVID-19 from a family member of an airport employee infected in an earlier airport cluster that triggered Taiwan's most recent COVID-19 outbreak.
Investigations continue for the other two new cases, said the CECC, which revealed that one of the two is a disease control worker at the Taoyuan airport.
The airport worker is responsible for conducting deep-throat saliva test and fever screening for inbound passengers and was confirmed as having contracted COVID-19 after 6,346 airport staff were tested en masse between Jan. 14 and 15, according to the CECC.
However, Health Minister Chen Shih-chung (陳時中), who heads the CECC, said the chances were low that the case was connected to the original airport cluster, which originated in a different part of the airport.
The final domestic case reported Sunday is a Taoyuan resident who went to a local COVID-19 test station for a voluntary check after finding out that her daughter was a possible contact of one of the confirmed cases.
The infected individuals are in their teens to 50s, and four of them have been classified as breakthrough cases of COVID-19, Chen said.
In addition to the domestic cases, Taiwan also reported 41 imported cases on Sunday. The CECC has not released any information regarding the vaccination status of the imported cases.
Among them, 14 involved passengers arriving from the United States, with another 17 coming from Mexico, India, the Philippines, Australia, Vietnam, Cambodia, Denmark, France, Canada, Indonesia, and the United Kingdom, the CECC said.
Ten other remaining cases are still being investigated, it said.
Taiwan did not report any new COVID-19 deaths on Sunday.
With 18 of the 493 passengers who arrived in Taiwan Saturday testing positive, this amounted to a positivity rate of 3.65 percent, Chen said at Sunday's press briefing.
There were also 24 out of 334 passengers testing positive on flights arriving Sunday morning, but the cases will be added to Monday's tally, according to the CECC.
To date, Taiwan has confirmed 17,820 COVID-19 cases since the pandemic began in early 2020, of which 14,692 are domestic infections. It has also recorded 851 deaths related to COVID-19.
View All