CORONAVIRUS
/
Plan to buy COVID-19 pills unchanged despite lower efficacy: CECC
Taipei, Nov. 27 (CNA) Taiwan's plan to procure the oral antiviral drug, molnupiravir, remains unchanged, Health and Welfare Minister Chen Shih-chung (陳時中) said Saturday, although the drug has been shown to be less effective in reducing COVID-19 hospitalizations and deaths in its final analysis.
Molnupiravir reduced the risk of hospitalization and death among high-risk COVID-19 patients by 30 percent in a final analysis that was based on data from 1,433 patients, according to the drugmaker Merck, also known as Merck Sharp & Dohme (MSD) outside the United States and Canada.
The company's data in October showed approximately 50 percent efficacy for the drug.
Asked to comment on the issue, Chen said at an event that the Central Epidemic Command Center's (CECC) plan to procure molnupiravir would not change because it had already made a deal with Merck.
On Nov. 10, CECC spokesman Chuang Jen-hsiang (莊人祥) had said Taiwan would purchase approximately 10,000 courses of molnupiravir under a letter of intent with Merck, which had developed the drug with Ridgeback Biotherapeutics.
Taiwan's Food and Drug Administration (FDA) Director-General Wu Shou-mei (吳秀梅) told CNA on Saturday that her agency plans to complete the review of the emergency use authorization (EUA) application for molnupiravir by mid-December.
The drugmaker had submitted the EUA application earlier in November, Wu said.
In the meantime, the U.S. FDA is still in the process of reviewing the EUA application for the antiviral drug.
Commenting on the drug, virologist Shih Shin-ru (施信如) told CNA Saturday it would be great if Taiwan's FDA could grant EUA to molnupiravir so it could be imported into Taiwan by the end of the year.
As breakthrough infections increase, the drug may help curb the spread of the virus, said Shih, who is currently the director of the Research Center for Emerging Viral Infections of Chang Gung University.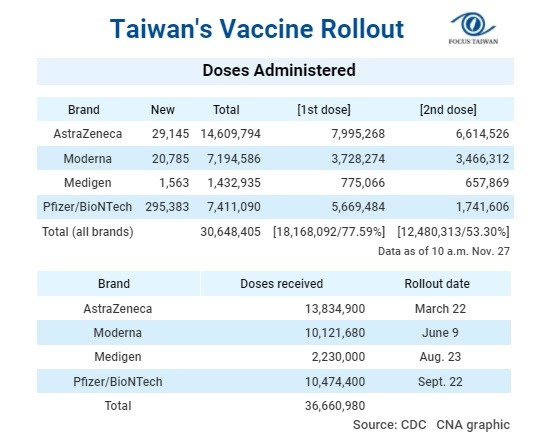 For people who cannot receive COVID-19 vaccines, the drug may reduce their risk of developing severe symptoms after contracting the disease, she added.
Meanwhile, CECC spokesman Chuang Jen-hsiang (莊人祥) said the CECC had commenced talks with Pfizer Inc. about purchasing another experimental COVID-19 drug, Paxlovid, about one to two weeks ago. However, he added that the two sides had not reached a deal.
Taiwan's FDA said it had received Pfizer's EUA application for Paxlovid this week, but it would not begin a review until the company has submitted all necessary data.
View All