CORONAVIRUS
/
One new domestic COVID-19 case recorded in Taipei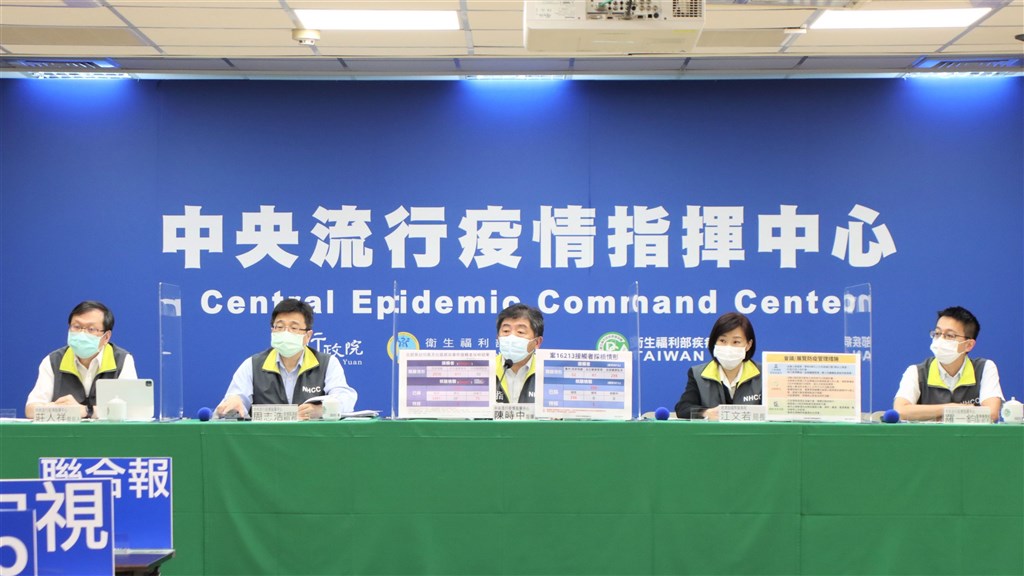 Taipei, Sept. 19 (CNA) Taiwan recorded 12 new COVID-19 cases on Sunday -- one transmitted domestically and 11 contracted overseas -- and one death from the disease, according to the Central Epidemic Command Center (CECC).
The new domestic case was a Taipei resident in her 60s. On Sept. 10, she tested negative for COVID-19 prior to being admitted to a hospital, but her daughter, who was set to accompany her during her hospital stay, tested positive on Sept. 15.
The woman was tested for the disease again on Sept. 17, and the results came back positive this time, the CECC said.
Two other people in the woman's family had tested positive for COVID-19 in May and so had her daughter's boyfriend, the CECC has said previously.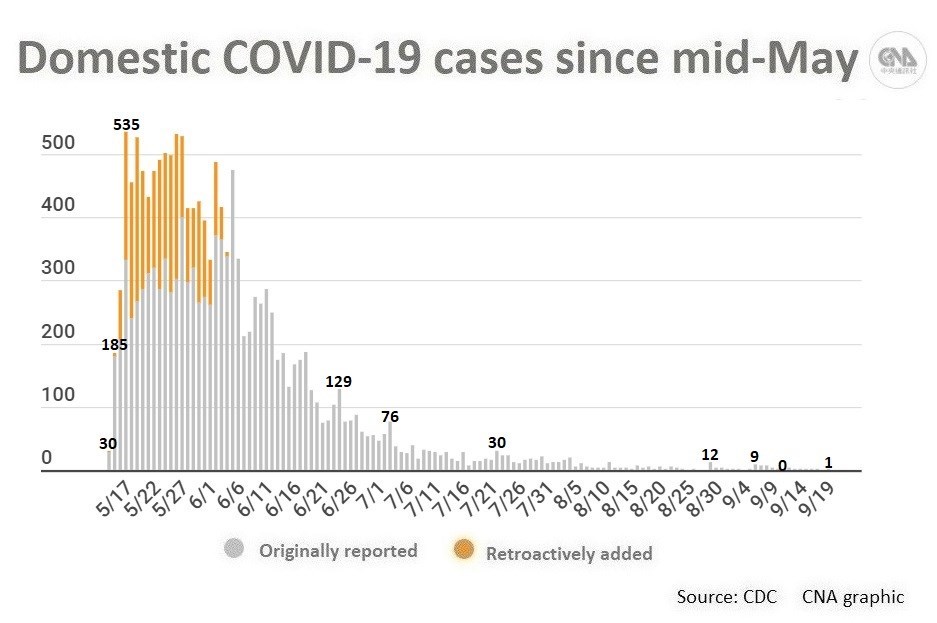 Taiwan also reported 11 new imported cases Sunday, involving five Taiwanese and six foreign nationals who recently traveled to Taiwan from Russia, the United States, Honduras, Singapore, Canada, the Czech Republic, Poland, Myanmar, South Africa, and Cambodia.
Five of these were breakthrough infections, as they came down with the disease at least 14 days after receiving the one (one person received the Johnson & Johnson vaccine) or two shots they needed to be fully vaccinated against COVID-19, the CECC said.
The sole death reported Sunday was a man in his 70s who passed away on Sept. 10.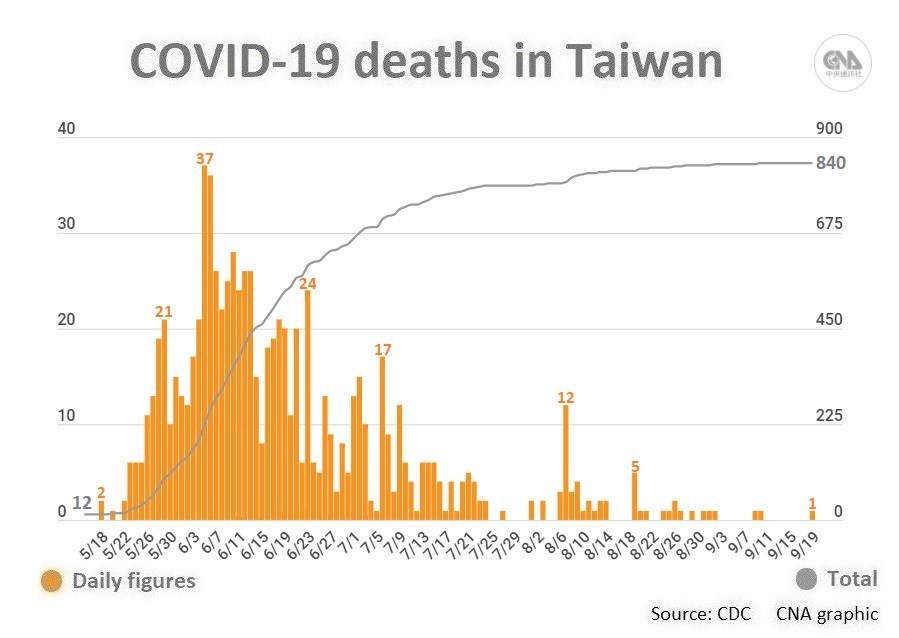 Speaking at the CECC press briefing, Health and Welfare Minister Chen Shih-chung (陳時中) urged people who are traveling around Taiwan during the four-day Mid-Autumn Festival holiday to follow disease prevention measures.
Even though the holiday is a chance for people to relax, they should still be vigilant against the disease by wearing surgical face masks, washing their hands often, and maintaining social distancing, he said.
To date, Taiwan has confirmed a total of 16,141 COVID-19 cases, of which 14,412 are domestic infections reported since May 15, when the country first recorded more than 100 cases in a single day.
The number of confirmed COVID-19 deaths in the country has risen to 840, with all but 12 recorded since May 15, CECC data showed.
Recent cases
Sept. 18: Taiwan reported 6 new COVID-19 cases, all imported
Sept. 17: Taiwan reports two new domestic COVID-19 cases, both in Taipei
Sept. 16: New Taipei COVID-19 Delta cluster grows to 33 cases
Sept. 15: Aircraft cabin cleaner confirmed as infected with COVID Delta variant
Sept. 14: COVID cluster under control; no immediate plans to tighten rules: CECC
View All