CORONAVIRUS
/
New round of AstraZeneca vaccination to start next week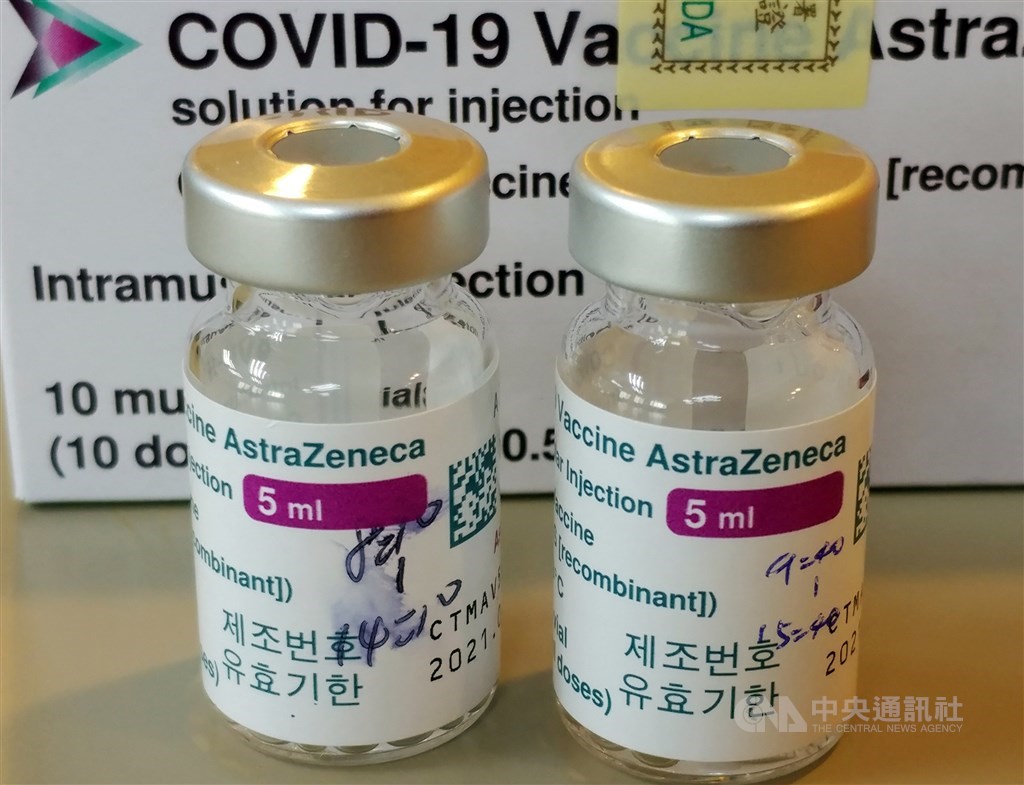 Taipei, Sept. 6 (CNA) A new round of COVID-19 vaccination, using the AstraZeneca brand, will begin in Taiwan on Sept. 15, allowing some 1 million people to get either their first or second shots, the Central Epidemic Command Center (CECC) said Monday.
In the new round, people who received their first AstraZeneca jab before July 3 will be eligible to make appointments for their second dose, the CECC said at a press briefing.
Those in the 18-22 age group who registered on the government vaccination website prior to July 19 and listed AstraZeneca as one of their choices will be eligible to book their first shot, the CECC said.
The website will be open to appointments from 10 a.m. on Sept. 10 to noon on Sept. 12, while the vaccination period will be Sept. 15-23, according to the CECC.
Meanwhile, Education Minister Pan Wen-chung (潘文忠) said Monday that Taiwan will begin vaccination of some 1.25 million young people, aged 12-17, starting Sept. 23, with the Pfizer-BioNTech COVID-19 vaccine.
Junior and senior high school students will have the choice of receiving the vaccine either at their school or at a hospital, Pan said at the CECC press briefing.
Those who attend elementary or overseas schools, or are being home-schooled, will have to go to a hospital to receive their jabs, he said, adding that the ministry will soon announce the appointment dates.
Students who develop side effects after getting the vaccine will be allowed to take vaccination leave, which will not be reflected in their attendance records, Pan said.
In principle, vaccination leave can last up to three days, including the day the shot is administered, but that period can be extended if necessary, he said.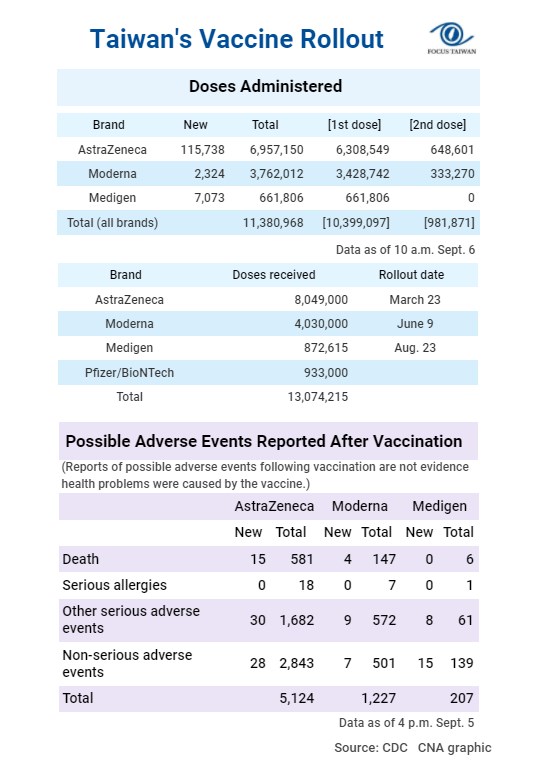 Also on Monday, the CECC said that people aged 20 and over can get a shot of the locally developed Medigen COVID-19 vaccine without having to make an appointment on the government website.
They can directly contact any of the hospitals or clinics that offer the vaccine, and can obtain the jab between now and Sept. 11, the CECC said.
To date, nearly 10.4 million people, or 44.2 percent of Taiwan's 23.5 million population, have received one shot of a COVID-19 vaccine, but only 4.1 percent, or 981,871 people, have had the two doses needed to be fully vaccinated.
Taiwan began its COVID-19 vaccine rollout on March 22 with the AstraZeneca vaccine, followed by the Moderna vaccine in June and Medigen in late August.
Rollout of the Pfizer-BioNTech brand will begin Sept. 23, with priority being given to young people 12-17 and then to the 18-22 age group.
Health and Welfare Minister Chen Shih-chung (陳時中) said Monday that after Sept. 23, a new round of vaccinations may include the Pfizer-BioNTech brand, but he did not say who would be eligible.
View All