CORONAVIRUS
/
COVID-19 home test kits to go on sale at 4 convenience store chains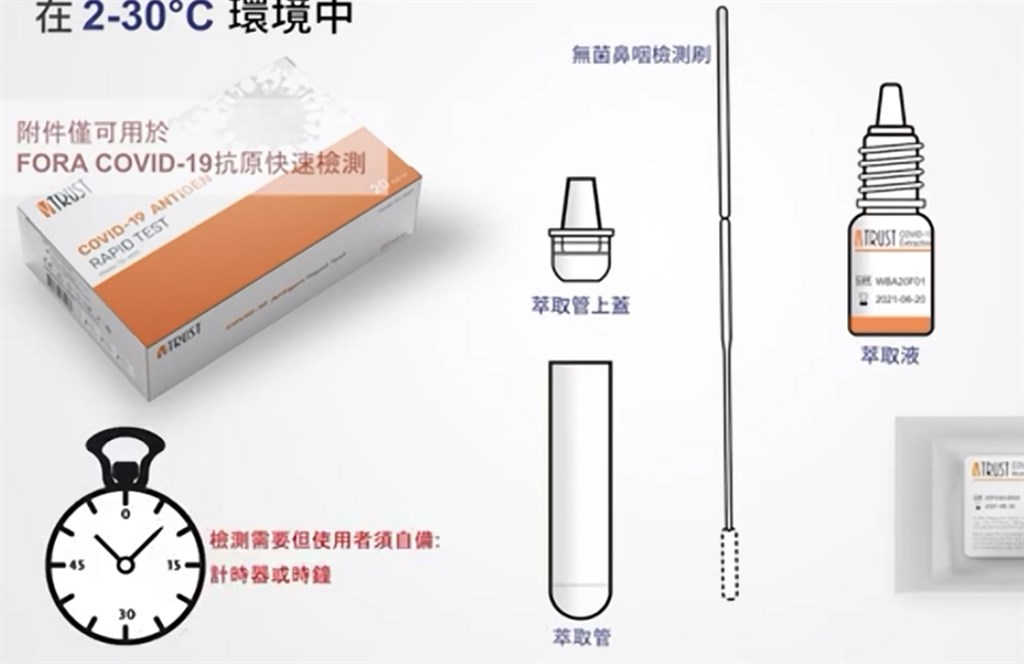 Taipei, June 22 (CNA) Two convenience store chains, Hi-Life and 7-Eleven, will begin selling COVID-19 home test kits on Wednesday, while another two, OK Mart and FamilyMart, will start on Thursday and Saturday, respectively.
In a statement Tuesday, Hi-Life said the home test kits will only be sold at two of its outlets in northern Taiwan -- the Dihua Store in Taipei's Datong District and the Wugong Store in New Taipei's Wugu District.
The products will go on sale at 3 p.m. Wednesday, but the two stores will only have a limited supply of 100 boxes each, Hi-Life said.
Each box, which contains five antigen test stripes produced by Taiwan-based maker TaiDoc Technology Corp., will retail for NT$1,700 (US$60.69).
Meanwhile, 7-Eleven said its stores in cities north of Taoyuan will start selling the TaiDoc antigen home test kit at 2:30 p.m. Wednesday, before it becomes more readily available in stores nationwide from July 1.
Instead of being sold in boxes, the product will be sold as a single test strip at a cost of NT$350, the company said.
OK Mart said its COVID-19 home kits, produced by Swiss biotech company Roche and sold in boxes of five test stripes at a cost of NT$1,900, will be available via preorder at its stores starting Thursday.
Customers can pick-up their ordered merchandise from July 9, the company said.
FamilyMart on Tuesday said it will sell both the Roche and TaiDoc test kits, with the former costing NT$1,800 per box and the latter NT$5,880 per box. The former will contain five tests, the latter 20.
Customers can also preorder from FamilyMart's 3,800 physical stores that are licensed to sell medical products in Taiwan beginning Saturday. The pick-up date, could be the next day at the earliest, it said.
View All