Heavy rain alerts issued for 8 cities, counties
Taipei, Aug. 8 (CNA) As air convection effects escalate, heavy rain alerts were issued for eight cities and counties on Saturday, according to the Central Weather Bureau (CWB).
The CWB said heavy rain warnings have been issued for Taichung City and Nantou County in central Taiwan, Chiayi, Tainan and Kaohsiung cities and Yunlin, Chiayi and Pingtung counties in the south.
According to the CWB, a heavy rain alert indicates likely accumulated rainfall of 80 millimeters or more over a 24-hour period.
The CWB said the rainfall would be heavier in mountainous parts of central Taiwan and areas south of Chiayi, urging the public to be aware of sudden heavy rain.
Lightning strikes as well as strong winds are possible for the rest of the day, The CWB warned.
In addition, large waves are forecast in Keelung and northeastern coastal areas, eastern Taiwan, as well as the Hengchun Peninsula in the south, the CWB said, urging increased vigilance by fishing boats and people involved in water-based activities.
(Note: the heavy rain advisory was canceled by the CWB at 8:15 p.m. Saturday)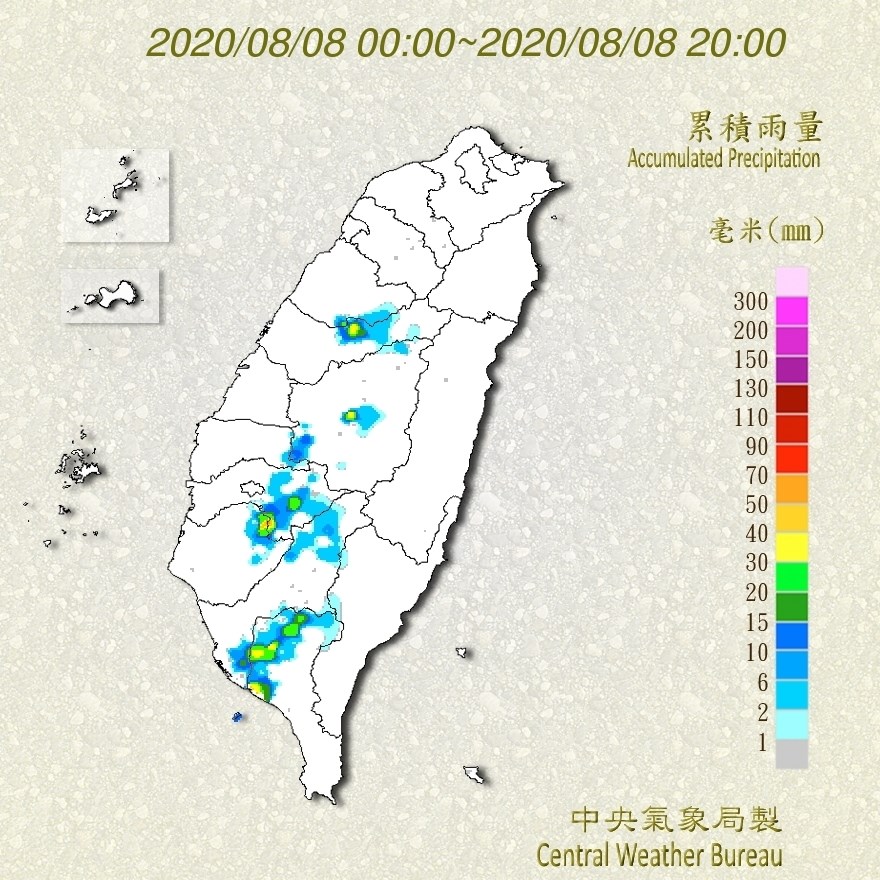 Meanwhile, the CWB said a tropical depression was located 780 kilometers southeast of Eluanbi, the southernmost tip of Taiwan as of 2 p.m. Saturday, moving in a northerly direction toward Okinawa at 37km per hour.
It is possible the tropical depression will strengthen and turn into a tropical storm late Saturday or Sunday, but it is unlikely the system will have any direct impact on Taiwan's weather, the CWB said.
However, the weather system is expected to bring moisture from the south to Taiwan, resulting in unstable weather conditions across the island from Monday to Wednesday.
The CWB said heavy rain and even extreme heavy rain are possible in central and southern Taiwan in the first half of next week, while sporadic showers are forecast for the north.
Extreme rain means 200mm of rainfall in 24 hours or over 100 millimeters in three hours, according to the CWB's advisory system.