Migrant worker suicide leads to call for work injury payout system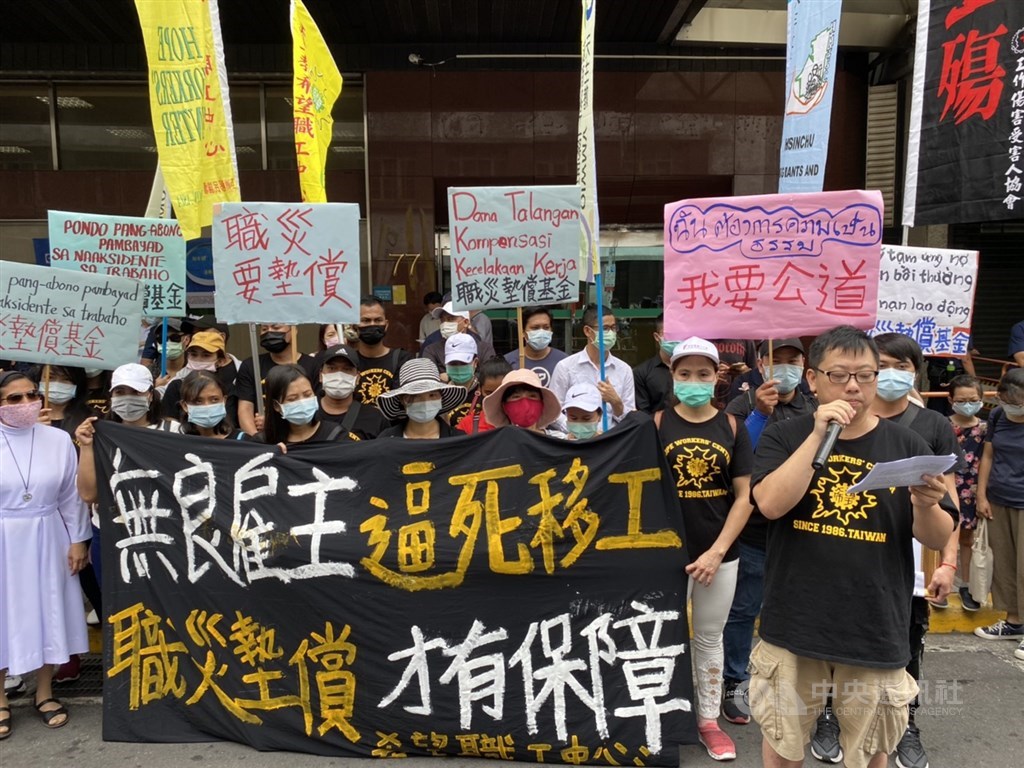 Taipei, July 22 (CNA) NGOs rallied in downtown Taipei on Wednesday to demand that the government establish a more timely compensation system for occupational injuries after an injured migrant worker committed suicide for fear of being a burden to his family.
The groups rallied outside the Ministry of Labor to call for a system that better protects workers' rights by first paying compensation to a worker who suffers a serious occupational injury and then seek the money from those responsible.
The appeal stemmed from the suicide on July 7 of a 55-year-old migrant worker from Thailand, identified by his first name Prayuan, who jumped off the fourth floor of a shelter run by the Hope Workers' Center under the Hsinchu Catholic Diocese.
The Thai worker had been staying at the shelter since April after he was discharged from Taoyuan Armed Forces General Hospital.
He had been there since July 16, 2019, when his abdomen was rammed by metal objects swinging from a crane as they were being lifted into the air at his workplace in Taoyuan.
Faced with rising medical costs and not having received any help or support from his employer, Prayuan decided to end his life to not be a financial burden on his family, said Prayuan's son, identified by the Hope Workers' Center as "M."
While it is not clear that the injury payout system suggested by the NGOs would have left Prayuan with enough money to feel that his medical expenses would have been covered well into the future, there would have been less uncertainty hanging over his finances or worries about the employer not meeting its responsibility.
"Workers, especially disadvantaged workers, often only can rely on themselves to fight for compensation, so we think the government should establish a regulation that protects the rights of the victims by paying up front and collecting the money afterwards," said A Tong (許惟棟), a case worker at the Hope Workers' Center.
According to the doctor who treated Prayuan, he suffered a very heavy blow to his abdomen and suffered major internal bleeding, said A Tong.
A large section of Prayuan's intestines had to be removed, and he will need to be looked after for the rest of his life while using a special pouch to collect his bowel movements, A Tong said.
The costs of medical fees and supplies could range from NT$5,000 (US$170) to NT$10,000 per month, the case worker estimated.
"Prayuan spent 12 years as a migrant worker in Taiwan to raise his daughter and son," A Tong said. The daughter has graduated from college and the son has his own family, and "Prayuan did not want to create a burden for them."
When his father was hospitalized, his father's employer did not pay any medical bills or compensation, and only agreed to pay parts of his salary, the son said.
The company disputes that account. A manager at San Yeong Iron Works Co., Ltd. said that before NGOs got involved in the case in January, it was representatives of San Yeong who cared for Prayuan's welfare while in hospital.
"If we didn't take care of him, where did (the son) eat, sleep and stay all this time? He stayed at our offices," the manager said.
A Tong said, however, that the son slept on a folding bed at the hospital and lived on the leftovers of meals provided by the hospital for his father.
When asked about what happened on July 16, the manager said he was not at the factory during the incident but later learned that Prayuan was still able to eat and drink that evening.
It was the next day that Prayuan told them that he was experiencing pain in his abdomen after finding blood in his stool, the manager said.
The MOL said in a statement that compensation for occupational injuries of migrant workers should be handled in accordance with labor insurance laws, the Labor Standards Act and the Occupational Safety and Health Act.
The ministry also provided condolence money and legal assistance, and it is now pushing separate legislation aimed at protecting the rights of workers when occupational accidents occurred.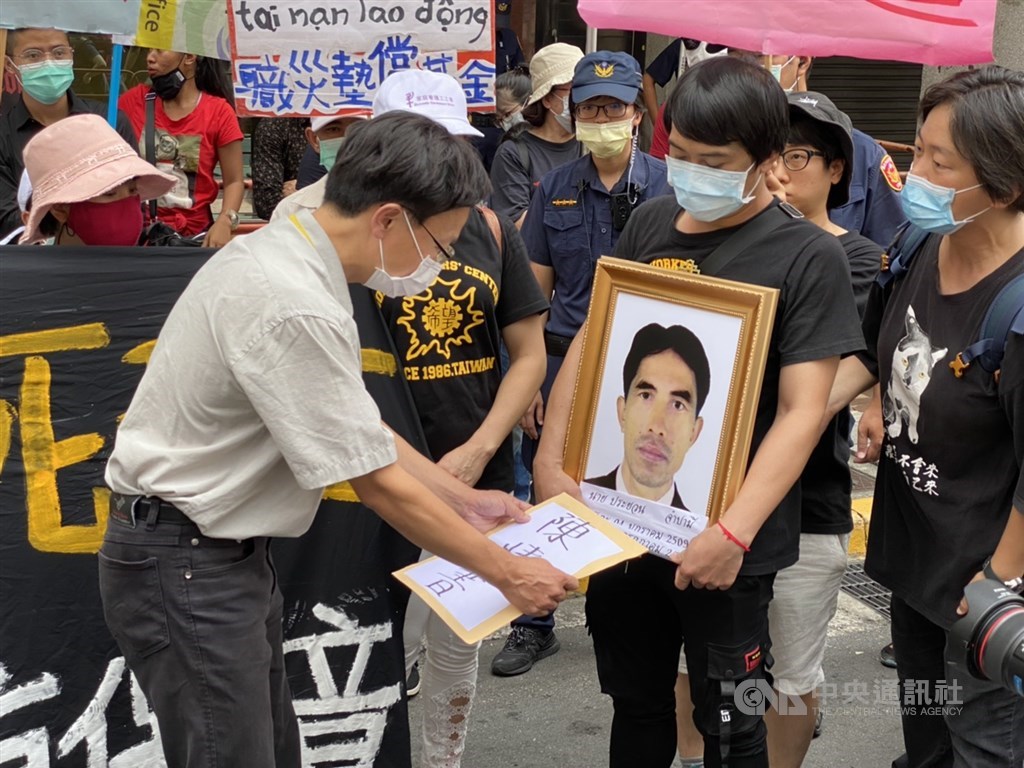 Meanwhile, the Taoyuan City government has fined the employer NT$30,000 for not reporting an occupational injury and an additional NT$20,000 for not paying the worker's salary as required.
The company will also have its right to import migrant workers revoked, according to the MOL.
After mediation by the city government, the employer had paid NT$93,996 in back wages to the worker as of May 6, the MOL said.
All medical costs incurred by the worker while in the hospital will be paid for by the Bureau of Labor Insurance, the MOL said, and an additional NT$10,000 in consolation money has also been approved for the family.
A Thailand Trade and Economic Office (TTEO) official, who declined to be identified, told CNA that the family also received a NT$30,000 emergency payout for Thai overseas workers in distress.
Another meeting between the employer and the worker's son will be held Friday, and the TTEO will attend to try to help the two parties reach an agreement on compensation matters, the official said.