Taiwan shuts down major video piracy site, arrests alleged owners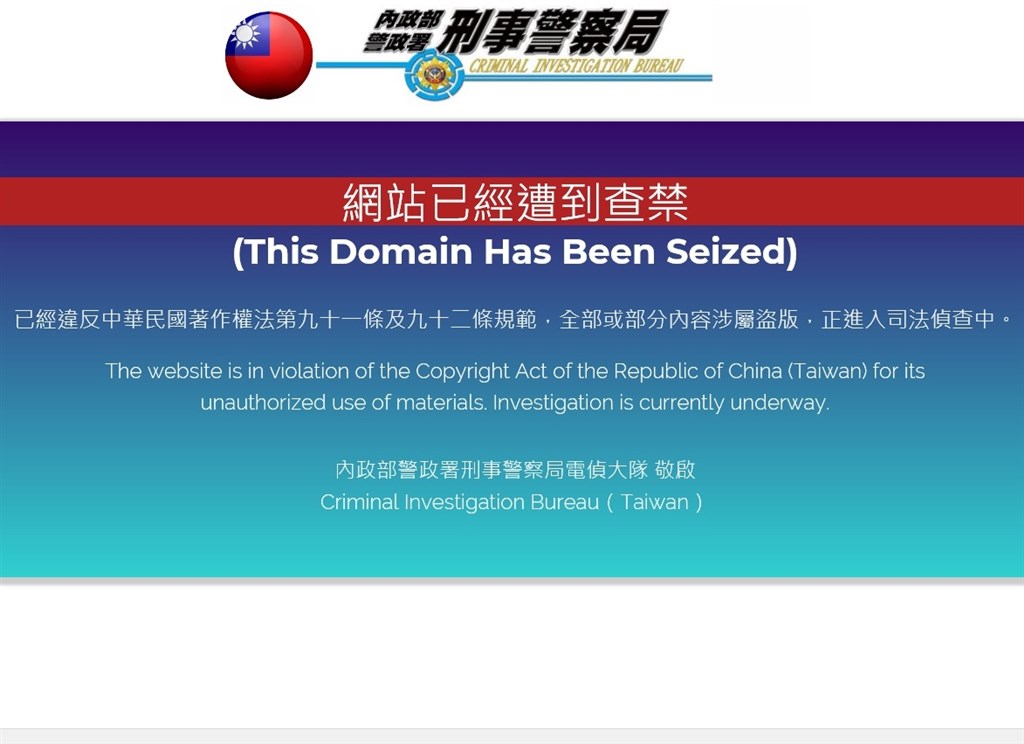 Taipei, April 9 (CNA) Taiwan authorities have taken down a video streaming site called "8maple.ru" (楓林網) and arrested the two alleged operators, who were providing pirated movies and TV programs online, the Criminal Investigation Bureau (CIB) said Wednesday.
The two suspects surnamed Chen (陳) and Chuang (莊) were arrested in Taoyuan on March 31, and the case has been handed over to prosecutors for further investigation, the CIB said at a press briefing in Taipei.
According to the CIB, since the site was set up in 2014, it has infringed on an estimated NT$1 billion (US$33.21 million) worth of copyrighted material in both the foreign and domestic movie and TV industries.
The crackdown was the result of international cooperation with the American-based Motion Picture Association (MPA), Japan's Content Overseas Distribution Association (CODA), and several local TV networks that initiated probes and provided the authorities with evidence of illegal downloads, the bureau said.
The video piracy site 8maple.ru allowed users to download free movies and TV shows from Taiwan, Japan, South Korea, Thailand, the United States and Europe, with the operators making money from advertisements placed on the website, CIB official Chen Juei-chin (陳瑞金) said.
Based on the evidence collected, the CIB said, it appears that the website operators were making as much as NT$2 million per month in advertising revenue.
Chen and Chuang had purchased two luxury properties in Taoyuan recently, which they were using as their business base, the CIB said.
The bureau said that after six months of surveillance and collection of evidence, it raided the two properties at the end of March and arrested the two owners.
During the raid, cellphones, computers and internet servers found on the properties were seized, the CIB said.
The authorities have also seized the suspects' assets, including the two properties and a total of roughly NT$60 million in bank savings, pending further investigation of the case, the CIB said.
Following their arrest, the two suspects were released on bail of NT$500,000 and NT$300,000, respectively, according to the CIB.