3 dead, 11 hurt in Taiwan freeway crash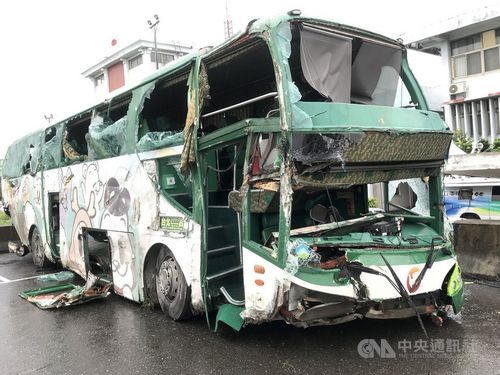 Taipei, June 11 (CNA) Three passengers died and 11 others were injured after a bus crashed on National Freeway No. 1 late Monday, as the driver was suspected to have lost control of the vehicle due to long working hours, a rescue unit said Tuesday.
The bus belonging to Aloha Transport crashed off the freeway after breaking the side railings in the Xiushui section in Changhua County, central Taiwan, at around 10 p.m., the county's fire department said.
Xiushui Township lies about 190 km south of Taipei, the capital of Taiwan.
Rescuers arrived at the scene within 10 minutes of receiving emergency calls. All 16 people on the bus were taken to different hospitals, where two men were declared dead on arrival and another man died in the hospital.
According to the Motor Vehicles Office website, the bus was manufactured by Swedish truck and bus maker Scania in 2011 and had no record of overdue regular inspections.
The 33 year-old driver of the bus, surnamed Kuo (郭), told police that he lost control when he tried to avoid something on the road. He was released on NT$200,000 (US$2,310) bail after initial questioning by prosecutors.
Several surviving passengers claimed that Kuo had seemed sleepy as the bus had been zigzagging before the accident happened.
The Changhua District Prosecutors Office said these claims would have to be further verified through questioning and video footage.
However, Kuo's time card showed that he had been working for seven consecutive days since June 4, which was a violation of the Labor Standards Act, said Chou Teng-chun (周登春), deputy chief of the Occupational Safety and Health Administration under the Ministry of Labor.
Furthermore, he was found to have been working for 12 hours straight and with only a nine hour and 50 minute rest before he went to work again on Thursday and Friday, another violation, Chou said.
The Labor Standards Act stipulates that a worker shall have two regular days off every seven days. The law also bans workers from working for 12 consecutive hours and rules that workers should have at least an 11-hour interval between shifts.
Aloha Transport could be fined up to NT$3 million if it is found to have violated the labor law, Chou said.
It was the second major accident involving Aloha Transport within two years. In September 2017, an Aloha bus rammed into railings in the Gangshan section of the National Freeway No. 1, resulting in six dead and 11 injured.