Vietnamese workers accuse employer of retaliation after labor dispute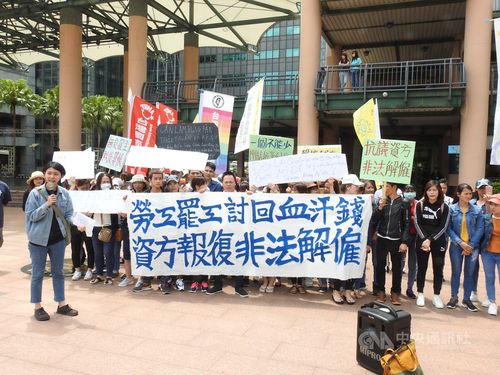 Taipei, May 21 (CNA) A group of Vietnamese migrant workers at a food company in New Taipei City lodged a complaint with the city government Tuesday, alleging their employer retaliated against a labor protest earlier this month by laying off several of the leaders of the action.
Over 70 Vietnamese migrant workers staged a protest outside the headquarters of Mei Ti Foodstuff -- a food company renowned for its bread and western pastries -- in Xizhi District May 3, demanding the company pay them for working overtime and reimburse unlawful deductions from their monthly paychecks.
The rally drew help from the city government's Labor Affairs Department and as a result, a settlement agreement was signed by the two sides under which the company agreed to compensate its Vietnamese employees for working overtime and return money deducted over the past two years.
According to the labor department, the migrant workers complained they had worked an average 16-18 hours a day without rightful remuneration.
The employer was also accused of making unreasonable deductions from their wages by finding fault with their work.
Despite the settlement agreement, it was reported Monday that the company plans to lay off five Vietnamese migrant workers, including several of the protest leaders.
The downsizing is necessary because the protest led to a sharp reduction in orders and business slowdown, the company said. It has asked the five workers if they are willing to transfer to a new employer or plan to return to Vietnam, according to a city official familiar with the matter.
Following what the Vietnamese employees consider to be retaliation on the part of the employer, they filed a complaint with the city government and staged a protest the previous day, according to the official.
On Tuesday, while accepting their complaint, Liao Wu-hui (廖武輝), a division chief at the city's Labor Affairs Department, stressed that the department guarantees foreign workers' work rights in New Taipei and will not allow the company to retaliate against its workers.
Liao also said as soon as the company files an official document about the layoffs, the department will conduct a strict review of the reasons for the layoffs to determine whether orders have dropped by 30 percent from the same period last year, due to the May 3 protest as claimed.
The department will also look into how the company chose which employees to lay off, Liao added.
The most recent employee protest is the latest manifestation of a growing labor movement involving Vietnamese migrant workers after more than 100 took to the streets of Xizhi last month to protest overcrowded living conditions provided by an optical company in the district.