Taiwanese boats accused of killing dolphins for shark finning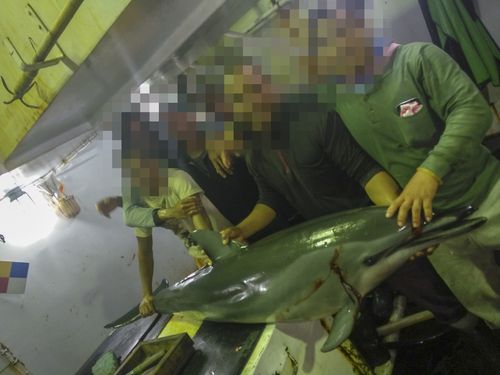 Taipei, Dec. 5 (CNA) An international environmental group accused five Taiwanese-owned longline fishing boats on Wednesday of illegally killing dolphins to use as bait to catch sharks for shark finning, a practice it said was enabled by Taiwan's lax enforcement of laws.
The United Kingdom-based Environmental Justice Foundation (EJF) made the allegations in a report and an accompanying video based on interviews conducted in November with seven Indonesian crew members who had worked on six Taiwanese-owned boats.
Photo courtesy of Environmental Justice Foundation (EJF)
Of the six boats, five -- all under Taiwanese ownership but one flying a Panamanian flag and one a Seychelles flag -- were involved in the illegal fishing practices and fishermen abuses, said Chiu Shao-chi (邱劭琪), ocean campaigner of the EJF's office in Taiwan.
The names of the five boats allegedly involved were withheld in the EJF's report, but complete information has been forwarded to Taiwan's Fisheries Agency (FA) to help it with its investigation, Chiu said.
Asked for comment by CNA, FA Deputy Director Lin Kuo-ping (林國平), said that the agency has began to investigate into the alleged cases after receiving the EJF's report recently and expected to present its initial results in two weeks.
All of the allegations made by the fishermen, including those related to fishing practices and human rights abuse, would be illegal under Taiwanese law if proved to be true, Lin said.
According to one fisherman, it was easy to catch dolphins and the boat he worked on would kill maybe six to nine per day.
"But if we had 10 dolphins already on deck and there were still more at the bow, we would hunt them until they were all caught," the fisherman told EJF, according to a statement it released on the report.
In the EJF's video, three crew members recounted their experiences catching dolphins.
"To catch sharks, we used dolphins as bait," one said. "If we saw dolphins we would chase after them. The dolphin's nature is to swim alongside the boats when they see them, usually at the front of the boat. Then we would spear them.
"Because dolphins have lots of blood like humans, it attracts sharks. As their sense of smell is sharp, then they eat the bait," the man said.
Another man said the crew would electrocute the dolphins when they still showed signs of life after being harpooned. "We waited as the dolphins got weaker. If they were still alive, we electrocuted them," he said.
A third Indonesian crew member told EJF that when the crew caught a whale, they would cut off its head because its teeth could be made into souvenirs. He said they would release turtles if they were caught unless the captain asked for the turtle's tail to make medicine.
On one occasion, a false killer whale, listed as "near threatened" by the International Union for Conservation of Nature, was caught, brought on board and decapitated at the request of a Taiwanese foreman because its teeth could be used to make necklaces, the EJF said in the statement.
Around 300 dolphins were killed in this way on each of the vessel's three-month trips, according to the crew, the EJF said.
The crew members reported catching hundreds of sharks everyday, including the illegal capture of juveniles, which would be used for bait, alongside landing vulnerable species such as smooth hammerhead and bigeye thresher sharks, the group said.
Based on the crew's testimony, inspections by Taiwanese fishing authorities in overseas ports designed to prevent fishing vessels from off-loading illegal catches of shark fins before returning to Taiwan "were ineffective and easily evaded," the EJF said.
"Once in port, crew simply put the shark fins at the bottom of the freezers under a layer of fish so they were hidden from view, to be sold in the early hours of the morning," it said.
Shark finning, the practice of removing fins from sharks and discarding the rest of the body, is banned under Taiwanese law and under many regional management organizations of which Taiwan is a member, according to the FA.
Turtles and dolphins are all protected species under Taiwan's Wildlife Conservation Act, according to the Ocean Affairs Council, and it is illegal to catch and kill them.
Taiwanese vessels must comply with these laws, even when fishing outside of Taiwan's economic waters, as the vessels were doing when engaged in the practices alleged by the EJF.
But EJF Executive Director Steve Trent said these "illegal, unsustainable and brutally cruel activities are being enabled by the Taiwanese authorities' failure to act."
Photo courtesy of Environmental Justice Foundation (EJF)
The Fisheries Agency's Lin responded that most Taiwanese fishing companies have complained that the regime the agency has set up to combat illegal fishing is severe and rigorous.
"If the allegations are true, we believe the cases represent only a small handful of black sheep," Lin said.