Typhoon to leave Taiwan behind at around Wednesday noon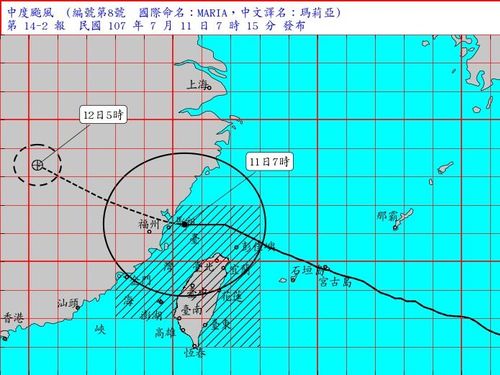 Taipei, July 11 (CNA) Typhoon Maria is moving away from Taiwan at a rapid pace and its periphery will leave the island as early as noon Wednesday, according to the Central Weather Bureau (CWB).
As of 10 a.m., Maria was 60 kilometers north-northwest of the outlying Matsu Islands moving at a speed of 30 kilometers per hour in a west-northwest direction, CWB data showed.
The storm is still packing maximum sustained winds of 162 kph and gusts of 198 kph as it closes in on China's coast.
Wu Wan-hua (伍婉華), a senior specialist at the bureau, said the storm's periphery will leave Taiwan proper by around noon Wednesday, and the Central Weather Bureau could lift its land warning for Typhoon Maria by the afternoon.
The typhoon affected Taiwan Tuesday night and Wednesday morning, dumping significant amounts of rainfall in the northern, northeastern and eastern parts of the island, Wu said.
As of 6 a.m., accumulated rainfall of 387mm was recorded in Yukeng in the mountains north of Taipei, 305mm in Bailan in Hsinchu County, 269mm in Fengmei in Miaoli County, and 206mm in the Fushan Botanical Garden in Yilan County, Wu said.
Though Typhoon Maria is moving away from Taiwan proper, the Taiwan-held Matsu Islands close to China's coast will feel the storm's impact into the afternoon, the CWB warned.
Strong winds and high waves from the storm will also continue to be seen in coastal areas of Taiwan proper on Wednesday, especially along the northern and northeastern coasts, the CWB said.
Continuing rainfall is expected to bring down temperatures to daytime highs of 30-31 degrees Celsius around most of western Taiwan, down from 33-34 degrees a day earlier, the CWB said.
In Hualien and Taitung counties in eastern Taiwan, however, daytime highs could hit 36 degrees due to possible foehn winds -- which are dry, strong and hot downslope winds -- the CWB added.
On Tuesday afternoon, Tienhsiang in Hualien County recorded a high of 40.3 degrees due to foehn winds, according to the CWB.