Taiwanese spend more time on 3C devices than sleeping: survey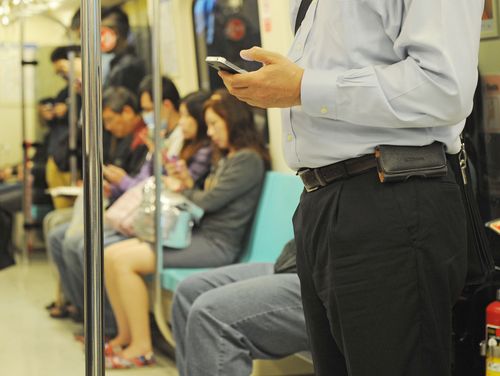 Taipei, Oct. 2 (CNA) People in Taiwan spend more than eight hours a day on 3C devices on average, with more than 60 percent of them using multiple screens at the same time, a survey released by the Ophthalmological Society of Taiwan showed Monday.
Ahead of 2017 World Sight Day on Oct. 12, the organization highlighted the survey's results to urge heavy users of electronic devices in Taiwan to take regular breaks to protect their eyesight, said Tsai Ching-yao (蔡景耀), the society's secretary-general.
Tsai cited the survey as saying that Taiwanese spent an average of 8.7 hours a day using 3C gadgets, up 1 hour from a similar survey conducted a year earlier.
The time spent on 3C devices in Taiwan was higher than the 6.86 hours a day people sleep on average, the survey found.
In addition, more than 60 percent of respondents said they tended to use more than one screen at the same time, with almost 80 percent of this group aged 20-59.
More than two in five (41 percent) of multiple device users tended to use computers while sending text messages on their smartphones, while 39 percent of them said they watched TV and used their smartphones at the same time.
Tsai said using multiple devices at the same time makes it easier for 3C users' eyes to get tired and suffer blurry vision more quickly than others who only use one device at a time.
In the past, many TV watchers would leave their seats to grab a snack or go to the bathroom during commercials and give their eyes a break, Tsai said, but it has been harder for 3C users to rest their eyes in the current smartphone age, he said.
Society head Weng Lin-chung (翁林仲) advised 3C users to take a 10-minute break after 30 minutes of use and also go outdoors to allow their eyes to relax.
Meanwhile, about 60 percent of respondents used 3C devices at the dinner table or on their beds, but the 3C behavior the most respondents said they disliked was when others used such devices during a meal, at a gathering or on a bed.
The survey was conducted from Aug. 22 to Sept. 12 and collected 1,110 valid questionnaires. It had a margin of error of plus or minus 2.94 percentage points.