Launch of airport MRT line expected by March 2017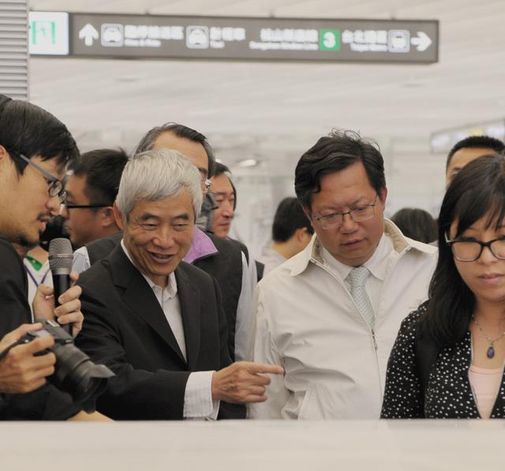 Taipei, Nov. 21 (CNA) Stability tests of the airport MRT line have met the standard needed to take the next step toward launching the system's commercial operations, the Ministry of Transportation and Communications (MOTC) and Taoyuan Metro Corp. announced Monday.
The stability of the line in tests conducted over seven consecutive days from Nov. 14 to 20 reached 99.52 percent, surpassing the 99 percent threshold needed to apply to the MOTC for a preliminary inspection, Taoyuan Metro Corp. said.
Transportation Minister Ho Chen Tan (賀陳旦), who looked at the A1 station (Taipei Main Station), the stability tests and the MRT flight check-in system on Monday, said the line can now be certified by an independent international company for safety.
Preliminary and second inspections will follow, along with the process of gathering expert views before final test runs are conducted and commercial operations begin, Ho Chen said.
Taoyuan Mayor Cheng Wen-tsang (鄭文燦), who joined Ho Chen in checking on the system, said the line failed the stability tests on six previous occasions, but improvements were made that enabled the train to arrive late only once during the most recent test period.
He said a test run will address such issues as luggage check-in, flight check-in before boarding the train, and Wi-Fi and multiple card payment services.
Asked about when the system will finally be launched, Ho Chen would only say that it still has to be certified for safety by an international company and pass inspections and an expert review.
Cheng said Taoyuan Metro Corp. is hoping to begin commercial operations in the not-too-distant future, with "next February or March" the goal.
He also said the fare for the airport MRT line is still being calculated and could fall between NT$150 and NT$170, which would be lower than the high-speed rail fare between Taoyuan and Taipei but higher than bus fare between Taipei and Taoyuan International Airport.
Construction of the line began in 2006 and was originally scheduled to open in 2010. The launch date has been delayed six times, mainly because of engineering and power-related issues.
The line will take about 35 minutes from Taipei Main Station to Terminal 1 at the airport.
(By Wang Shu-fen and Lilian Wu)enditem/ls