Taiwan, Japan medical associations to sign mutual support memorandum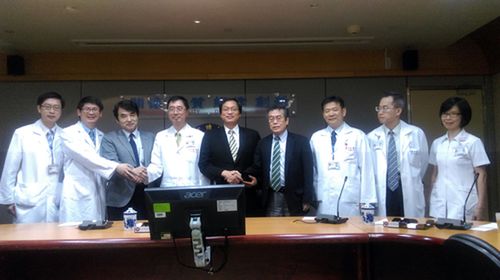 Taipei, July 4 (CNA) The Taiwan Medical Association and the Japan Medical Association will sign a memorandum of emergency mutual support in case of disasters, enabling medical personnel to give low-level medical treatments in each other's country under the supervision of the colleagues of the hosting country.
Upon learning of the June 27 colored powder explosion at the Formosa Fun Coast water park (八仙樂園) and the nearly 500 injured suffering moderate to severe burns, both the Association of Medical Doctors in Asia and the Japan Medical Association have offered to send 10 doctors and 50 nurses to Taiwan to provide their assistance.
However, since foreign doctors are not allowed to practice in Taiwan, the Ministry of Health and Welfare declined to accept the offer.
A similar situation arose four years ago when a devastating earthquake and tsunami struck Japan on March 11, 2011. Some Taiwanese doctors hoping to offer their assistance were not able to do so because Japan has similar regulations for foreign medical personnel.
Su Ching-chuan(蘇清泉), president of the Taiwan Medical Association, said that medical personnel of the two countries have long hoped for mutual support in emergencies. After years of negotiations, the two parties have worked out preconditions.
Referring to the draft memorandum, Vice Minister Lin Tzou-yien (林奏延) of the health ministry pointed out that it is clearly stated that the two parties agree medical personnel will only offer aid upon request of the other party.
The health ministry in principle would allow foreign doctors and nurses to provide low-level medical treatments under the supervision of Taiwanese doctors, he added.
The Taiwan Medical Association will send the draft to its counterparts for signature and review by related authorities.
Su said that he expected that everything will be finalized early next week, and a Japanese medical team will be able to come to Taiwan towards the end of the week.
While medical associations in Japan and the United States have offered to send medical personnel here to help, Health Minister Chiang Been-huang has called upon the people of this country to have faith in Taiwan's medical standards. Besides, at the moment, Taiwan's medical professionals are sufficient to meet the challenge, he said.