Philippines claims Taiwanese fishing boats poaching in its waters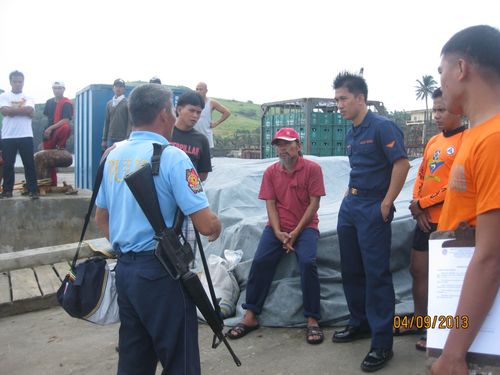 Manila, Sept. 5 (CNA) The Philippines' Bureau of Fisheries and Aquatic Resources claimed Thursday that a number of Taiwanese fishing boats and rafts were illegally operating in the country's waters Tuesday when one of them was caught.
It made the statement after a Taiwanese fisherman was detained by Philippine authorities aboard his raft Tuesday in waters allegedly inside the Philippines Exclusive Economic Zone (EEZ).
The bureau said in a report that Tsai Po was poaching in waters north of Ditarem, an islet in the Philippines' Batan island group some 176 km south of Taiwan's southernmost tip when he was arrested by three Filipino police officers.
The report claimed that Tsai was preparing to transport his catch back to a mother vessel waiting in nearby waters when he was intercepted by a Filipino voluntary citizen patrol and law enforcement personnel.
Several other suspected Taiwanese vessels immediately fled upon seeing the Philippine patrol vessel, the report said.
Filipino law enforcement officers discovered fish bait, fishing equipment, satellite navigation system and 36 kilograms of fish, including live lobsters and various kinds of fish, aboard Tsai's raft, according to the report.
The fishery bureau said it was collaborating with the Batanes provincial government and the Philippine police authorities in investigating the case.
If the fisherman is found of breaching the Philipine law, the bureau said, the Batanes provincial government might bring poaching charges against him. If convicted, Tsai could be fined US$200,000 and have his fishing equipment, raft and fish catch confiscated.
But the provincial government and the police might agree to transfer the case to the fishery bureau. If so, the bureau said, Tsai may be slapped with a US$50,000 administrative fine and can be released quickly.
Filipino officials claimed that Taiwanese fishing boats often poach in Philippine waters, even in a Batanes Province marine resources protected area.
Because of the overlapping of their EEZs, fishing disputes erupt between Taiwan and the Philippines from time to time.
Taiwanese fishermen have complained that they have been harassed and attacked while operating in waters where the two countries' EEZs overlap.
The shooting death of a Taiwanese fisherman by Philippine Coast Guard officers in May caused a diplomatic rift between the two countries, with Taipei levying sanctions on Manila until its demands were met in August.
Tsai told CNA by phone Wednesday that he was operating in Taiwanese waters when he was taken into custody by people "who were in plain clothes and acted like pirates."
According to Tsai, he was injured when he was arrested.
"I was handcuffed and tied up while Philippine personnel pointed a gun at my head before being forced to kneel on the Philippine ship for four hours," he recalled.
After the ship reached shore, Tsai was dragged off the ship, spraining his back and legs and requiring him to receive medical treatment in a hospital.
Taiwan's Ministry of Foreign Affairs has demanded that the Philippines ensure that Tsai is treated humanely. (Emerson Lim, Kuo Chih-hsuan and Sofia Wu)
ENDITEM/J