ITRI head touts Taiwan as global creator of innovative R&D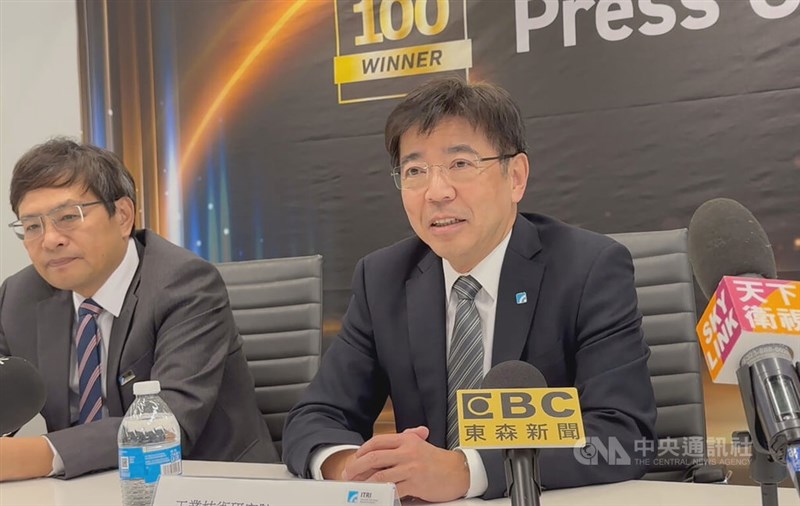 San Francisco, Nov. 20 (CNA) The head of Taiwan's Industrial Technology Research Institute (ITRI) on Monday touted the country as being a global creator of innovative R&D, after attending the 2023 R&D 100 gala banquet, celebrating an event in which technologies from Taiwan won 12 awards.
Among the R&D 100 Awards, the winners of which were announced in October, eight were from the ITRI, Edwin Liu (劉文雄), president of the Hsinchu-based research institute, told reporters at a press conference following the gala held in San Diego on Nov. 16.
Several industries in Taiwan have become world innovators, Liu said, describing their transformation over the years from labor-intensive to innovation-driven.
According to the ITRI, the eight winning-technologies from the research institute included eyes drops for wet macular degeneration, developed in collaboration with Taipei-based biotechnology firm TheratOcular Biotek Co.
Described as "the most convenient treatment" for the disease, the eye drops deliver medication to the back of the eyes, not only overcoming the limitations of current ocular injection therapy, but also giving patients a non-invasive alternative.
The ITRI said the eye drops could be brought to market as early as 2026 after subsequent clinical trials are completed.
Another awarded project from the ITRI was a smart energy system that can triple the service life of various electric energy units, ranging from batteries to energy storage. The system has been adopted by state-owned oil company CPC Corp. Taiwan, as a smart energy solutions.
Technologies involving net zero sustainability and generative artificial intelligence (Generative AI) are both listed as key projects for future development by the ITRI, Liu said.
The ITRI president noted that the institute is finding ways to incubate more talent and also working to promote broader exchanges between Taiwan and the United States.
"Since 2008, ITRI has won 58 R&D 100 Awards. More than 90 percent of the winning technologies have been commercialized, showing that such innovations have immense industry value," Liu was quoted as saying in an ITRI release on Nov. 17.
The U.S. was the biggest winner this year with 72 awards, according to the organizers, often referred to as "the Oscars of innovation."
The 12 awards won by Taiwan was the most of any country in Asia and the second most worldwide behind the U.S.