TSMC Chairman touts future of semiconductor development at SEMICON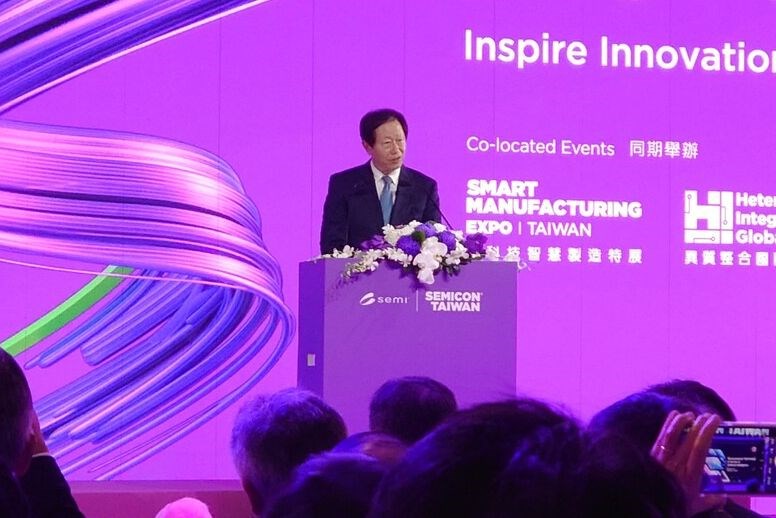 Taipei, Sept. 6 (CNA) During the Taiwan "CEO Summit" forum at SEMICON on Wednesday, TSMC Chairman Mark Liu (劉德音) detailed a brief history of high performance computing developments over the past few decades and showcased how the company has facilitated such advances.
As the final featured speaker at the CEO Summit, Liu took the audience on a short journey through the development of artificial intelligence based on semiconductor technology in his speech "Semiconductor Technology in the Era of Artificial Intelligence."
Since the IBM Deep Blue super computer defeated the world chess champion in the late 90s, Liu said, artificial intelligence has evolved to perform many more practical tasks, "such as facial recognition, language translation, or recommendations of movies or merchandise."
"Over the past 10 years, AI has advanced to another level of knowledge synthesizing, as generative AI can compose poems, create art, diagnose diseases, write summary reports and computer code, and even design integrated circuits that rival those designed by humans," he continued.
Artificial intelligence "presents a huge opportunity for the semiconductor industry, as the marvelous breakthroughs of AI applications have been possible based on three factors" -- the innovation of efficient deep learning algorithms, the availability of massive training data from the Internet, and "the progress of energy-efficient computing through the progress of semiconductor technology," the chairman said.
"For example, the Deep Blue supercomputer was developed with 0.13 micro technology. The initial image recognition by deep neural networking was implemented with 45 nanometer technology. The famous Alpha go was implemented with 28 nanometer technology. The initial ChatGPT server, for training, was implemented with five nanometer technology…Recent ChatGPT is powered by servers using four nanometer technology," Liu noted.
"The computation and memory access required by this AI training have increased by an order of magnitude in just past five years, and both the computing power and the memory access required for generative AI application are still growing very rapidly," he said.
"We now need to answer a pressing question: how can semiconductor technology advance at such a fast pace?" Liu asked.
Since its invention, semiconductor technology has been about scaling down in size, he said, "so that we can cram more devices or transistors onto thumb-size chips."
"Today the integration has been one level higher, we are now putting together many chips into a tightly integrated, massive interconnected system…We are now going to 3D system integration," Liu said, calling this "a paradigm shift in semiconductor technology integration."
In the era of AI, the capability of a system is almost directly proportional to the number of devices or transistors integrated into the system, and "TSMC's CoWoS [Chip on Wafer on Substrate] and 3D SoIC are key technologies that are helping the advance of artificial intelligence," as "the integration of multiple chips, either by CoWoS or SoIC, allows the total device or transistor count on a system to be much larger than one can squeeze into a single chip."
According to TSMC, the CoWoS technology is a platform that provides optimal performance and the highest integration density for high performance computing applications, and SoIC is "a key technology pillar to advance the field of heterogeneous chiplet integration with reduced size, increased performance."
He showcased some recent TSMC customer products to illustrate these advances in technology, including Nvidia's AI processors, AMD's Accelerated Processor Unit and Cerebras' Wafer-Scale Engine.
Liu described the company's achievement as walking toward the end of a tunnel.
"Over the past 50 years, semiconductor technology development has been like walking through a tunnel: the road ahead was clear, and there was a well defined path; everyone knew what needed to be done: shrinking the transistors. Now we are reaching the exit of this tunnel. Semiconductor technology gets harder to develop, yet beyond the tunnel, many more possibilities lie ahead in the future. We are no longer bounded by the confines of the tunnel," he said.