Visiting Australian parliamentarians meet with President Tsai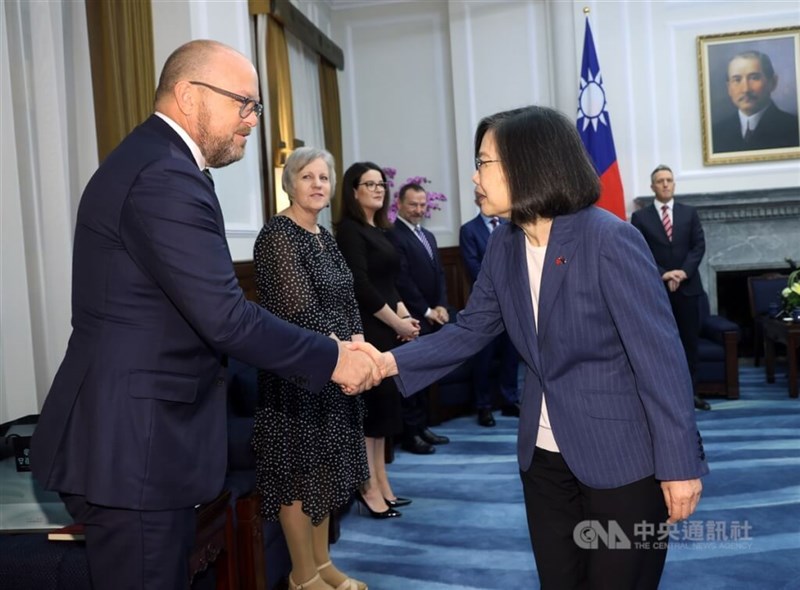 Taipei, Sept. 26 (CNA) A six-member delegation from the Australian parliament met with President Tsai Ing-wen (蔡英文) in Taipei on Tuesday and expressed support for stronger economic ties between the two sides.
"Australia and Taiwan share and benefit from a strong trading relationship," Josh Wilson, a Labor Party Member in the House of Representatives told Tsai at the Presidential Office.
"There is a good reason for that [relationship] to become even stronger in the future," he said while suggesting both sides could collaborate on clean energy transition, critical minerals, education and tourism.
"We support an open and inclusive Indo-Pacific based on respectful and collaborative participation in the rules-based order," he said, adding that Australia was committed to working with Taiwan and other countries in the region to address challenges such as climate change.
Speaking in a similar vein, Paul Fletcher, a Liberal Party Member in the House of Representatives, said the delegation aimed to "further the warm relationship" between Australia and Taiwan during this trip.
"Taiwan is an important economic partner for Australia and a valued democracy within the Indo-Pacific region," he said, noting that continuing engagement with Taiwan was in Australia's interests.
Wilson and his bipartisan delegation arrived in Taiwan on Monday for a visit described by Australian media ABC News as an act of resisting Beijing as it "demands they cut off political contact with Taipei."
Taiwan's Ministry of Foreign Affairs, meanwhile, said the delegation's visit to Taiwan from Sept. 25-28 will involve meetings with "top Taiwanese officials" for discussions regarding "the geopolitical situation in the Indo-Pacific" and "bilateral economic and trade cooperation."
In her remarks, Tsai urged Canberra and the Australian parliament to back Taiwan's bid to join the Comprehensive and Progressive Agreement for Trans-Pacific Partnership, a trade bloc that both Taiwan and China are seeking to join.
Those wanting to join need the unanimous support of the agreement's 11 signatories, including Australia.
The country's accession to the trade pact, she went on, would contribute to "economic growth and sustainable development throughout the Indo-Pacific region."