Michigan Governor Gretchen Whitmer visits Taiwan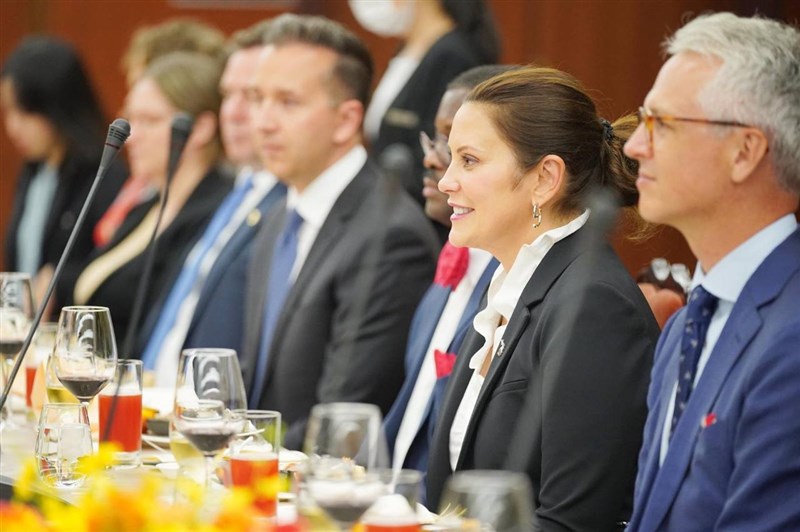 Taipei, Sept. 13 (CNA) Governor of the State of Michigan Gretchen Whitmer concluded a brief two-day visit to Taiwan earlier this week, making her the first sitting governor of the American state to visit the country during their tenure, the Ministry of Foreign Affairs (MOFA) said Wednesday.
According to MOFA, Whitmer and her delegation arrived in the country on Monday and were welcomed by Deputy Foreign Minister Roy Lee (李淳) at a dinner at MOFA's Taipei headquarters on Monday night.
In his address during the dinner, Lee welcomed Whitmer's visit, saying that the trip would help both sides continue to enhance their multifaced partnership, particularly in terms of education, trade and technology.
In May, Taiwan and Michigan signed a Memorandum of Understanding (MOU) that aims to boost economic investment, supply-chain resiliency, technology and innovation collaborations, and industry-academic connections, according to Lee.
In a tweet, the Democrat Party governor said her brief Taipei trip was meant to give her an insight into Taiwan's semiconductor industry.
"In 2021, Michigan's automotive assembly lines came to a halt because overseas manufacturers couldn't produce semiconductor chips," she tweeted.
"That's why I went to Taiwan -- a major semiconductor chip hub in the world -- to bring manufacturing back to Michigan so that never happens again," said in her tweet.
Neither MOFA nor the governor provided more details on the itinerary of the trip, which concluded Tuesday.