KMT's 2020 presidential candidate Han offers to mediate with TPP, Gou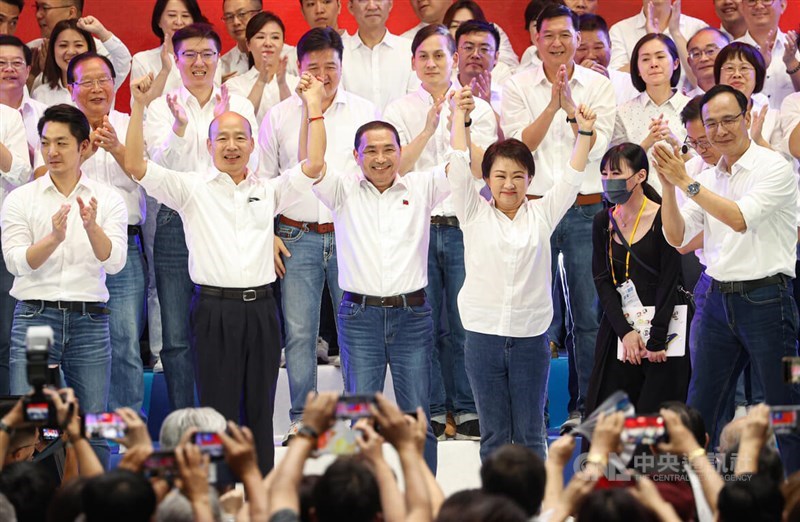 Taipei, Sept. 12 (CNA) Han Kuo-yu (韓國瑜), the opposition Kuomintang's (KMT's) 2020 presidential candidate, has offered to mediate electoral pact discussions involving his party's 2024 nominee Hou Yu-ih (侯友宜), the Taiwan People Party's (TPP's) Ko Wen-je (柯文哲) and independent Terry Gou (郭台銘), a former staffer said Monday.
Speaking on a radio program, Anne Wang (王淺秋), who served as head of the Kaohsiung City Government's Information Bureau when Han was the southern port city's mayor, said that Han was willing to help negotiate a consensus between the three opposition contenders if asked to do so by the KMT.
However, Wang added that if KMT Chairman Eric Chu (朱立倫) believes the KMT and TPP have reached a certain agreement on an integrated electoral strategy, there might not be a need for external intervention.
There are concerns within New Taipei Mayor Hou's campaign that Ko, the former mayor of Taipei, will split the opposition vote in January's first-past-the-post presidential election, giving ruling Democratic Progressive Party (DPP) candidate, Vice President Lai Ching-te (賴清德), a clear path to victory.
As a result, there has been speculation the KMT will seek to form an official pact with Ko, and possibly the outsider campaign of Hon Hai Precision Company founder, before the registration deadline for candidates in Jan. 13's presidential election.
Under Taiwan's Presidential Vice Presidential Election and Recall Act, registered candidates are prohibited from dropping out after Nov. 24.
With the deadline fast approaching, figures within the KMT have begun to float the idea of Han -- unseated as mayor of Kaohsiung in a recall election the same year as his near-20-point defeat to President Tsai Ing-wen (蔡英文) of the DPP -- acting as a mediator.
At a press interview on Monday, Jaw Shaw-kong (趙少康), a prominent KMT-affiliated talk show host, described Han as a "suitable candidate" to lead talks among the three opposition candidates, regardless of whether KMT Chairman Chu formally authorizes an electoral pact.
However, Jaw said it would be best if discussions were held off until mid-to-late October when the election landscape becomes clearer.
Meanwhile, the TPP's Ko said there are significant challenges in cooperating with other opposition parties at the presidential election level, according to a party press release Monday.
Ko explained that due to the voter structure, it is more likely that KMT supporters will vote for him personally, while TPP supporters may not necessarily back KMT candidates.
When discussing the impact of Gou's presidential candidacy, Ko emphasized that although Gou is a successful businessman, there is a difference between running a business and taking part in politics.
Ko warned that if Gou persists in his candidacy until the end, it could "guarantee a victory for the DPP's Lai."
Due to a lack of party affiliation, Guo still needs to collect signatures from at least 1.5 percent of voters from the previous presidential election, around 290,000 people, between Sept. 19 and Nov. 2 to make it onto the ballot, according to rules set by the Central Election Commission.
In addition, Guo must register as an independent candidate and the name of his running mate with the CEC between Sept. 13 and 17 before beginning the signature drive.
Gou's office issued an announcement on Monday, urging supporters to comply with government regulations and rely on information officially announced by Gou's office, while cautioning against fraudulent groups or other malicious parties attempting to steal personal information under the guise of signature collection.
Taiwan will hold its next presidential and legislative elections on Jan. 13, 2024.