ELECTION 2024
/
DPP's Lai, KMT's Hou unveil agriculture policies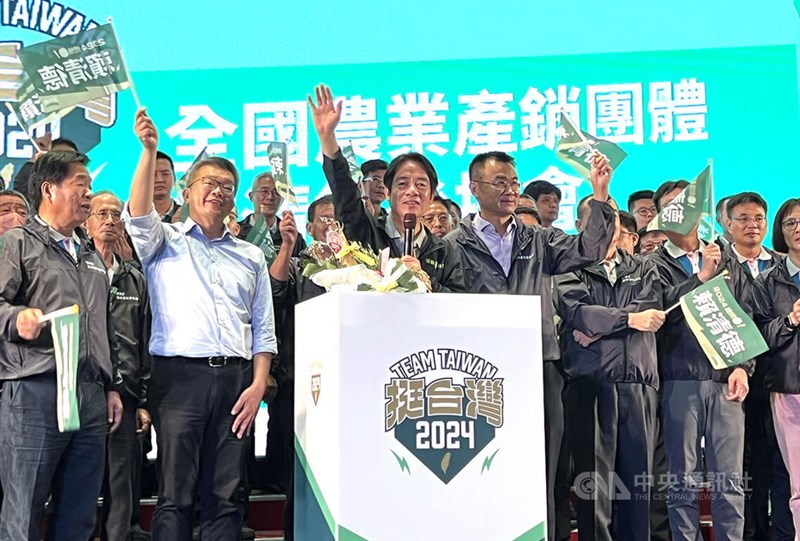 Taipei, Aug. 26 (CNA) Vice President Lai Ching-te (賴清德), the presidential candidate of the ruling Democratic Progressive Party (DPP), and his rival Hou Yu-ih (侯友宜) from the opposition Kuomintang (KMT) on Saturday unveiled their policies on agricultural development with both aiming to help farmers in Taiwan have a better life.
At a rally held by a support group from the agricultural sector in Taichung, central Taiwan, Lai promised to do his best to enhance welfare among farmers by carrying out policies to boost the security of the industry, modernize agricultural production technologies and build an ecosystem for farmers.
In addition, Lai pledged to strengthen marketing efforts for Taiwan's agricultural goods, set up a comprehensive cold chain system for delivery of agricultural items, and make sure there is sufficient food supply in Taiwan.
In particular, efforts to ensure Taiwan has sufficient food supplies are critical because the population of 23 million imports 61 percent of the food it consumes, Lai said, adding that an increase in agricultural production is also expected to boost household income among farmers.
While China has banned some agricultural products from Taiwan, Lai said farmers in the country still was seeing increasing exports of agricultural items, citing sales of mangoes to Japan, green jujubes to South Korea, guava and pomelos to Canada, and grouper to a Japanese sushi vendor. He said these are proofs of the government's efforts to help farmers offset the impact resulting from China's sales ban.
The government has also successfully helped Taiwan fend off the African swine fever virus, paving the way for more exports for the local pork industry, he said.
Citing government statistics, Lai said the production value of Taiwan's agricultural industry rose to NT$628.7 billion (US$19.77 billion) in 2021 from about NT$560.0 billion in 2012, which showed the increase in income and exports in the industry.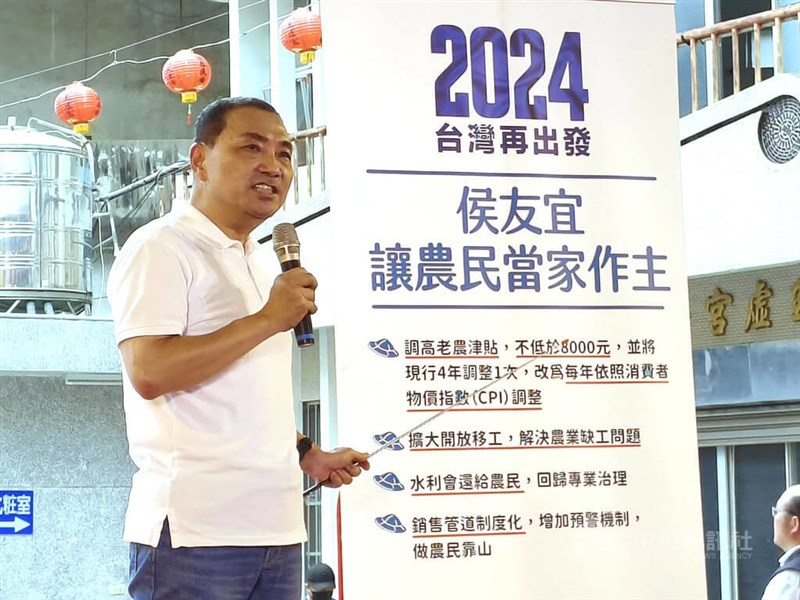 For his part, Hou said he will raise monthly pension payout to at least NT$8,000 from the current NT$7,550 for farmers who are 65 years old or above, pledging to adjust the payout every year based on the growth of the consumer price index. Currently, the pension payout is adjusted every four years.
To solve the problem of a labor shortage in the local economy, Hou, the incumbent New Taipei mayor, said in front of his supporters in Chiayi County, southern Taiwan that he will import more migrant workers to join the local agricultural industry and encouraged the local young people to return to their hometowns to help with agricultural development.
While the DPP has been accused of controlling irrigation associations in the local agricultural industry as its tool to win elections, Hou said he will let irrigation associations run by farmers themselves for their own benefits.
In addition, Hou said Taiwan should set up an efficient sales channel for agricultural goods and have an advance warning system in place to take on any risks that could arise for the industry.
Hou said the government is determined to serve as an adamant supporter of the local agricultural sector.
View All