Vice President Lai arrives in New York City (update)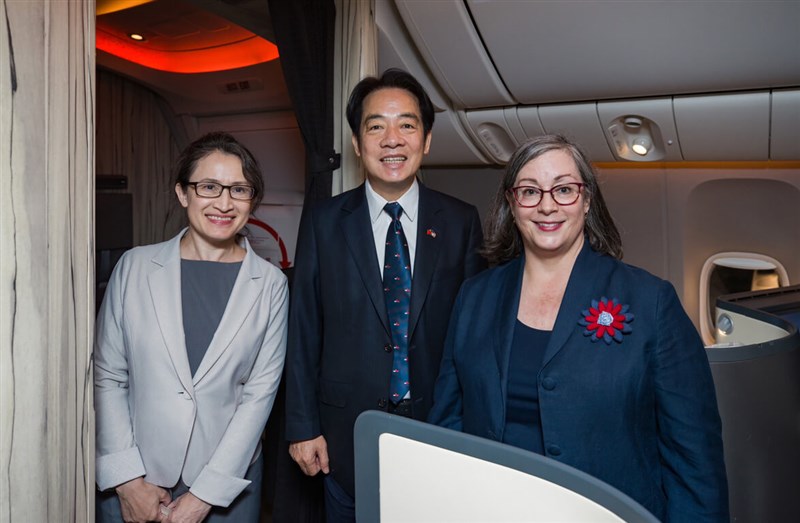 New York, Aug. 12 (CNA) Vice President Lai Ching-te (賴清德) arrived in New York City Saturday evening (local time) for a stopover en route to Taiwan's South American diplomatic ally Paraguay.
While still on the tarmac at John F. Kennedy International Airport, Lai was greeted by Ingrid Larson, the managing director of American Institute in Taiwan's Washington Office as well as Taiwan's top envoy to the United States Hsiao Bi-khim (蕭美琴).
After arriving by motorcade at the Lotte New York Palace on Madison Avenue around 10 p.m., Lai briefly greeted and shook hands with supporters waving Republic of China (Taiwan) flags before making his way into the hotel.
With Taiwan's presidential election just five months away, the visit by Lai, who is the ruling Democratic Progressive Party's candidate in the presidential race, has garnered attention.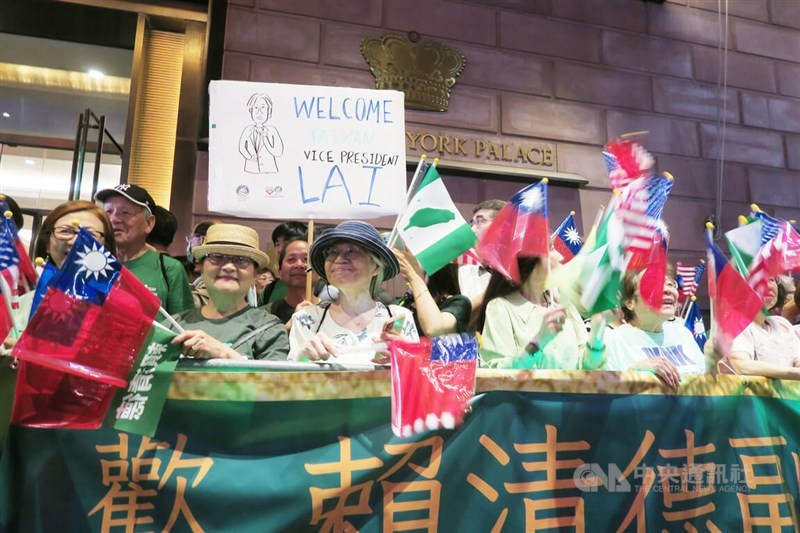 Before Lai's arrival, the street across from the hotel, where Chinese protesters had gathered during President Tsai Ing-wen's (蔡英文) transit in the city in March this year, were filled with Taiwanese compatriots and members of the Chinese expatriate community who support Taiwan.
During their over two-hour wait, the supporters used amplifiers to chant slogans such as "Taiwan, go for it," "Fight for freedom," and "Keep Taiwan Free."
Among those present were Taiwanese compatriots from Washington D.C., Boston, and Pittsburgh, including Lai Chia-te (賴嘉德), who told CNA that democracy and freedom are Taiwan's most cherished values, emphasizing the importance of preserving Taiwan's freedom and the people's hopes for the future.
According to an invitation letter sent to the overseas Taiwanese community by the Taipei Economic and Cultural Office in New York, the vice president is scheduled to attend a luncheon held at The Glasshouse, a private event space in New York, to meet with members of the community on Sunday (local time).
While in New York, Lai will also participate in discussions with Taiwanese founders of startups based in the city, according to Taiwan's Presidential Office.
The focus of the meeting will be to delve into the entrepreneurs' viewpoints on industrial development within their respective sectors and to explore opportunities for collaboration between their businesses and Taiwan, the office said.
Lai and his delegation are expected to fly to Paraguay on a chartered flight around 10 p.m. the same day to attend the Aug. 15 inauguration of Paraguayan President-elect Santiago Peña.
During his journey back to Taiwan, Lai is scheduled to have another layover in the U.S., this time in San Francisco, on Aug. 16 (SF time), according to Taiwan's Presidential Office.