No reason for China to overreact to Tsai-McCarthy meeting: White House
Washington, April 5 (CNA) The White House said Wednesday there is no reason for China to overreact to Taiwan's President Tsai Ing-wen's (蔡英文) meeting with United States House Speaker Kevin McCarthy in California that day.
"We've said since the very beginning there's no reason for them to react in any kind of a harsh manner to this or overreact at all because there's nothing atypical or uncommon about presidents of Taiwan transiting the United States, or in fact meeting with members of Congress," White House National Security Council spokesperson John Kirby said during a press briefing.
"That's pretty typical too, so our position remains the same," Kirby said, referring to Tsai's meeting with McCarthy and other members of the U.S. Congress at the Ronald Reagan Presidential Library in Simi Valley Wednesday morning.
Tsai and McCarthy met behind closed doors, the first-ever meeting between a Taiwanese president and a U.S. house speaker on American soil, and the third time a Taiwanese leader has met with a U.S. House speaker since the Republic of China (Taiwan's official name) and the United States ended official diplomatic relations in 1979.
Tsai and McCarthy are expected to issue a joint statement after their meeting.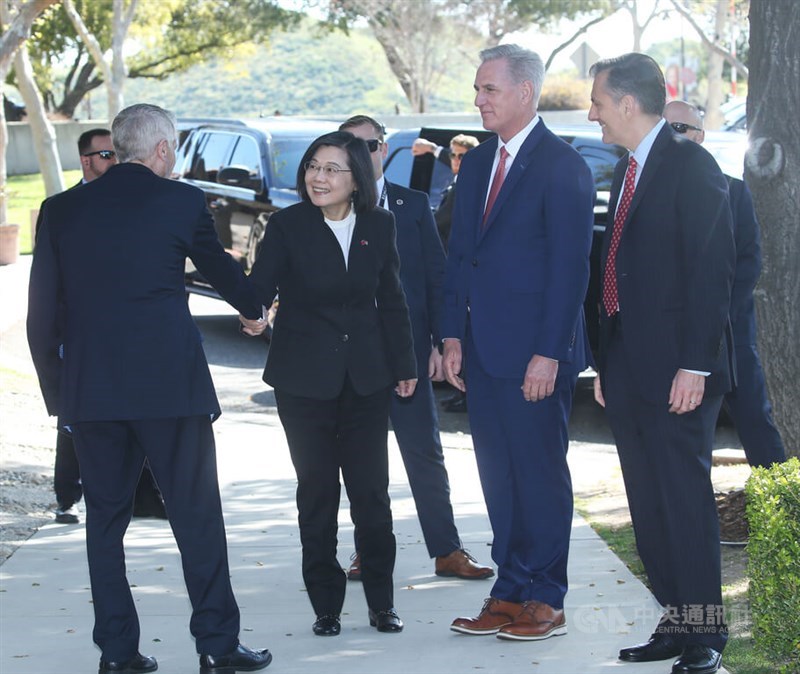 Kirby said he could not confirm reports of increased Chinese military activity near Taiwan in response to the meeting and Tsai's U.S. visit, but added that the U.S. government was closely watching the situation.
"We'll watch this as closely as we can, of course we will, and we'll always make sure that, regardless, we maintain and have requisite capabilities and resources to preserve peace and stability in the Indo Pacific," he said.
Shortly before Tsai arrived in Los Angeles Tuesday evening, after visiting New York, Guatemala, and Belize as part of a 10-day overseas trip, China announced a three-day drill in the Taiwan Strait that it characterized as a "joint cruise and patrol special operation."
China also sailed its newest aircraft carrier, the Shandong (山東艦), through waters south of Taiwan into the West Pacific Ocean for a long-range exercise on Wednesday, according to Taiwan's Ministry of National Defense (MND).
The MND said it is keeping close tabs on Chinese military activity through its joint intelligence and surveillance system and denounced the latest drills as part of the People's Liberation Army's ongoing attempted intimidation of Taiwan and destabilization of regional peace, stability and the status quo.
Related News
April 6: Meeting with President Tsai not meant to escalate tensions with China, McCarthy says
April 6: Tsai, McCarthy reaffirm strong Taiwan-U.S. bond after historic meeting
April 6: President Tsai meets U.S. speaker McCarthy in California
April 5: Tsai to set milestone in meeting with U.S. house speaker