U.S. backs engagement with Taiwan, warns of China's empty promises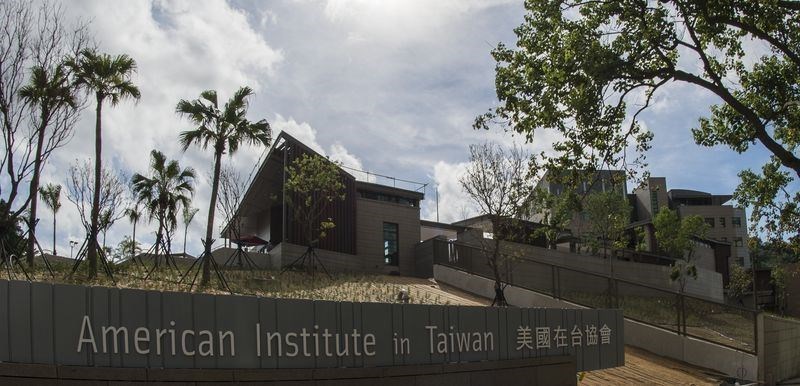 Taipei, March 26 (CNA) The United States on Sunday vowed to deepen its engagement with Taiwan and encouraged all countries to do the same after Honduras severed formal diplomatic ties with Taiwan to recognize China.
"Regardless of Honduras' decision, the United States will continue to deepen and expand our engagement with Taiwan in line with our longstanding one China policy," read a statement issued by spokespersons with both the National Security Council at the White House and the Taipei Office of the American Institute in Taiwan.
Taiwan is a reliable, likeminded, and democratic partner, and its partnerships around the world provide significant and sustainable benefits to the citizens of those countries, the statement said.
The U.S. "strongly encourages all countries to expand engagement with Taiwan" and to continue to stand on the side of democracy, good governance, transparency, and adherence to the rule of law, it said.
At 9:30 a.m. Sunday, Foreign Affairs Minister Joseph Wu (吳釗燮) said at a press conference that Taiwan had severed diplomatic relations with Honduras.
The announcement was made after the Central American country announced earlier in the day that it had formally cut ties with the Republic of China (ROC), Taiwan's official name, and would recognize the People's Republic of China (PRC).
According to Wu at Sunday's press conference, a letter Taiwan received from Honduras requested that Taiwan provide it with US$2.45 billion -- US$90 million for a hospital, US$350 million for a dam, and US$2 billion to "eat 2 billion of its national debt."
In the letter, obtained by CNA, Honduras proposed a "debt relief project" and said it needed friendly countries such as Taiwan to take on debt of US$2 billion it owed and issue it as a loan at a lower interest rate.
Deputy Foreign Minister Antonio Garcia said to Honduran media on Friday that the government had asked Taiwan for US$2 billion to restructure the debt.
"We asked that they take on debt at high interest rates and we would pay them the same debt at lower interest rates," he said.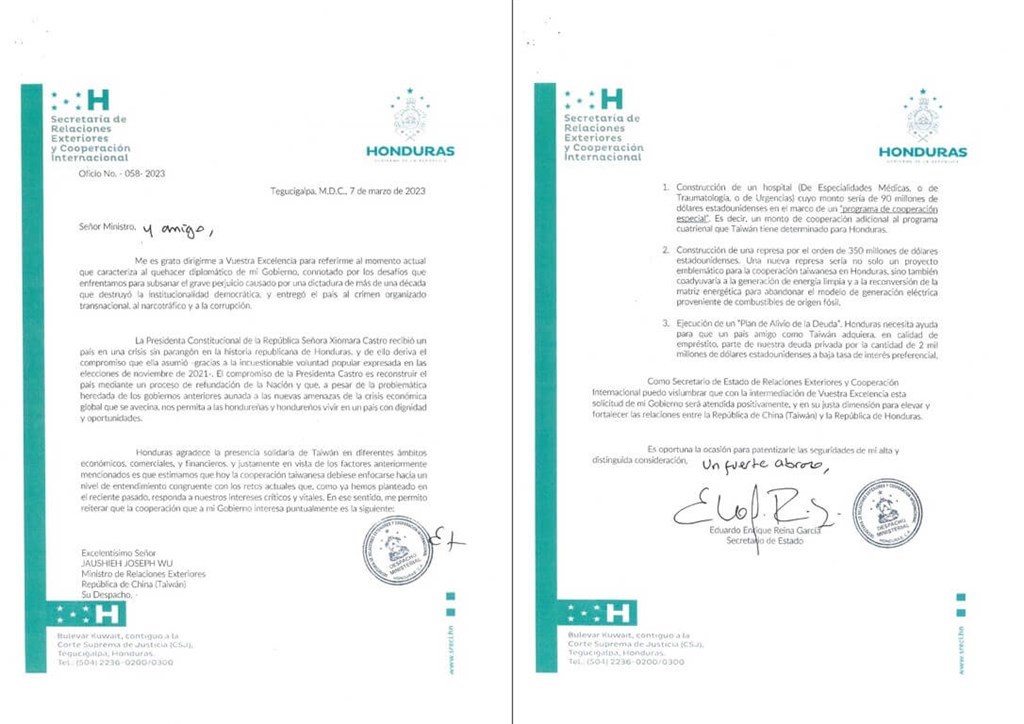 Wu said the requests were not well-aligned with Taiwan's foreign aid policy, which has been more "project-oriented" instead of "directly giving money" to countries in need of help and focused on making sure the projects are beneficial to those countries.
In terms of Tegucigalpa's request for a hospital, Wu said, Taiwan was willing to help with the project, including its construction, the installment of medical equipment, and managing its operations, as it did in Guatemala, an ally of Taiwan.
The assistance for building it, however, should not be in the form of a US$90 million grant directly to Honduras, he said, adding that the practice would be somehow like "bribery."
According to Wu, Honduras' request for US$90 million for the hospital was double its previous request for US$45 million for the same project made after Honduran President Xiomara Castro took office in January 2022.
"Honduras made two proposals for a hospital project twice, at two different prices. It seems like what they wanted was money, not a hospital," Wu said.
China has been wooing Honduras with the lure of financial aid, and Honduras was comparing the proposals offered by Taipei and Beijing, Wu said.
Taiwan would not provide foreign aid in the same manner as China because China's lending activities for projects seen as "white elephants" lack transparency and end up leaving the borrowing countries stuck in "debt traps," Wu said.
The ministry has learned from friends in Taiwan's former allies who have switched relations to China that Beijing's promises to their countries have rarely yielded results, he said.
The U.S. statement made the same point.
"While Honduras' action is a sovereign decision, it is important to note the PRC often makes promises in exchange for diplomatic recognition that ultimately remain unfulfilled," the statement said.
"There are many recent and ongoing examples of such behavior in Latin America and around the world."
Related News
March 26: Taiwan, Honduras end diplomatic ties
March 26: 'No more dollar diplomacy,' says Tsai as Honduras cuts ties
March 26: Taiwan's FM describes Honduran financial demands as akin to bribery
March 26: Different motives seen behind Beijing's poaching of Honduras
March 26: Taiwan FM suspects timing of Honduran ties cut linked to president's US trip
March 25: Hondurans gather in Taipei to highlight long 'friendship' with Taiwan
March 25: Taiwan has tried its best to aid Honduras: MOFA
March 23: Wu accuses China of bribing officials as Honduras switch nears
March 21: Tsai to depart for tour of Guatemala, Belize on March 29