Lawmakers outline challenges, hopes for Chen's Cabinet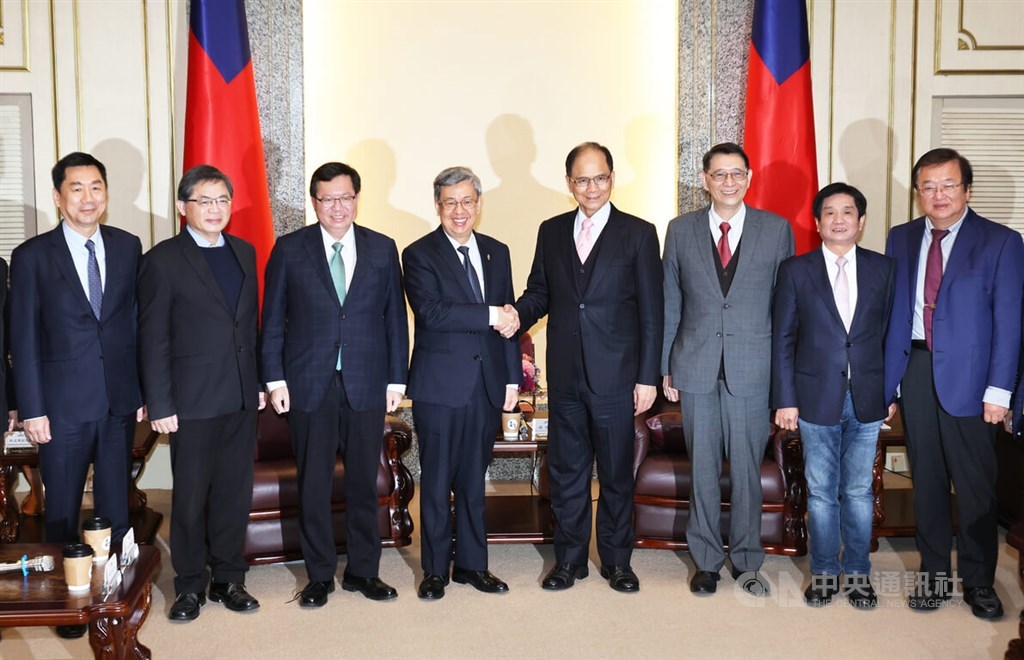 Taipei, Jan. 31 (CNA) Lawmakers from Taiwan's ruling party on Tuesday expressed optimism about the Cabinet of newly inaugurated Premier Chen Chien-jen (陳建仁) as opposition lawmakers outlined challenges facing Chen's team.
The legislative caucus of the ruling Democratic Progressive Party (DPP) expressed the hope that Chen's Cabinet would unite the people, take care of the masses and win the trust of the public and the international community.
"Chen is genteel in his manner and down to earth. I believe that he will meet public expectations in pushing reforms," DPP caucus secretary-general Wu Chi-ming (吳琪銘) told reporters at the Legislative Yuan.
Hung Sun-han (洪申翰), the deputy director-general of the DPP legislative caucus, said that changing situations in the Taiwan Strait and the international community called for Chen to be grounded and adopt "new thinking."
Hung praised the "good representation" achieved with the addition of more female ministers and officials compared with former Premier Su Tseng-chang's (蘇貞昌) Cabinet, adding that he hoped Chen's team would be caring, thoughtful and create new opportunities for the nation.
Meanwhile, Tseng Ming-chung (曾銘宗), convener of the opposition Kuomintang (KMT) legislative caucus, said the new Cabinet must address the economic downturn, low wages, labor insurance fund shortfalls and the DPP's "erroneous" energy policy.
Tseng said that major financial research institutes had forecast global economic growth of just 1.5 percent in 2023, which means that Taiwan, as an export-oriented country, was likely to be negatively impacted.
This, compounded with a sliding economic growth rate of 2.28 percent and unemployment rate of 3.79 percent, shows that Chen's Cabinet faces daunting economic challenges, and the KMT would closely monitor how the Cabinet addresses these challenges, Tseng said.
KMT caucus deputy secretary-general Hsieh Yi-fong (謝衣鳳) said that tackling low wages should be a high priority for Chen's Cabinet.
President Tsai Ing-wen (蔡英文) pledged to put an end to low wages earned by young Taiwanese, but statistics released by the Directorate-General of Budget, Accounting and Statistics show that of 9.14 million workers, 59 percent earn a monthly salary of less than NT$40,000, and 23 percent make less than NT$30,000 a month.
In addition, salary payments have accounted for less in Taiwan's GDP, Hsieh said, citing a record-low GDP percentage of salaries paid to workers in 2021 despite an economic growth rate of 6 percent that year.
Separately, New Power Party (NPP) caucus deputy convener Chen Jiau-hua (陳椒華) said she doubted the scope and lineup of the latest Cabinet reshuffle had met people's expectations.
The NPP caucus would continue monitoring the Cabinet's work on delivering housing justice, improving road safety, replenishing the labor insurance fund, preventing unlawful Chinese investments, and pushing through amendments to the Mining Act and the Waste Disposal Act, she said.
Moreover, the NPP lawmaker said action was desperately needed from the Cabinet regarding the introduction of enforcement rules to complement the Equalization of Land Rights Act, which was amended earlier this month in an effort to rein in house prices.
Related News
Jan. 31: New Cabinet, Presidential Office officials sworn in
Jan. 30: Presidential Office announces personnel appointments
Jan. 30: Full Cabinet lineup settled with appointment of academics, DPP cadres
Jan. 27: Taiwan politicians respond to Chen Chien-jen's appointment as premier
Jan. 27: Chen Chien-jen to focus on post-COVID-19 recovery as premier
Jan. 26: Deputy foreign minister Tsai Ming-yen to lead National Security Bureau