France, Australia vow to deepen ties with Taiwan at '2+2' meeting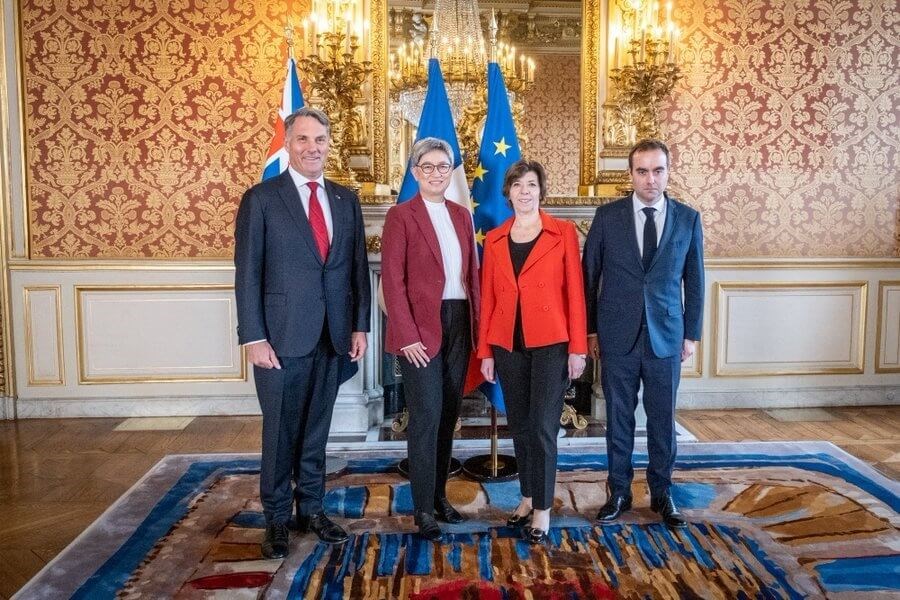 Paris, Jan. 30 (CNA) France and Australia on Monday pledged to deepen ties with Taiwan and reiterated their support for its participation in international organizations at the 2023 Foreign and Defense Ministerial Consultations in Paris.
The meeting between French Armed Forces Minister Sébastien Lecornu and Europe and Foreign Affairs Minister Catherine Colonna and Australian Foreign Minister Penny Wong and Defense Minister Richard Marles was the second held after a similar encounter in Australia in 2021.
In the 46-point joint statement released Monday, Taiwan and the situation in the Taiwan Strait were one of the issues highlighted.
The participants "underscored the importance of peace and stability across the Taiwan Strait and called for the peaceful resolution of cross-Strait issues through dialogue without the threat or use of force or coercion."
They also "reaffirmed their shared opposition to unilateral changes to the status quo in the Strait."
The opposition to the use of coercive measures and "unilaterally changing" the "status quo" was a new element in this year's statement.
The two sides also committed to working together to support Taiwan's meaningful participation in "the work of international organizations where statehood is not a prerequisite."
This differed from the 2021 joint statement, in which the participants "expressed support for Taiwan's meaningful participation in international organizations, in accordance with the organizations' statutes, to strengthen global cooperation on relevant issues."
Also new in this year's statement was that the participants "reiterated their will to continue deepening relations with Taiwan in the economic, scientific, trade, technological and cultural fields."
Much of the statement was devoted to other issues, including Russia's war against Ukraine, North Korea's ballistic missile launches, and China's human rights record and actions in the South China Sea.
The ministers stressed their "unequivocal condemnation" of Russia's invasion of Ukraine and again called for Russia's immediate withdrawal, while condemning North Korea's unprecedented series of illegal ballistic missile launches in 2022.
They called on the totalitarian state to fully abandon its weapons of mass destruction programs and their means of delivery in accordance with United Nations Security Council resolutions.
The ministers also expressed "grave concerns about severe human rights violations in Xinjiang" and "deep concerns regarding the continuing erosion of Hong Kong's autonomy, rights and freedoms," according to the statement.
The ministers reiterated strong opposition to destabilizing actions in the South China Sea and underlined the importance of continuing to support countries being able to exercise their rights and freedoms there, including the freedoms of navigation and overflight.
In addition, they reaffirmed their intention to continue transits and deployments in the Indo-Pacific in accordance with international law.
The officials recognized, however, that "continued cooperation with China was essential on global issues of shared interest such as the fight against climate change, the protection of biodiversity, food security and debt reduction in the most vulnerable countries."