Scholars call for training overhaul after military service extension
Taipei, Dec. 27 (CNA) Scholars in Taiwan called on the government to expand training capacity and introduce reforms to better meet the nation's defense needs, after an announcement Tuesday that mandatory military service will be extended from four months to one year starting in 2024, to counter the threat of an increasingly assertive China.
Asked to comment on the decision, Chieh Chung (揭仲), an associate research fellow with the National Policy Foundation in Taipei, said the extension will certainly help boost the capability of the nation's reserve forces in case of a Chinese invasion.
However, the nation's armed forces already face a serious shortage of training capacity and a lack of grassroots military personnel to train conscripts, Chieh told CNA.
Taiwan's military already has difficulty training reservists, who undergo two weeks of intensive training at a time, he said.
"How do they expect to be able to train the 600,000 to 700,000 conscripts who will undergo one-year of mandatory military service starting in 2024?" he asked.
In terms of training capacity, Taiwan's military has only three large-scale training and drill grounds, the Army's Northern Joint Testing Center in Hsinchu County; Southern Joint Testing Center in Tainan City and Joint Operations Training Base Command in Pingtung County.
They all have reached their maximum capacity, Chieh said.
As a result, most existing battalions are only able to undergo required intensive training at one of these centers once every two years, he said.
In other words, conscripts will have few opportunities to train at these centers during their mandatory one-year-service period.
He further pointed out that the military already faces a lack of corporals, lieutenants and second lieutenants in combat units, who are mainly responsible for training conscripts.
Despite this shortfall, the Ministry of National Defense (MND) has previously said it expects to establish five to 11 new brigades to train conscripts and reservists.
"Where is the MND going to find all these qualified corporals and lieutenants responsible for training within a year?" Chieh asked.
Currently, conscripts do five weeks of boot camp followed by 11 weeks of specialized training with field units, decided by a lottery draw.
One solution he proposed was for the MND to assign conscripts and reservists to designated "strategic locations" around the country instead of training camps or military bases as they do now for their required service or training period.
That would familiarize them with the locations and facilities they will be assigned to if war breaks out that are considered important to defend against enemy forces, he noted.
Before that can happen, however, the MND needs to tackle its manpower and training capacity issues, he said.
Meanwhile, assistant professor Lin Ying-yu (林穎佑) from Tamkang University's Institute of Strategic Studies said the MND needs to ensure the training these conscripts receive after conscription is extended is practical and boosts the nation's overall defense capabilities.
"If after the extension, most conscripts do the same administrative jobs or tasks as conscripts used to do when the service period was longer, then it will be useless," Lin said.
Su Tzu-yun (蘇紫雲), a research fellow at the Taiwan government-funded Institute for National Defense and Security Research, said more better-trained conscripts will definitely help boost the resilience of ground troops and create more depth in defense if war breaks out.
However, the type of training these conscripts undergo is far more important than the length of mandatory service, Su said.
Echoing Lin's view, Su said the MND should make sure that at least 80 percent of a conscript's time is spent in combat training and less than 20 percent on administrative jobs.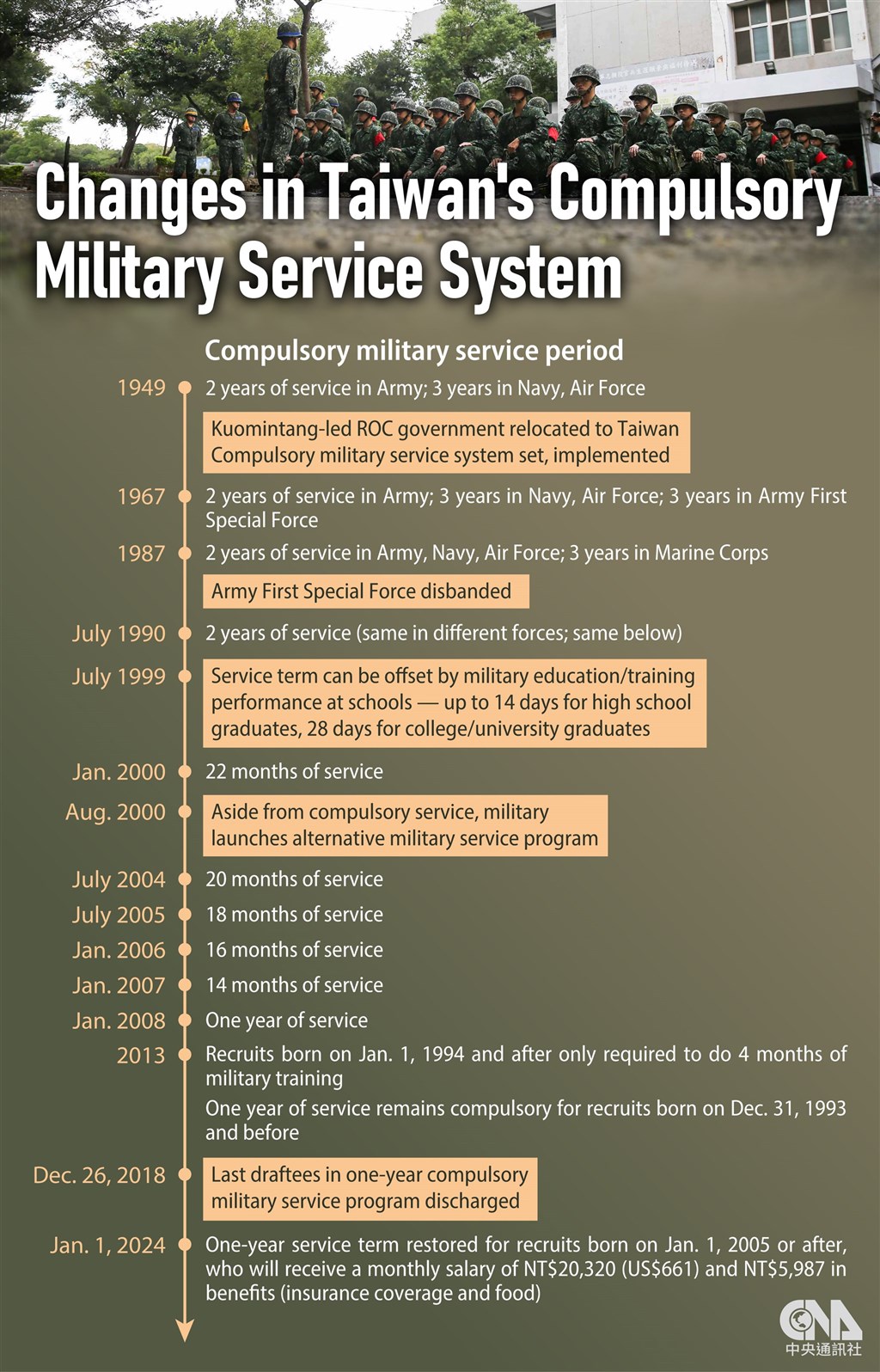 Asked to comment on what her administration would do to boost training capacity and the need for additional personnel, President Tsai Ing-wen (蔡英文) said during a Tuesday press event where she announced the service period extension that her government has one year to make related preparations before the new policy is rolled out in 2024.
"Next year will be a very busy year," she said.
She promised that Taiwan will learn from other countries' military training programs and integrate them with existing ones in Taiwan to reform armed forces' training and boost training capacity, without further elaboration.
All Taiwanese men over 18 initially had to serve two to three years in the military as part of a conscription system adopted by the Republic of China government after it relocated to Taiwan in 1949 following the Chinese Civil War.
After 2000, conscription was gradually scaled back and reduced to one year in 2008.
During the previous Kuomintang administration under President Ma Ying-jeou (馬英九), which governed from 2008 to 2016, the government turned the nation's military into a mainly volunteer force, with conscripts, serving in support roles, only required to undergo four months of military training starting in 2013.
Related News
Dec. 27: Extended military service to include higher pay, longer boot camp: President