EU Council displays ROC flag on Twitter after lifting travel ban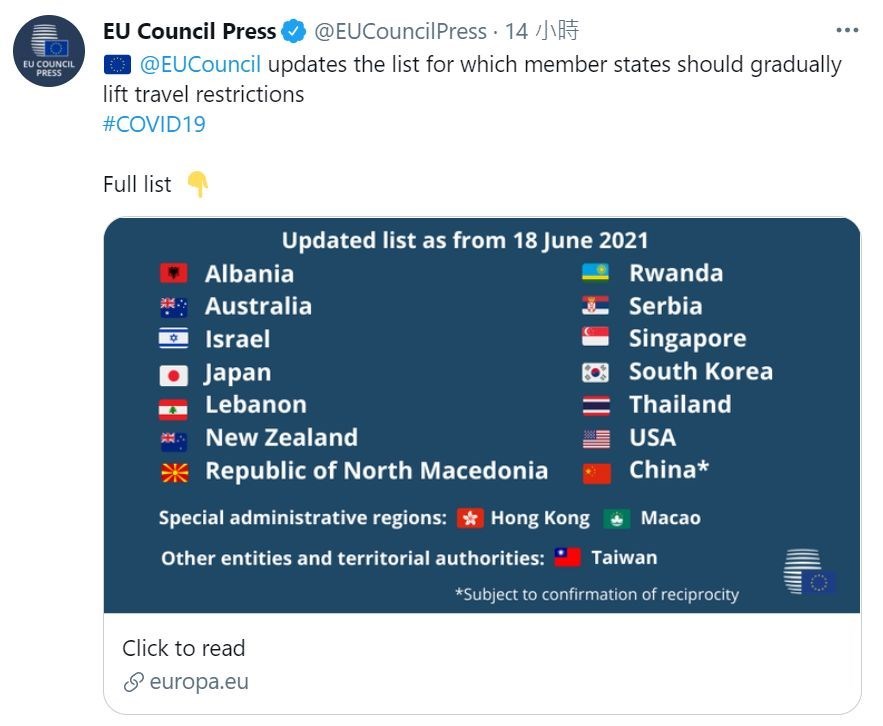 Brussels, June 18 (CNA) The European Council on Friday displayed the flag of the Republican of China (Taiwan) on its Twitter page after the regional bloc announced it was including Taiwan on its safe travel list.
On the Twitter list that shows all 17 qualified countries, special administrative regions, other entities and territorial authorities, the ROC flag can be seen alongside flags of China, the United States and others.
Taiwan appeared on the list of destinations for which an EU-wide ban for non-essential travel to curb the spread of COVID-19 is recommended to be gradually lifted by its member states, according to a press release from the European Council.
Also included on the list are: Albania, Australia, Hong Kong, Israel, Japan, Lebanon, Macau, New Zealand, North Macedonia, Rwanda, Serbia, Singapore, South Korea, Thailand, the U.S., as well as China, which is subject to confirmation of reciprocity.
The list will be reviewed every two weeks based on criteria such as a country or territory's epidemiological situation and overall pandemic response, as well as the reliability of its COVID-19 data, according to the European Council.
Taiwan's Ministry of Foreign Affairs (MOFA) welcomed the development, saying that it reflects the EU's confidence in Taiwan's response measures to the pandemic.