Lawmakers visit Taiping, say it is 'absolutely an island'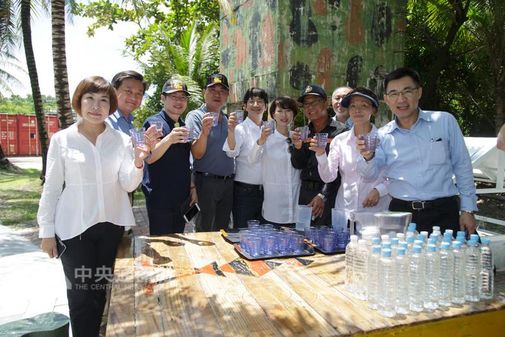 Taipei, July 20 (CNA) A group of lawmakers who had traveled to Taiwan-controlled Taiping Island in the South China Sea said Wednesday that it is "absolutely an island," rather than a rock, as ruled by an international tribunal.
Chiang Chi-chen (江啟臣), an opposition Kuomintang (KMT) legislator and convener of the Legislature's Foreign Affairs and National Defense Committee, said the group observed a demonstration of 40-mm guns deployed on the island, as well as a newly built harbor and hardware facilities.
He said that after the group had completed its tour of Taiping -- the largest island in the Spratly Islands -- they were convinced that it is an island and not a rock.
Chiang, who initiated the visit, said that after years of improvement work, Taiping has been transformed into a place that can sustain long-term human habitation.
He said that he has tasted coconut juice produced there, and noted the fresh water and various other facilities on the island.
Legislator Wang Ting-yu (王定宇) of the ruling Democratic Progressive Party (DPP) pointed out that there is a well, solar power generation facilities, and a new wharf, as well as indigenous plants and trees on the island.
There are also items left behind by Japanese soldiers during the Second World War, Wang said.
There is no question about the sovereignty of the island, or its status as an island, according to Wang.
The group, which also included KMT legislators Huang Chao-shun (黃昭順), Hsu Chih-jung (徐志榮) and Lu Yu-ling (呂玉玲), as well as DPP legislators Lo Chih-cheng (羅致政), Tsai Shih-ying (蔡適應) and Chen Ting-fei (陳亭妃), boarded a military plane in southern Taiwan's Pingtung County early that day to travel to Taiping, which lies about 1,600 kilometers southwest of Kaohsiung, to assert the nation's sovereignty over the island.
The visit came one week after the Permanent Court of Arbitration in The Hague ruled July 12 that all high-tide features in the South China Sea, including Itu Aba (Taiping Island), are rocks rather than islands and therefore are not entitled to 200-nautical-mile economic zones under international law. The case was lodged by the Philippines against China in 2013 over its claims in the South China Sea.
Taiwan, which was not a party in the case, has described the ruling unacceptable and said that it is not binding on Taiwan.
In addition to the lawmaker group, five fishing boats crewed by around 20 fishermen sailed from Pingtung toward Taiping that same day to highlight the nation's sovereignty over the island.
(By Justine Su and Lilian Wu)ENDITEM/ke/J