Hung Hsiu-chu passes KMT presidential primary polls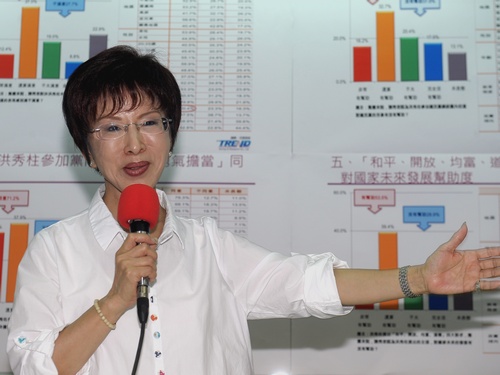 Taipei, June 14 (CNA) Deputy Legislative Speaker Hung Hsiu-chu (洪秀柱) passed the ruling Kuomintang's (KMT) 30 percent threshold for presidential primary polls on Sunday with an average approval ratings of 46.203 percent.
Hung, who is qualified to be nominated by the KMT for the presidential election in January next year, expressed her appreciation at a television broadcasting for the backing of all supporters.
The polls were undertaken by three consultancies, Trengo, Statinc and the United Daily News, each of which had to collect more than 1,200 valid samples.
Each poll measured Hung's approval ratings both with her running alone and with her pitted against her Democratic Progressive Party rival Tsai Ing-wen (蔡英文). The final outcomes were the average of the two scenarios among the three different polls.
(By Claudia Liu and Jeffrey Wu)ENDITEM