DPP takes big prize in central Taiwan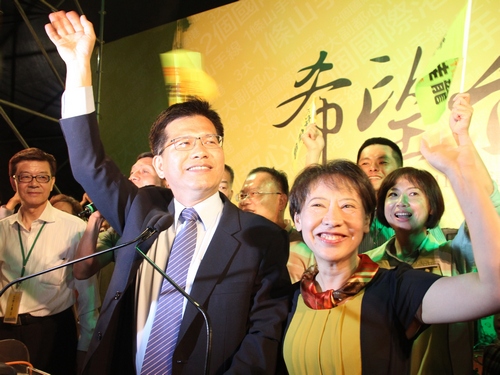 (Click HERE for our special election site)
Taipei, Nov. 29 (CNA) Lin Chia-lung of the Democratic Progressive Party (DPP) announced Saturday he has won the race for mayor in Taichung, unseating incumbent Jason Hu of the Kuomintang who had led the city for 13 years.
With about 73 percent of all precincts' reporting, Lin had around 57 percent of the vote to Hu's 43 percent, according to running vote counts on television news channels.
"It took 10 years to bring me here. The victory marked an opportunity for me to serve more people in Taichung," Lin said in his speech at his headquarters.
"I'd like to especially thank those who voted for me and also those who did not because it gives me motivation to improve," he said.
The victory ended a 10-year quest for Lin to head the central Taiwan city, after having lost to Hu in the 2005 race for Taichung mayor by nearly 20 points.
It also put the city under DPP control for the first time in more than a decade, putting the party in a position of strength ahead of the 2016 presidential and legislative elections.
The 50-year-old had maintained double-digit leads in most polls in the months leading up to the election, but Hu had narrowed the margin to single digits in the first half of this month.
Taichung's upgrade into a special municipality, when it combined the former Taichung City and Taichung County, played into Lin's strategy in this year's election.
Lin focused his campaign on electoral districts in the former Taichung County, which had about 60 percent of the eligible voters in this year's race, and it appears to have paid off.
He was also helped by general voter dissatisfaction with the KMT seen in races across the country.
Hu was considered vulnerable not only because of the general unhappiness with the Kuomintang-controlled central government but also because of questions about his health and voter fatigue with having the same mayor for the past 13 years.
In his previous battle for Taichung mayor in 2010, Hu appeared to already be wearing out his welcome, defeating the DPP's Su Jia-chyuan by a mere 2 percentage points.
Lin, who holds a Ph.D. in political science from Yale University, had taught at local colleges. He was head of the now-defunct Cabinet-level Government Information Office in 2004-2005 before serving as secretary-general of his party in 2006 and 2007.
He was elected to the Legislature in 2012.
(By Scully Hsiao; click here for a list of results of this year's local elections)enditem/ls
Related stories:●Nov. 29: DPP's Wei Ming-ku claims victory in Changhua magistrate election●Nov. 29: KMT's Lin Ming-chen claims victory in Nantou County magistrate election●Nov. 29: CEC to discuss replacing five lawmakers who won city, county posts