DPP politicians try to protect students inside Legislature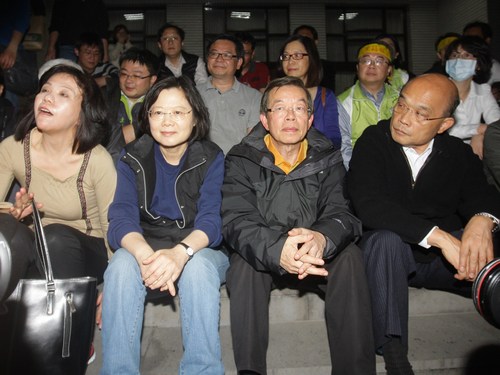 Taipei, March 19 (CNA) Senior opposition politicians appeared at the entrances to the Legislature in a gesture to "protect" students inside as police were poised to evict them early Wednesday.
Su Tseng-chang, chairman of the main opposition Democratic Progressive Party (DPP), his predecessor Tsai Ing-wen and other DPP heavyweights as well as lawmakers were at the Legislative Yuan to voice their support to the students protesting the ruling Kuomintang's "unilateral" handling of a service trade pact with China.
These opposition politicians' presence increased the difficulty for police to storm into the building which had been occupied by more than 100 student protesters.
The students broke through police line the previous evening, claiming that they had "taken back the Legislature on behalf of the people" and they "welcome opposition friends to join in the people's action."
They said they stormed into the conference room of the Legislative Yuan because they were "brining in the public opinion directly" about the trade-in-services pact with China.
The students also demanded that President Ma Ying-jeou, who doubles as KMT chairman, come to the parliament and respond, in person, to the people's appeals.
Ma's spokesperson, Garfie Li, has called for the protesting students to express their views in a "rational and peaceful" way. Police force grew to be 1,000-strong after senior government officials met to find a way to "restore order" inside the legislative building whose podium was taken by the protesters who vowed to stay there until March 21.
(By Chen Wei-ting and S.C. Chang)
Update: ●38 policemen injured, 4 protesters arrested in clashes (9:17 p.m. Wednesday / For latest developments, please click here.)●Opposition party mobilizes members, mulling 'long-term' protest●President calls for approval of cross-strait pact before June●Speaker calls for self-restraint in Legislative standoff●Meetings canceled as protesters occupy Legislature●Student protesters repel police, hold Legislative chamber●Police step back from effort to evict students inside Legislature●Police begin evicting protesters occupying legislature
Related stories:●March 19: Four injured during student storming of Legislature●March 18: Students dig in for prolonged occupation of Legislature●March 18: Protesters break police line, storm Legislature●March 18: Talk of the Day -- Service trade pact pushed forward amid chaos