Main displays of Taiwan Lantern Festival in Kaohsiung unveiled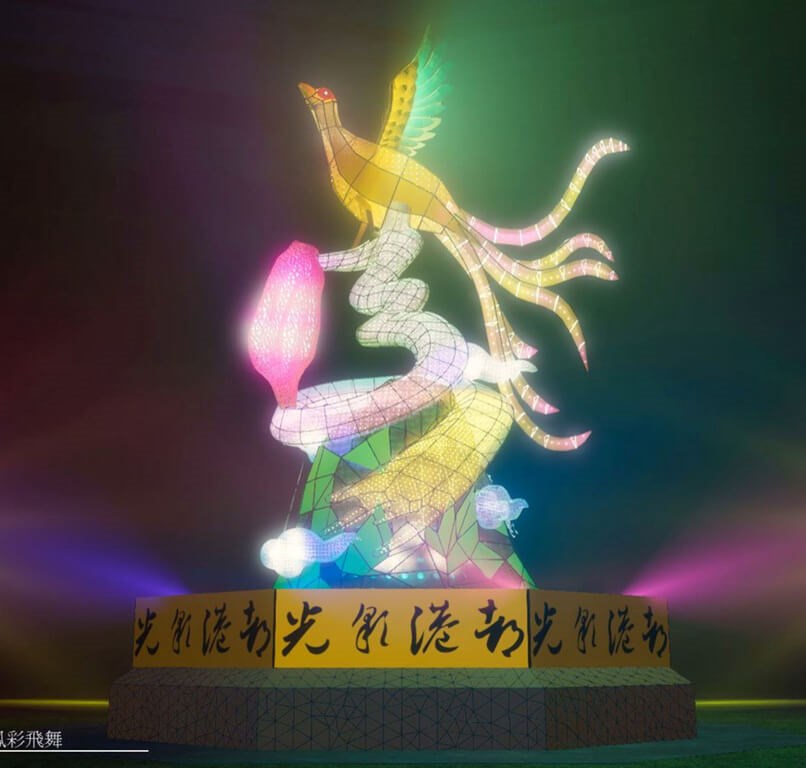 Taipei, Jan. 19 (CNA) The two main displays for this year's Taiwan Lantern Festival in Kaohsiung were unveiled Wednesday, with one design incorporating Taiwan's Mikado pheasant and the other a light show at the Weiwuying arts center.
The Tourism Bureau, organizer of the annual event held in different cities and counties around Taiwan, unveiled the main lantern for this year's festival, which shows a Mikado pheasant standing on top of Yushan (Jade Mountain) shrouded in clouds.
The design was inspired by modern Chinese calligraphy artist Tong Yang-tze's (董陽孜) work depicting the character "鳳" (meaning phoenix in Chinese) and was co-created with artist Benson Lu (呂秉承), the bureau said in a press statement.
Transportation Minister Wang Kwo-tsai (王國材) said the return of the festival to Kaohsiung for the first time since 2001 -- the festival's first appearance outside Taipei -- will showcase the growth of the municipality over the past two decades.
Having two sites for this year's event -- one at Weiwuying Metropolitan Park, the other at Love River Bay, demonstrates the municipality's expansion since incorporating what was formerly Kaohsiung County in 2010, Wang said.
The 18-meter tall lantern will be turned on at 7 p.m., Feb. 15, and a show comprising changing lights and music will be put on every 30 minutes from 6 p.m. to 10 p.m. until the festival concludes on Feb. 28, the bureau said.
A trailer for "The Island of Memories." From Weiwuying arts center's YouTube channel
In addition to the Tourism Bureau's main lantern to be displayed at the park, Kaohsiung City Tourism Bureau also unveiled its main display to be staged at the National Kaohsiung Center for the Arts, known locally as Weiwuying, which is located in the park.
As part of the events leading up to the official opening of the Taiwan Lantern Festival on Feb. 15, a 6-minute light show titled "The Island of Memories" will be projected onto the Weiwuying arts center from Feb. 1-28, Kaohsiung's tourism bureau said.
According to the event's official website, around 130 lanterns will be displayed in Weiwuying park and more than 50 at the Lover River Bay site near the Kaohsiung Music Center, which was formally opened last year.
Daily performances are planned at both sites from Feb. 1-28.