French group wins NT$500,000 to promote cultural ties with Taiwan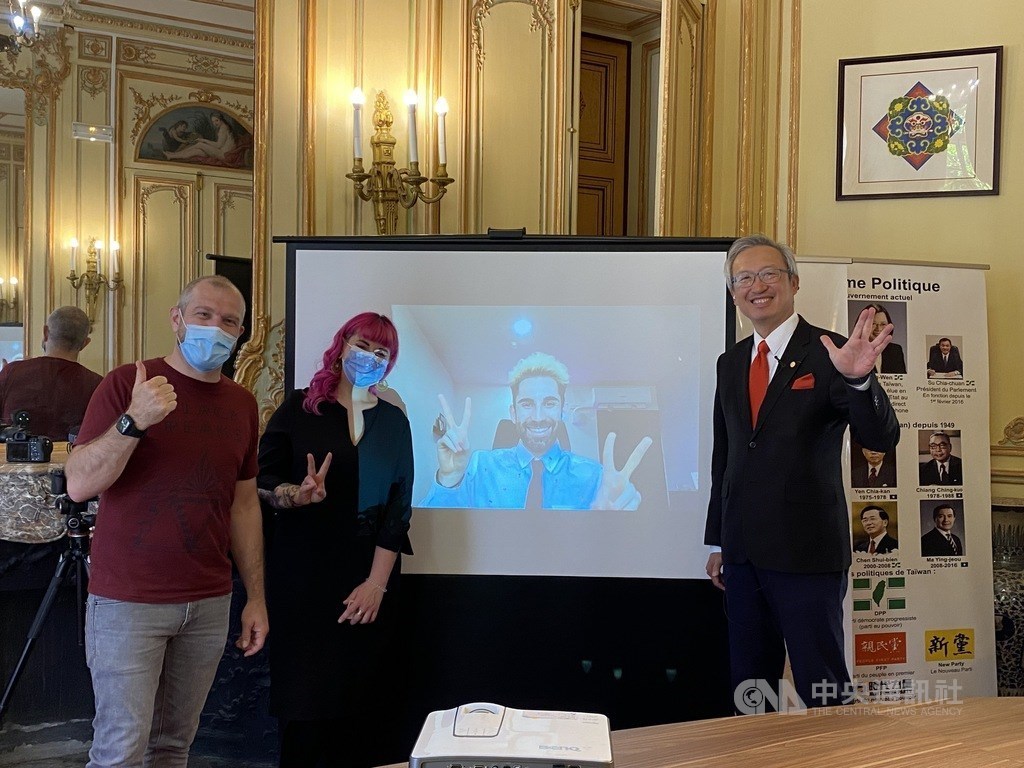 Paris, June 14 (CNA) A French association that promotes geek and Japanese Otaku culture has won a NT$500,000 (US$18,084) prize offered by a Taiwan-based French YouTuber to promote cultural exchanges between the two countries, Taiwan's representative to France said Monday.
Necronomi'con, an association based in Belfort in eastern France, won the prize offered by Taipei-based YouTuber Quentin Richard, a 26-year-old filmmaker from France whose "Ku's dream" YouTube channel has 1.1 million followers.
Their organization regularly holds conventions, concerts and movie screenings to promote geeks, Japanese Otaku culture, and video games.
Stéphane Laurent and Elodie Cayot, the head and deputy head of the association, were invited to Taiwan's representative office in Paris on Monday by Taiwan's representative to France Francois Wu (吳志中) and treated to Taiwanese staples such as beef noodles and bubble milk tea.
Richard also participated in Monday's event virtually.
He initiated the competition through "Ku's dream" in February to provide NT$500,000 each to a group of people in France and another in Taiwan and have them travel to each other's country to promote bilateral cultural exchanges.
Richard told CNA that he chose Necronomi'con as the French winner because he felt the organization has relatively high visibility among media in France.
The organization also promotes e-sports, which is a common interest among Taiwanese and French youths and one he believed had the potential to boost bilateral ties.
Cayot told CNA that Necronomi'con decided to take part in Richard's initiative because people in France do not really think of Taiwan in terms of subculture in Asia.
It is unfortunate, Cayot said, that Taiwan is a powerhouse in e-sports and technology in Asia but does not have the same level of visibility as Japan, Korea and China.
Laurent, meanwhile, said his organization regularly holds events related to Asian culture and found Richard's project extremely meaningful.
They want to use the prize money to promote France-Taiwan e-sports cooperation, including inviting Taiwanese e-sports teams to Belfort to join their conventions in the future.