CORONAVIRUS
/
Awarded composer drops inspirational track as Taiwan battles COVID-19
Video courtesy of Matt Hsu's Obscure Orchestra YouTube channel
Taipei, May 26 (CNA) Award-winning Taiwanese-Australian composer Matt Hsu and Australian-Taiwanese jazz/R&B singer Cait Lin (凱琳) have released a 70s soul-inspired hip-hop track to encourage people in Taiwan as the country faces its first surge of COVID-19 since the pandemic began.
"Welcome to the Neighbourhood: Taiwan" (就當家裡)" captures Taiwan's freethinking spirit, exploring intimate moments and shared cultural touchstones by taking the audience on a journey through local neighborhoods and to major landmarks such as Taipei 101 and Liberty Square.
"I wanted to capture the feeling of comfort being in amongst your neighborhood, taking a moment to appreciate all the tiny stories that make up the big picture," Hsu said.
That encompasses "that feeling of knowing the nooks, favorite spots, best eats and shortcuts; and thriving off and contributing to the place you call home."
Hsu, a 2020 Queensland Music Award recipient who was born in Australia to Taiwanese parents and lives in Brisbane, is immersed in Australia's indie, punk and experimental music scenes, and has become a respected experimental artist-activist.
He plays over 20 instruments, and used more than 15 of them to cut this new track, which was released Wednesday as a music video on YouTube and audio track on most other streaming platforms, including Spotify, KKBOX, and Apple Music.
Collaborating with him on this journey was Cait Lin, who welcomes listeners to Taiwan where they are asked to "feel at home," and sets an optimistic tone by gracing the track with classical Chinese phrases, giving it trendsetting appeal.
"We are a diverse nation and passionate about what it means to be Taiwanese, and no matter who you are, we welcome you to our home, our neighborhood," she told CNA.
Being of Taiwanese and Australian-Irish descent, Cait Lin -- also known as Caitlin Magee -- has lived in Taiwan and Australia, as well as a few other countries around the world, before relocating to Taipei as an adult in 2017.
"Especially in recent times with COVID-19, I want this song to be a reminder to the Taiwanese people that this island is small but mighty, and has a whole world of beauty to offer," she said.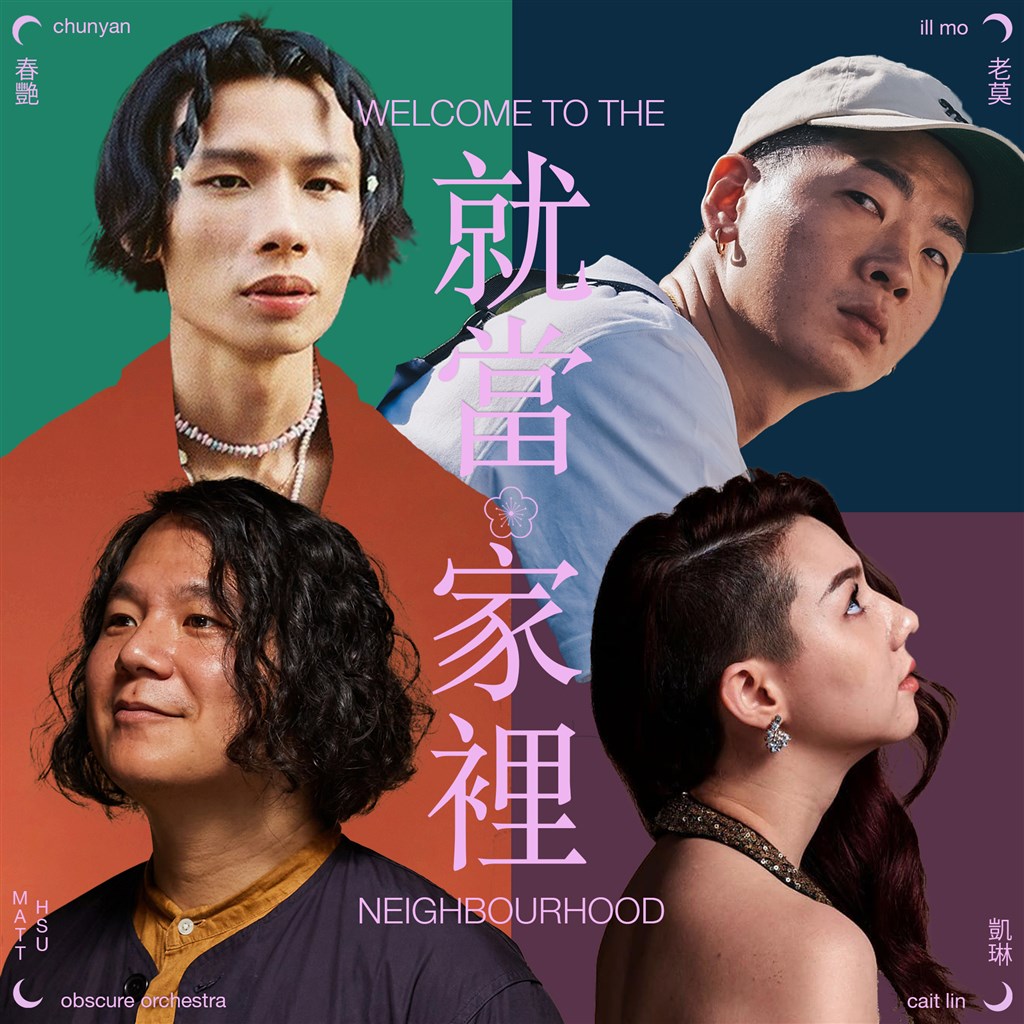 Also contributing to the track by delivering their lyrical prowess are Taiwanese rappers Chunyan (春艷) and Ill Mo (老莫).
Chunyan, a new-wave rap star who made his way up through Taipei's rap battle circuit and hip-hop scene, embarks on a tuneful journey with clever lyricism to invite listeners to "drift across oceans to find this paradise," where they can "bask among the birds and blossoms."
Meanwhile, Ill Mo, a judge on 2021's MTV The Rappers reality show and one of Taiwan's original wave of rap pioneers, packs a lyrical delivery of witty metaphors and hard-hitting bars.
"No contesting North and South, each is their own pleasure. Each with their own charms, each of them a treasure. Still you're yet to see the whole picture, I got to emphasize, this land has more than you could realize," Ill Mo rapped in the song.
After Taiwan's COVID-19 alert was raised on May 19 nationwide to Level 3, which led to the closure of schools, entertainment businesses and public venues, Hsu hopes the song will remind Taiwanese to keep their spirts up.
"I think it reminds Taiwanese people of what they already have, strong bonds, vibrant culture, rich creativity. COVID-19 doesn't mean any of that disappears, our ties and bonds and sense of community are strong, they're just being manifested differently now in how we isolate to keep each other safe," Hsu said.
"I want this song to be a reminder to Taiwanese that we must continue to stay united during this time," Cait Lin said.
View All