Taipei 101 model on display at Chicago Architecture Center exhibit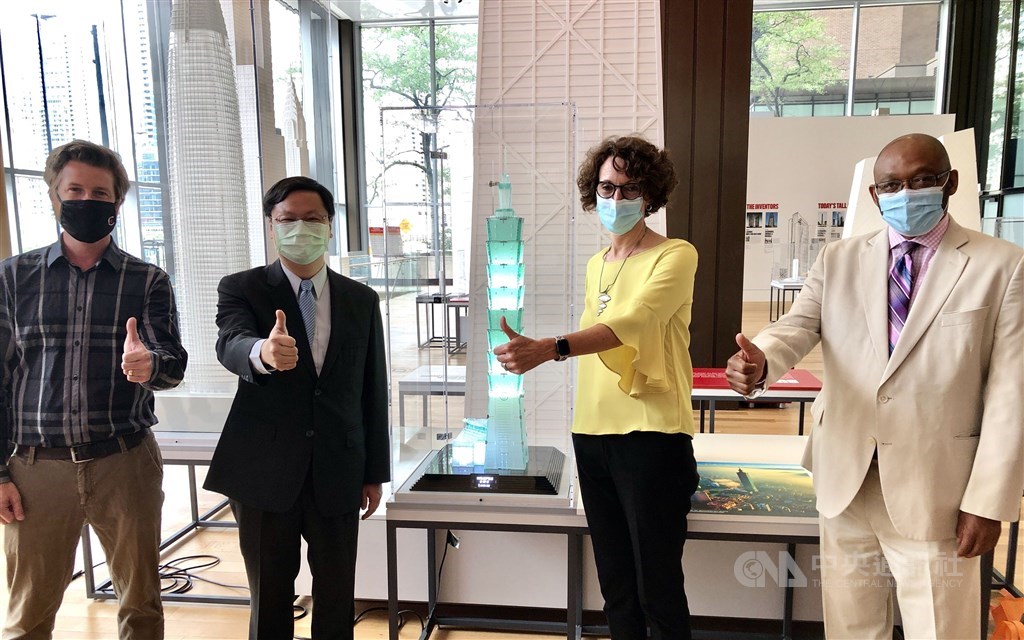 New York, Aug. 4 (CNA) A model of the Taipei 101 skyscraper, an iconic landmark and a popular tourist attraction in Taiwan's capital, was included on Aug. 1 in an exhibition at the Chicago Architecture Center (CAC) in the United States.
The Taipei 101 model is the first donation the center has ever received from a foreign country, CAC President and CEO Lynn Osmond said at a ceremony on July 31 to put the model on display at the Building Tall exhibition at the center.
The Building Tall exhibition on the second floor of the CAC features a dynamic display of scale model skyscrapers, to which the Taipei 101 tower was added on Aug. 1.
At the July 31 ceremony, William Davis, a member of the Illinois House of Representatives, said he has visited Taipei 101 twice and expects that the display of the model at the Building Tall exhibition will help attract more foreign visitors to Taiwan.
Davis thanked the Taiwan representative office in Chicago for the donation and lauded its efforts to promote cultural exchanges between Taiwan and the U.S.
The idea for the donation of the Taipei 101 model came from Eric Huang (黃鈞耀), director general of the Taipei Economic and Cultural Office in Chicago, who said he noticed during a visit to the CAC last year that only photos of Taipei 101 were on display there.
Huang said he pitched the donation idea to Angela Chang (張振亞), president of the Taipei 101 company, when she was in Chicago last year for a celebration to mark the skyscraper's recognition by the city's Council on Tall Buildings and Urban Habitat as one of the "50 Most Influential Tall Buildings of the Last 50 Years."
The exhibition of the Taipei 101 model will help promote Taiwan's soft power in the field of technology and architecture, Huang said.
The iconic Taipei 101 tower, standing 101 stories high and 508 meters tall, held the title of the world's tallest building from 2004 to 2010.
The model of the building is now on display alongside other world famous skyscraper models such as the Willis Tower in Chicago and Chrysler Building in New York at the Building Tall exhibition, which attracts more than 100,000 visitors per year, according to the museum.