Focus Taiwan introduces redesigned app for mobile device users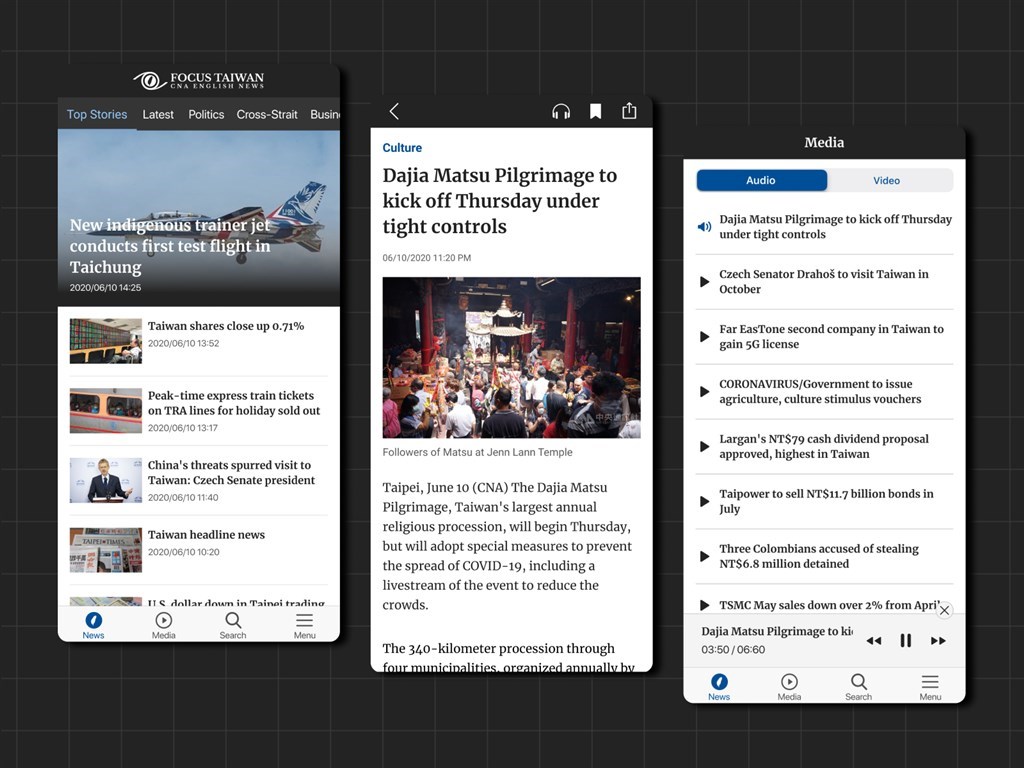 Taipei, June 30 (CNA) Focus Taiwan, the Central News Agency's (CNA) English website, introduced a revamped app on Tuesday that allows users of mobile devices to more easily access and share news stories on the go.
The updated app, available on both Android and iOS platforms, maintains a similar look to the Focus Taiwan website, but also has a "Media" section, which includes a playlist of the latest 30 news stories in audio and video formats.
In addition to scrolling up and down to read articles and lists of news headlines, mobile device users can also swipe right or left to browse different news categories and articles.
The app enables users to listen to the latest stories non-stop and catch up with all the latest news relating to Taiwan.
The audio feature, which was introduced in March, has garnered a steady number of regular listeners over the past three months.
The updated app allows users to bookmark articles and videos in the new "My Stories" feature which can be found in the "Menu" section.
Users will be able to choose the font size and layout of the page to suit their reading habits from the "Menu" section and are welcome to leave reviews or contact Focus Taiwan with feedback.
The "Share" feature now makes it easier for users to share articles, photos of the day and videos through various social media platforms or email services available on their own device.
Taiwan's national news agency, CNA, updated its English website in January to offer a more modern layout, while also enabling users to receive direct news alerts on their smartphones.
In 2020, Focus Taiwan has provided extensive coverage of the presidential election and inauguration, COVID-19 conoravirus pandemic, Kaohsiung mayor recall vote and many other key events important to Taiwan.
Enditem/AW
(Click here for more details about the app and links for downloads.)