Railroad Bento Festival showcases tasty lunch boxes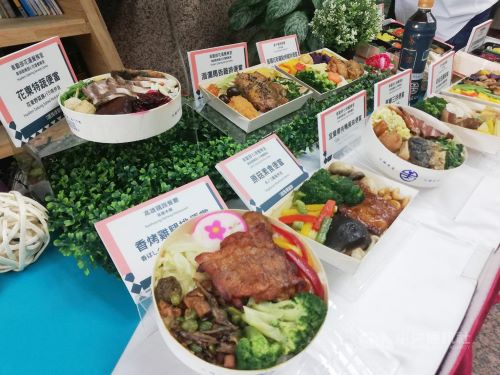 Taipei, Oct. 30 (CNA) Twelve popular types of bento (lunch boxes) being sold in trains operated by the Taiwan Railways Administration (TRA) will be showcased along with 27 varieties from other countries at the upcoming Railway Bento festival from Nov. 1 to 4 in Taipei.
The first-floor exhibition hall of Taipei Main Station has been decorated for the festival with images of the railway bistro at the station some 40 years ago to create a sense of nostalgia for the annual TRA event, which is in its fifth edition this year.
Last year, the Formosa Railroad Bento Festival was suspended due to the deadly derailment of a Puyuma express train in Yilan on Oct. 21 that killed 18 people and injured nearly 200.
TRA officials said visitors will be able to browse 39 different bento options produced by the TRA and 25 businesses from Taiwan, Japan, Sri Lanka, France and Switzerland at the four-day event, and to purchase those freshly made for the festival.
At Tuesday's press event, CNA Chairman Liu Ka-shiang (劉克襄), a writer, nature observer, veteran journalist and travel lover, talked about the unique flavors of different TRA bentos sold at different railway stations around Taiwan.
He said he would travel by train along the coastline whenever he was in the mood to appreciate the ocean. When in Taichung he would buy his favorite sailfish lunch box, which he said is only available at the TRA Bento store at the high-speed rail station there.
Comparing Taiwan's railway bentos with those in neighboring Japan, the experienced traveler said Taiwanese bentos are usually warm while their Japanese counterparts are mostly room temperature.
Also, Taiwanese bentos are "much cheaper" than Japan's, he said.