Taiwan team wins gold at International Linguistic Olympiad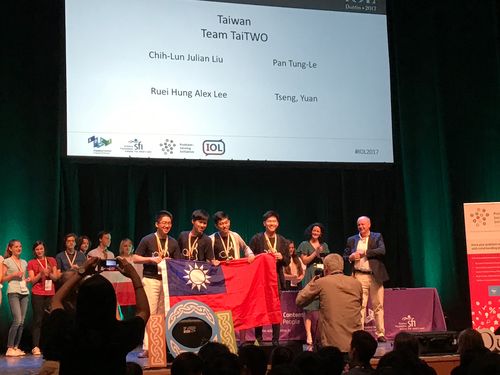 London, Aug. 6 (CNA) Taiwanese high school students have excelled at the just concluded International Linguistic Olympiad (IOL) held in Dublin, Ireland, snatching gold in the team competition and winning three medals plus two honorable mentions in individual contests.
The IOL is one of 12 International Science Olympiads for secondary school students and has been an annual event since 2003.
This year, 176 students aged 14-19 in 44 teams from 28 countries gathered in Dublin from July 31-Aug. 4, to pit their wits against the toughest language and linguistics puzzles.
No prior knowledge of linguistics or languages is required: with even the hardest problems require only the application of logic, patience and willingness to think around corners, according to the organizers.
The Taiwan team, made up of Alex Ruei-hung Lee (李睿宏), Julian Chih-lun Liu (劉植綸), Pan Tung-le (潘同樂) and Tseng Yuan (曾元) -- won the team competition held on Thursday, followed by Poland's Team A and the Slovenian team.
In individual competitions, Lee won a second gold, with Liu and Yao Yung-jui(姚勇瑞)winning silvers. Pan and Willie Jeng (鄭安騏) earned honorable mentions.
Taiwan first participated in IOL last year in Mysore, India, winning a silver and two honorable mentions.